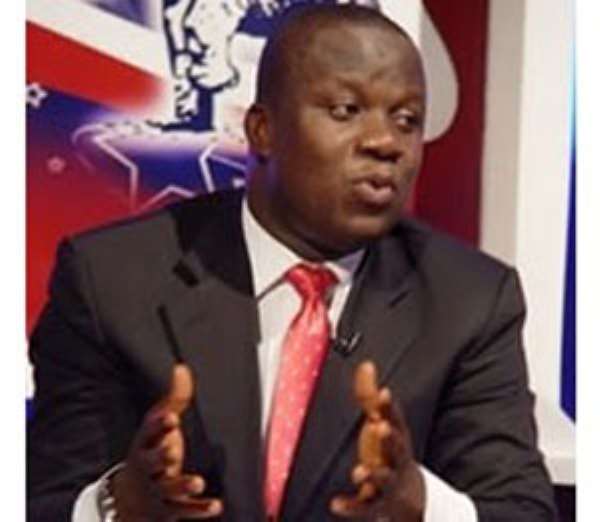 When I read the news story captioned "GHS 62 M on Trips within GHS 222 M Budget; Stop the Mischief – Gov't to Ato Forson" DailyGuideNetwork.com / Ghanaweb.com 12/21/19), I knew right there and then that the desperately power-hungry National Democratic Congress' Parliamentary Minority Leaders were back at their usual pedestrian game of political mischief again. This time, the strategy tack was one of disinformation. This is only to be expected; for these double-salary drawing thieves and thugs behave as if the approved government budgetary spending came out of their own individual pockets and wallets. Thus, the thinking of the Mahama Posse has always been that our National Treasury is first and foremost their personal piggybank before all else.
Which is why whenever the NDC is in power, little to absolutely nothing gets done in the interest and the improvement in the quality of life of the ordinary Ghanaian citizen. You see, when the Ranking Member of the Parliamentary Finance Committee, Mr. Cassiel Ato Forson, disclosed to the general Ghanaian public that during the first 9 months of this year, that is, 2019, alone, the Akufo-Addo Presidency spent the humongous amount of GHS 62 Million in foreign travels, the best and swiftest response on the part of Mr. Samuel Abu Jinapor, one of the two Deputy Presidential Chiefs of Staff, ought to have been for the latter to have quickly accessed and disclosed the comparative travel expenditures of former President John Dramani Mahama about the same period in his tenure, and then do a comprehensive comparative breakdown of how each of these two most recent Fourth-Republican presidents, namely, Mr. John Dramani Mahama and Nana Addo Dankwa Akufo-Addo, respectively, spent the people's money; and also, precisely how such travel spending had been done.
Then the next step in this process would have been to assess what relative significant benefits had accrued from the disparate travel expenditures of these two leaders; and then Mr. Jinapor would have drawn the relevant comparative conclusions regarding which of these two presidents had put the people's money to better or more cost-effective use by a meticulous assessment of dividends accruing from the same. Somebody on the Accounts Desk in the Office of Monitoring and Policy-Evaluation Minister at the Presidency, Dr. Anthony Akoto Osei, I believe, ought to be assigned to this very significant task, if such a portfolio is not already in place. And then, as well, the portfolio of a comparative expenditure analyst ought to be in place at the Presidency and held by an expert who is ever ready to literally engage in a hand-to-hand fiscal and statistical combat with hardnosed National Democratic Congress' propagandists like Mr. Ato Forson.
Simply, lamely and defensively telling the general Ghanaian public that the President and/or the Presidency is within its fiscal spending range or limits will not wash with the people, especially when all they are being shown or seeing are such admittedly humongous figures as GHS 62.5 Million and GHS 222 Million. You see, generally speaking, Ghanaians are severely afflicted with a flighty imagination and routinely prone to the wanton exaggeration of facts and figures that suit whatever arguments they desire to advance to suit whatever objectives and/or purposes they may be aiming at or for. You can readily deduce this from how many Ghanaian citizens, especially those in the above-40 age group, have great fondness for reflexively converting the current cedi value and cost of everything into the worthless old cedi currency notes that existed under the tenure of former President Jerry John Rawlings – between 1993 and 2001 – when even $100 (one-hundred US dollars) had to be calculated in millions and billions of cedis and be carried in suitcases and articulated trucks.
The Communications Directorate, so-called, of the ruling New Patriotic Party has to bring on board either volunteers or well-salaried psychologists and crackerjack media and communications theorists to assess and evaluate every significant piece of information that both the Presidency and the operatives of the New Patriotic Party's Kokomlemle Headquarters put into the media mainstream for public consumption. The kind of defensive policy jousting that Mr. Samuel Abu Jinapor recently engaged in with Mr. Ato Forson, the NDC's Parliamentary Minority Spokesman on Finance, squarely put the latter in contextual control. And that was just not a good strategy for the Presidency. You see, the proper response ought to have been for the younger Mr. Jinapor to have strategically smacked Mr. Forson upside the head with some of the comparative facts and figures suggested above, and then ordered all the ambulances to quickly leave town. That way, there would be absolutely no chance for Mr. Forson to think of emerging from his coma and fighting back.
By Kwame Okoampa-Ahoofe, Jr., PhD
English Department, SUNY-Nassau
Garden City, New York
December 30, 2019
E-mail: [email protected]
*Visit my blog at: kwameokoampaahoofe.wordpress.com Ghanaffairs