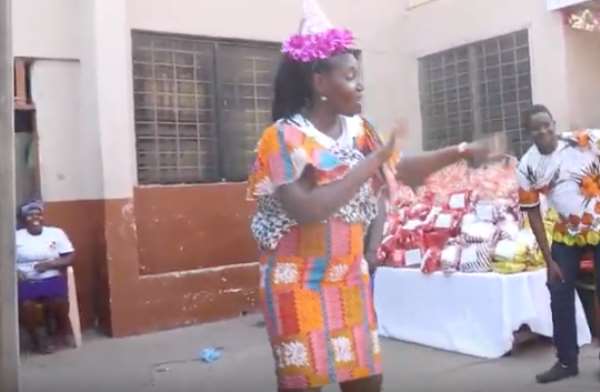 The annual End Of Year Party of Great Mission International Children's Home took place at the Premises of the Home located at Nungua in Accra on Wednesday, December 25, 2019.
Great Mission is an international license Children's Home founded by Mr.John Nyavor that takes care of over 300 Orphans. With a lot of food, drinks, gifts and some good music, the party was fun-filled and totally captivating.
After the kids had taken their turn to dance and do other extremely interesting and mind-blowing things,Staff of the Home also took their turn to exhibit their dancing prowess.
The sharp lenses of HotfmGhana.com captured one of the Staff, Aunty Emelia exhibit humorous and amazing dance moves while carrying a baby on her back.
Watch the Aunty Emelia Dance in the video

In the exclusive video, Aunty Emelia who is clad in African apparel goes gaga by twerking, wobbling her head and raising her legs to do wild and combustible moves.
She energetically danced her heart out to Gasmilla's Popular hit song 'Telemo' .The enthusiasm with which she performed and the euphoria that characterised the atmosphere summarised the extent to which the gathering appreciated her dance moves.
Auntie Emelia undoubtedly produced a captivating dance that former world dance champion Adjetey Sowah, and former National Dance Champion, Paa Tee would exceedingly envy.
Though it was astonishing seeing her dance with the baby on her back, her illustration came off as funny in the video.