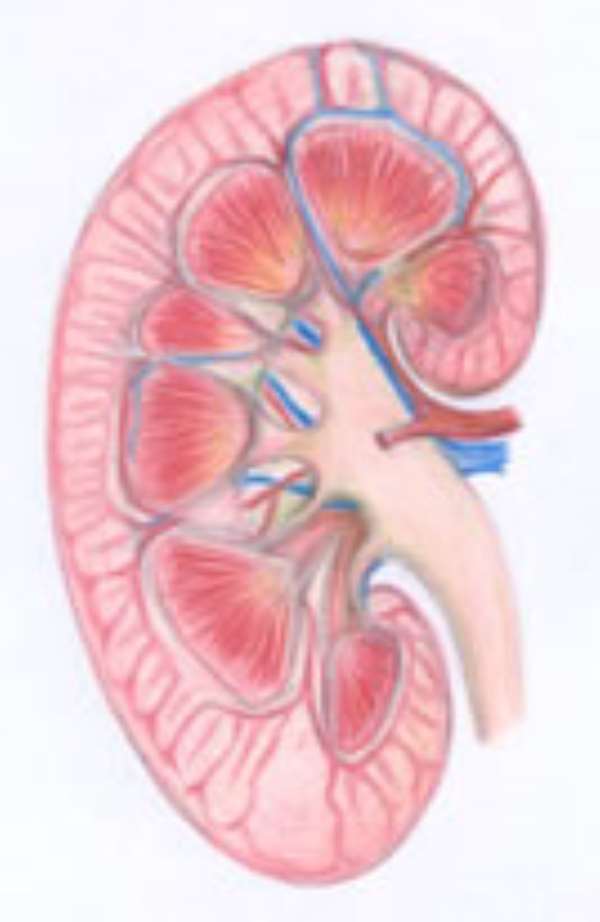 Chronic kidney disease, also known as chronic kidney failure, is the gradual loss of kidney function according to Dr. Asare, CEO of Ghana health service.
According to Dr Akosua Ampomah Asomaning at Renal Unit of Korlebu Teaching Hospital, most patients on dialysis (due to kidney failure) are under 40 years, and they need ghc325 in order to attend one session of dialysis. According to her, ideally, every parent needs 3-sessions per week, and this means every kidney patient needs ghc975 every week in order to keep surviving.
It is therefore very difficult for an average Ghanaian to organise ghc3,900.00 every month only on his/her health.
One may, therefore, ask, 'what at all is the main cause of Kidney failure?'
According to Dr Asare, the Chief Executive of Ghana Health Service, Chronic kidney disease is commonly caused by diabetes and high blood pressure, which are responsible for up to two-thirds of the kidney failure cases.
A recent media engagement by the CEO of Ghana Health Service revealed that Kidney failure tops all the 10-top diseases killing Ghanaians in recent times.
Meanwhile, the actual cause of Kidney failure is not known but hypertension, diabetes, high blood pressure etc., may rather be an early sign of the kidney disease.
"Hypertension may not be the cause of kidney disease, but may rather be presenting a sign of kidney disease. So when a young patient presents with kidney disease and hypertension, it might be very difficult to attribute the cause of kidney disease to hypertension, nonetheless, most clinicians attribute the cause to hypertension which *might not* be the case" ( https://www.ghanaweb.com/GhanaHomePage/NewsArchive/Why-most-causes-of-kidney-disease-in-Ghana-are-unknown-819364 ).
One may then want to know, what is actually the cause of the topmost killer disease of Ghanaians!
Dr. Asare in his media engagement 2019 gave us a clue about things we should consider, coupled with personal experiences shared below.
1) _Bad life style_
Most men and women engage in excessive drinking, smoking, eating of many fatty foods without exercise.
These habits according to CEO of Ghana Health Service may contribute much in building high blood pressure and subsequent effects on one's kidneys.
2) _Wrong or Self-medication_
It is also observed that most Ghanaians use many uncertified herbal medications. According to Nephrologists, some unknown chemicals found in some of these concoctions affect the kidney, thereby making it fail to function. Some also use unprescribed pain killers arbitrarily and the practice also ends up damaging the Kidneys.
3) *_Agro-Chemical Poisonning_*
This is most probably, the highest but scary reason why Ghanaians are dying of Kidney failure.
The use of agro-chemicals to control weeds and pests. The practice in which farmers use dangerous chemicals to control weeds and pests also end up poisoning our human race either knowingly or unintentionally. Some vegetable farmers, for instance, spray their crops such as Okro, garden eggs, tomatoes, green peppers cabbages, etc., with chemicals and then harvest them soon after, to the market.
The reason why they do this according to Mr Markins of Akim Bomso is to make the vegetables look fresh and appealing to the eyes, and also to prevent pests from damaging them before they're sent to the market.
Unfortunately, these chemicals are absorbed into the vegetables and we consume them together with the chemicals.
Some "lazy women/men" would also ask the vegetable seller in the market to shred them ( eg: okro, cabbage, etc) before they take home for immediate use. This means that the chemicals used to spray the vegetables are not washed and let alone, those absorbed in the vegetables.
Without washing the vegetables, they are shredded with the chemicals and Ghanaians use them for food just like that.
This practice is very common in Ghana now especially those who cook in large quantities for sale, and if we keep eating these chemicals, it could result in gradual or rapid damaging of human organs including the kidneys.
4) _Eating of Metals_
Most Ghanaians eat metals either knowingly or unknowingly. We mostly grind our foods with machines and parts of the machine metals keep waring inside the food we grind such as corn, pepper, tomatoes, cassava, etc. When we eat these metals with our foods, they end up destroying our kidneys rapidly.
Some heavy metals such as mercury are also consumed especially at mining areas where it is used in mining activities. Some of these metals in their soluble state are not visible and dissolves in water. Ghanaian consumers rather end up eating them either through fishes or by drinking water.
This practice eventually affects the Kidney and results in total Kidney failure.
*Conclusion*
It is high time we take care of our kidneys by avoiding the use of harmful chemicals in our activities such as farming, mining, etc.
I wonder why we are now addicted to "perfumed rice" instead of our locally grown none chemically treated rice.
Let's begin to go back to our old organic foods and keep our kidneys safe and live long.
Kidney once failed can not be treated. It is also extremely difficult and expensive to get a donated human kidney to replace yours, a practice called kidney transplant.
May God be with us and take care of what we eat this festive season.
Thank you.
*By Engr. Davor Wonder*
(0208185692)