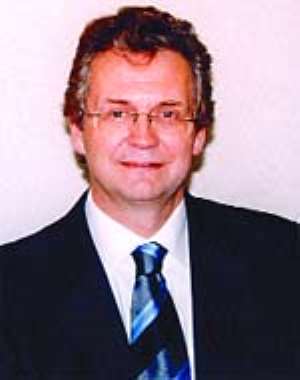 Takoradi, April 2, GNA - Mr Frode Haugen, the new Chief Executive Officer of Ghana Telecom (GT) said the various regional offices would be required after August 2006, to improve their performances to get further investment.
He said the management would invest more and aim at improving the company's equipment and other infrastructure to enable it to compete effectively.
Mr Haugen said these, when he paid a day's working visit to the Takoradi branch of the company on Friday.
He said all sections of the company would be required to provide results and increasing clientele to be provided with more resources and appealed to the workers to be ready to support him. "We need to increase coverage, quality, lower our rates and make more services available to our customers," he stressed. Mr Haugen said the company was operating in a competitive market and must work hard to be the first mobile operator in the country. He said the company would focus more on the broadband, which would facilitate the use of the Internet, mobile services, while landlines would also be promoted among residential areas and markets for businesses.
Mr Haugen said 10,000 new customers would be provided with broadband services to facilitate their operations. He said the existing landline customers would be connected to the broadband, when it became operational in August this year. Mr Haugen said he had signed a purchase order of 100,000 US dollars for the purchase of base station and additional mobile equipment, while additional mobile equipment had been ordered for the main cities.
Mr John Appiah Boateng, the Western Regional manager of GT said out of the 15 districts, only six were covered by GT in the Western Region.
He said so far the company had installed 1,083 public pay phones booths and 1,850 Fixed Cellular Telephone (FCT) in homes, while an additional 209 phone booths were without handsets. Mr Boateng hinted that GT had been offered three plots of land at Asankrangwa and would need support to begin constructional work on the site.