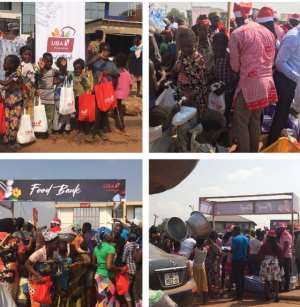 As part of its corporate social responsibility, the UBA Foundation fed thousands of less privileged in Accra to mark the Christmas festivities.
The group made up of street children, head porters (Kayayei) and the vulnerable in society were treated to good food and drinks at the bank's branch in Madina .
Head of Marketing and Corporate Communications of UBA Ghana, Efo Kwame Dzakpasu, in an interview said the event dubbed UBAF Food Bank is to bring joy to the lives of children, men and women who couldn't afford decent meals and struggle daily to survive on the streets.
He noted that, the Foundation was extending the love of the festive season to the destitute, the 'Kayayei' and those who found it difficult to get something to eat in times like these.
He said, "As a bank, we don't only do CSR towards education, but also want to extend the UBA food bank to feed 800 people on the streets of Madina and that the exercise was being replicated in all of its 20 operational countries."
He added that the food bank outreach would be replicated across their branches nationwide next year.
On the future of UBA, Efo Dzakpasu said the bank is in the process of expanding its reach to about five extra operational areas in the coming year.
He revealed that they have started work on branches in Ashiaman and Kasoa to strengthen their relationship with customers.
This notwithstanding, Efo Dzakpasu said they are putting in place measures to ensure UBA's virtual banking products are very active.