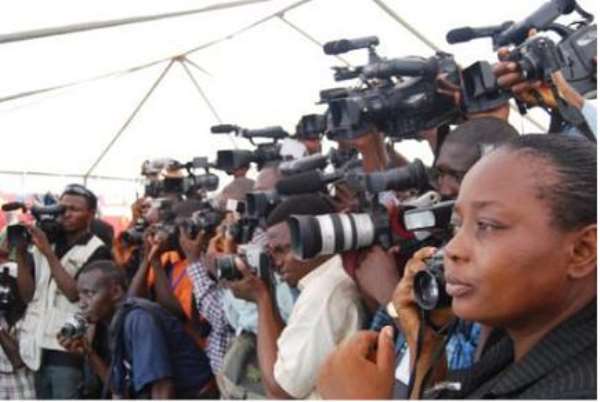 As a saying of century, "a hungry man is an angry man". To it, someone who is deprived of a basic necessity will find it difficult to listen, collaborate for any positive outlook.
It is based on this that the goal One and Two i. e "No poverty and Elimination of hunger" among the remaining United Nations sustainable development goals (SDG'S) become pivotal.
However, to effectively reckon this race by 2030, goal 17 i.e "Partnerships for the goals" must be the fulcrum to effect a positive change through media-citizens effective participation.
Two media scholars Bill Kovach and Tom Rosentiel, in their principles of journalism stated that journalist obligation is to the citizens. Thus the media as established by society has the privilege to serve society's interests at all times. But the media which comprise of radio, television, newspaper or magazines, and now the digital platforms cannot work in a vacuum if people fail to participate.
To it, nothing is more vital to development than well-informed citizens who need to have a grasp of policies, plans and issues. This is where the media is needed to help bridge the gap.
For effective citizen participation in policies towards the attainment of the 17 global goals in Ghana, there is a need for the media to turn its attention to development journalism with incorporation of citizen journalism.
This becomes necessary as research has indicated that Development journalism generally attracts progressive, committed people, who want to effect positive change. Thus anyone who owns an allegiance to a nation will want to be boastful and glad to cause not just a change but a positive change in his or her country.
Jamaican journalist Andrea Downer said development journalism is a journalism that is done more with extensive investigations to help people rather than just filling space in the paper.
George Sue added that as issues facing the developing world grow ever more complex and difficult; the task of good journalism should be to throw light on them.
According to Elisabeth Ribbans, managing editor of the Guardian, a good journalist must not only describe, but delve, debunk and decode.
Thus, in practicing development journalism "it remains critical that the public are not just informed about the terrible levels of poverty in other countries but are also sufficiently moved to want to do something about it, particularly in a time of economic difficulty". Good development journalism according to secretary of state at the department of international development Douglas Alexander goes a long way to achieving this.
In essence, the significance of media towards development has been undoubtedly appreciated by all. According to French sociologist Pierre Bourdieu, media's symbolic power is powerful and can be used to mobilize, influence, call to action and change the world view, attitude, character and behavior of people.
As such media with its influence and effect can actively herald and enhance citizens' engagement towards the achievement of the Sustainable development goals. But this must encompass their criteria for news selection and programming.
This suggestion according to research was successful in countries like Singapore, Malaysia, and China and as such can be replicated in Ghana.
The above mentioned nations are using their media to propagate growth and marginally they are reducing poverty, ending hunger, improving access to quality education, providing descent working condition and economic growth, promoting better health care delivery, achieving cleanest cities and towns, emerging great in renewable and sustainable energy and among others.
It may sound laudable for these nations but for the Ghanaian media to follow suite, champion citizen effectiveness and participation towards the attainment of the global goals, the necessity is to consider the four pillars of development journalism as used by these countries.
The four pillars are also known as modern news values as they are targeted towards development. They include: Clarification; that is the media must concentrate and explain projects, plans and policies for the citizens to understand. They must make sure no citizen becomes an outlier; neither must they make them perish because they lack knowledge and information. They must explore further, drive citizens along, improve the conversation and explain to them what sustainable development goals are, what projects constitute it, which policies and plans are/will be impeding or improving the goals and what they can do as citizens.
The media as part of its agenda setting that has the tendency in influencing public perception must highlight salient issues in context of the 17 global goals.
For example journalists interested in development are expected to go ahead and conduct research and analysis of people's deeds or government policies and promises. Policies like "Free access to Senior High School" program and "One district one factory project" (the famous 1D1F and FREE SHS) are policies of development.
In the case of the "Free SHS", the media must first of all tell the citizens the consequences of illiteracy to the economy and in simple language provide the citizens with the scope of the free SHS policy, number of students expected to benefit, the aspect of the global goal that it falls and how it will help eradicate high illiteracy, how much it will cost the county and the number of literates the country will be producing by or before 2030, and its positive impact on the global economy.
They must tell the citizens comparatively consequences of illiteracy against literacy and solicit their utmost support. Journalist can also expand this conversation by asking citizens what their takes are, on the policy as to whether "Free SHS" should be free for all or targeted.
Similar approach should be done for government's policies like "One district one factory" policy (1D1F).
For the 216 districts in Ghana, the media must quickly alert citizens the type of factories that are suitable in their respective districts and those that are not. The number of descent employment and economic growth it will provide, tonnes of products they will produce, number of persons that it will feed, expected revenues and expenditures and how these factories will help in achieving five out of the seventeen sustainable goals i.e 1,2,8,9 and 12.
It does not end there! Equally, they must also insist and request for environmental impact analysis documents or do the Environmental impacts analysis themselves on whether emissions, waste disposal and other end products from these factories will be a threat to the ecosystem or they will add up to the climate change factors thereby affecting life on land or under the sea as against goal 13, 14 and 15.
They must tell the youth how directly or indirectly these factories will affect them, how it will lead to economic growth, infrastructure development and others.
This will help the citizens to have clear perspective and be on the same page with the media and as such they work together to kick against individuals actions or government policies that may not be favorable to the ecosystem and vice versa in joining fight to sustain the goals.
However, it is not prudent for the media to do this alone they must seek citizens input by giving them equal platforms as they will do for any other powerful official such as the politician.
Programme Director of Enactus in Morocco,Touria Benlafqih, explained that "Media is no longer the one-way communication channel as it used to be. With connected devices becoming ever more ubiquitous, questions can be answered and misunderstandings avoided. It has become easier to connect with people from different places and backgrounds: to benefit from their experience, to support a cause without being directly involved, to engage with organizations and movements, and to mobilize people in less time and with less cost".
As such, It is not enough to hear from decision makers only, it is not appropriate to glorify over plans, decisions and policies implementation because it was a campaign promise. Citizens are those at the receiving end that benefit or peril from actions and in actions. Their voice, participation and engagement matters!
The second value that Ghanaian media must consider is to be constructively critical about policies, projects, plans that are threat to development and suggest proper solutions.
It is in right order for Development Journalists to criticize constructively. The media must reduce the propaganda and dig deeper by suggesting solutions to government, individuals, civil society organizations based on their findings or comments received from citizens.
They must as well condemn unhealthy and unfavorable conditions especially those that have the tendency to impede the global goals and they must commend as well if the right policies are implemented towards the achievement of the goals.
The media must not leave issues identified on a problem stage, they must not only talk about the problems but rather they must suggest solutions, make sure forces are formed to get their suggestions implemented.
They must make sure they achieve results on any problem identified either through their research or reports received from the citizens or audience. Development journalism is not necessary about being the first to break the news; you must collaborate with the citizens and earn result for the society. As technology becomes accessible for all, the media must capitalized on citizen journalism encourage people to be active citizens and participate by sending information on things that are not working or working in their various areas. Media after receiving these reports and challenges must verify and channel it to appropriate authorities for quick action. If reports, comments and complaints are worked on and results are achieved, it will motivate people to do more.
For instance how many people are dying in the rural areas due to lack of quality health delivery, how many hospitals are rejecting patients because of lack of no bed, how many people are sharing same drinking water with animals, how many children are lacking access to good quality education, how many children of school going age are in the traffic climbing cars and cleaning windscreens, how has cutting down of trees, illegal mining, excessive importation of used electronic gadgets like fridges and cars caused change in the climate and what is the result of the current continues heat in the country etc, these are some of the critical questions and areas that development journalists need to explore. For instance data according to research revealed that within a period of hundred years, Ghana lost 80 percent of its forest cover.
There are other demeaning statistics regarding the country's access to quality Healthcare, hanger, poverty, sanitation and so on. Data according to research estimated 2.8 million Ghanaians living in extreme poverty under the global poverty line that do not spend close to $1.9 a day. Other findings also showed more than 152 Ghanaian children still engaged in child labour.
These figures among others are overwhelming and the media must collaborate with the citizens to change attitude and behaviors, push appropriate authorities to defeat these global dents. It is sickening to observe that there are people who have more than enough to spend but are not perturbed. The media must constantly appeal and explain to these persons how their little quota as philanthropist will help the country.
Development journalists don't only criticize but they rub on shoulders of citizens, put their views into perspective, suggest solutions and demand for swift response and action. It was discovered that the media can play a potentially powerful role in setting the agenda for public concern about and awareness of development issues. Practical example is the media coalition against illegal mining known as "Galamsey" that was destroying the water bodies. The consistency, timely and adequate information of media reportage on this practice emboldened citizens to become knowledgeable, watchdogs, Ambassadors, community journalists hence making the fight a success. Media couldn't have achieved this alone without citizens participation and this similar approach can used for the sustainable development goals.
There are some few media organizations that are currently pursuing this agenda and they are getting more public participation. Example is Tv3 Mission Ghana program that focuses on health and education in deplorable areas if aired always gets good Samaritans and citizens to donate, Citi Fm/TV's war against indiscipline that focuses on enforcing law and order in our roads is also achieving results because citizens are now on the alert to report or demand that good things are done on our roads. Other journalists like Anas Aremayaw Anas, Manasseh Azure, Seth Kwame Boateng and Bernard Avle among the rest are most times strongly making cases, challenging status quo on behalf of citizens based on their plights shared.
Again, the next value has to do with Instructive; that is the media must be educational and enlightening. The media must do stories that will teach the people, so that they can appreciate the plan, policies, problems, projects, etc. For instance how do we achieve cleanest cities and towns? Journalist can create short Documentaries cataloging how plastics or waste improperly disposed affect the ecosystem especially life on land and under the sea including how other illegal activities such as building on course of rivers, indiscrimate discarding of plastic materials, illegal logging of rosewood etc affect the entire country like flooding and as well suggests solutions on what each person can do to prevent the menace. The media must adopt Narrative framing that is, the media must find ways in which they can organize bits and facts of phenomena through stories to aid audiences' understanding to affect their relationships to the phenomena or challenges being articulated. They can form their narrative structure by finding out what the problem is, who is responsible, what the solution is, and so on. Media discourse according Gamson &Modigliani is part of the process by which individuals construct meaning in effect, If citizens are enlightened and well informed, it is believed that they will become disciplined and responsible watching over each other's actions for safer country and development. Institutions will become strong and up and doing in discharging their duties for peace and justices.
Another pillar for development is Future oriented news values. This implores the media to do stories that will focus on the relevance or importance in terms of future. The media will have to tell the society to look beyond the times. For instance what does building two hundred community day senior high school as promised by former president John Dramani Mahama and free SHS policy by current president Nana Akuffo Addo mean for the country in future, what does building factories, hospitals, construction of roads, passage of affirmative action and disability acts, livelihood empowerment projects, planting of trees, banning of illegal logging and mining, promotion of technical and vocational education training(TVET), springing up of startups among others means for the future of Ghana . The media must make citizens believe in themselves and encourage them to do more. However, these suggestions cannot be achieved within shortest period but Ghanaian media can rely on Cultivation Analysis theory of story-telling, which assumes that repeated exposure of people to set of messages are likely to produce agreement in audience with opinions expressed in those messages. This process of gradual influence or cumulative effect according to research could help mobilize citizens for effective participation towards the attainment of the global goals.
These suggestions towards achievement of Goal 1 No Poverty, Goal2 Zero Hunger, Goal3 Good Health and Well-Being, Goal4 Quality Education, Goal5 Gender Equality, Goal6 Clean Water and Sanitation, Goal7 Affordable and Clean Energy, Goal8 Descent Work And Economic Growth, Goal9 Industry, Innovation and Infrastructure, Goal10 Reduced Inequalities, Goal11 Sustainable Cities and Communities, Goal12 Responsible Consumption And Production, Goal13 Climate Action, Goal14 Life Below Water, Goal15 Life on Land, Goal16 Peace, Justice And Strong Institutions and Goal17 Partnership for the Goals require all hands to be successful before or by 2030.
As a result, pen pushers must continue to dig and shine light and bring to attention individuals, NGO's and other organizations that are pushing harder and making sure the goals are achieved. These persons must be given reward and media recognition to inspire them to do more and others who may feel reluctant in taking that tangent to jump into action.
The fight in enhancing citizens participation must not only remain in the mainstream media it must also continue on all digital platforms including the social media because research has indicated that over 10 million Ghanaians use the internet with 5.6million actively on social media. These citizens must be made to be more fixated with growth and development.
Journalists must build strong network with these citizens, encourage them to share what is bordering them, solutions on issues through phone in programs, text messages, social media platforms and so on to garner their support towards development
It is a fact that the media does not have its umbrellas and lenses at all areas and as such they must encourage citizens to add their voices by reporting things, correcting wrongdoings, exposing corrupt officials, ensuring that institutions mandated deliver and individuals do the right thing in their respective areas. When people are made to be part of issues that affects them, it is possible they will as well be much concern about the solution and that is development.
Citizens must not be outliers, sit unconcern but rather they must be front runners in the fight towards the achievement global goals as stated in one of the nation's emergency song Ghanaian citizens must arise because the nation demands our devotion. Let's all unite to uphold it and make it great and strong because we are all involve in the achievement of the sustainable development goals.
Authored by MENSAH RICHARD ADONU
Email: [email protected]
Best Regard,
MENSAH RICHARD ADONU
ACCRA-GHANA
JOURNALIST AND WRITER
Email:[email protected]
TEL:+233247536773