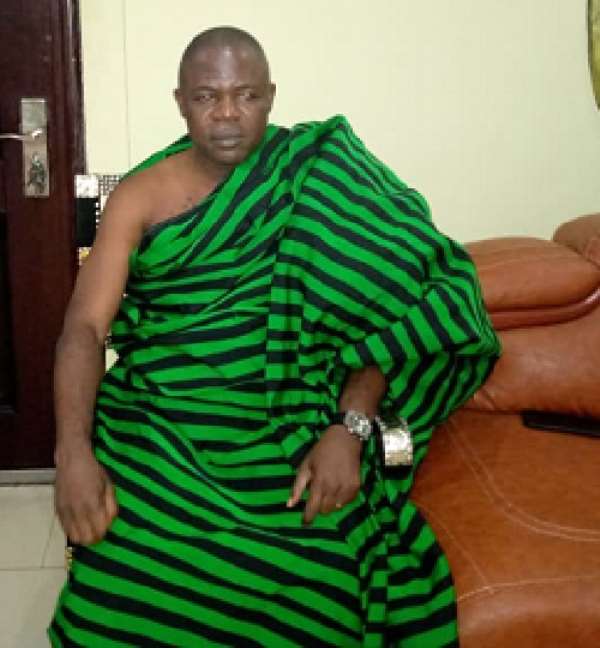 Barima Osei Hwedie II
The Chief of Ejura Traditional area in the Ashanti region and the Protocol Director at the Office of the Vice President Barima Osei Hwedie II has urged Ghanaians to develop positive attitude and also nurture a spirit of patriotism towards nation building.
According to Barima Osei Hwedie II, unsatisfactory work attitudes reduced productivity and resulted in macro economic instability of the nation adding that this could derail the gains made by government to place the country on the right path for growth.
Speaking in an exclusive interview with OTEC News' Jacob Agyenim Boateng on Friday December 27, 2019, Barima Osei Hwedie II explained that with positive attitude and constant prayer for the country , Ghana would soon be seen as one of the richest countries in Africa and the world as a whole.
"We have no respect for the hours set aside for work, we pray we eat, we visit during working hours. We spend hours chatting on the telephone when customers are waiting to be served, thereby increasing our labour costs. "We take a week off for every funeral and then wonder why we are not competitive," Ejurahene observed.
"The need for the right behavioral competence, appreciable character traits, personal discipline and positive attitudes cannot be over emphasised in every field of endeavor and it is mainly attitude that would improve the fortunes of Ghana," he said.
'Our patriotic sense and responsibility is lost'. "Until the average Ghanaian recognises the need to show responsibility, first to himself, family and environment, we will continue to experience economic, social and political poverty," he said.
"Entire rivers have been destroyed by the senseless and unbridled abuse caused by greed, unpatriotic attitudes. Let this festive period be not about wining and dining but also an opportunity to deal with the scourge of illegal mining, indiscipline and corruption, which have become more of the norm than the exception", Barima Osei Hwedie II added.
He therefore, called on Ghanaians to be patriotic and show love for the nation by accepting to live up to their civic responsibilities.
This, he said, entailed paying their taxes, keeping the environment clean and supporting the government to implement its development vision.
"If we need to see ourselves as Ghanaian then we will be unified under one flag and segregation will end. We will have our personal interest succumb to the national interest," the Protocol Director at the Office of the Vice President added.
He encouraged all public and private organisations to institute performance management procedure to ensure that hardworking staff is rewarded while non performers are made to sit up and improve upon their work.
The Chief who was recently awarded by the Ghana Civil Service for his immense contribution and dedication to Ghana's development in his end of year message to Ghanaians urged the citizenry to seek the grace of God for the country to achieve the economic break through that everybody is yearning for.
He however expressed optimism that Ghana will experience many blessings from God come 2020.