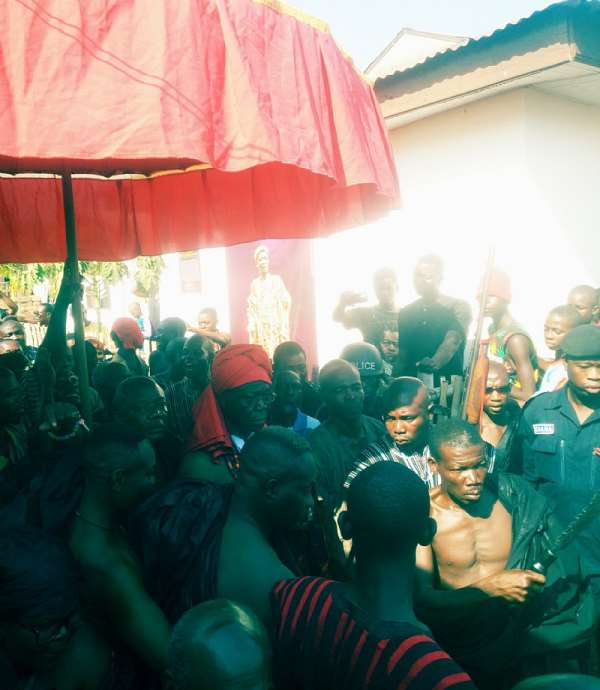 Kingmakers of the Traditional Council in Fodome in the Hohoe Municipality have, on Thursday 26th December 2019, enstooled a 58-year-old Squadron Leader (rtd.) of the Ghana Air force, Koku Timothy Akpatsa, as the new Paramount Chief of the Fodome Traditional Area.
The coronation took place in a traditional ceremony held at Fodome Helu, the divisional capital, where the stool name, Gbedegbleme which literally means 'a huge tree firmly connected with flourishing branches,' was conferred on him.
The crowned paramount chief whose stool name is Torgbega Gbedegbleme Akpatsa Koku II became the new occupant of the stool shortly after the demise of Torgbega Gbedegbleme Honu lll (1927- 2017).
In a colourful ceremony held in his honour, the new ruler was outdoored and introduced to the public in a gathering graced with scores of chiefs, queenmothers, elders, officials, visitors, and indigenes of the area amidst singing and dancing, swearing of oaths including the exchange of the great oath of Fodome.
Torgbega Gbedegbleme Akpatsa Koku ll began his formative years as an elementary school boy in the Akpatsa household which is one of the 10 ruling houses from Toti, the dynastic clan, in Fodome Helu. He acquired his bachelor degree in Ghana. Later, he pursued his Masters degree in Aeronautical Engineering (1987-1992) from Czech Technical University at Prague in the Czech Republic. He also graduated with MBA in International and Corporate Finance, Leicester University (2000 -2004), Diploma in International Air Law from the International Air Transport Association (2009-2012), and MBA in Supply Chain Management from GIMPA (2012-2015), Ghana.
Until his retirement, he served as Squadron Leader in Ghana Air Force. He is an experienced Aeronautical Engineer and possesses over 20 years of progressive experience in air transportation with 9 years at the international level. Currently, he works as the Chief Aviation technical compliance Officer at United Nation in Mali.
By the time he became Gbedegbleme of Fodome, Torgbega Akpatsa Koku ll was married and was blessed with three children.
In his inaugural speech, Torgbega Gbedegbleme Koku Akpatsa ll affirmed his readiness to work closely with development partners, government, citizens and chiefs from the adjoining communities to promote peace and development during his reign. Like his predecessors, he also promised to successfully maintain unity in Fodome.
The coronation was met with great participation by the local populace as well as several Chiefs and Qeenmothers, and officials including Hon. John Peter Amewu, the Minister of Energy; Hon. Johnson Avulete, the Deputy Regional Minister of Volta Region; Parliamentarians, political party representatives; staffs from the United Nation; and visitors from other parts of the region and beyond.