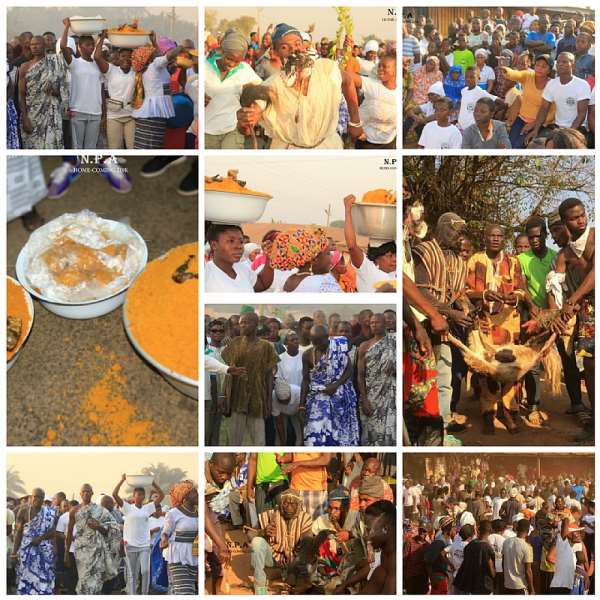 Nawuris are part of the Guan people of Ghana who are believed to be the first settlers of Gold Coast present day Ghana.
Most Nawuri's live in dozen villages around the chief town of Kpandai, at the eastern end of Savanah Region; on the west bank of the Volta Lake/Oti River, some 70 kilometers north of Kete Krachi.
To climax the program for the day dubbed "UNITY WALK", organized by (Nawuri Professionals' Association - Home Coming 2019); the first time in many years of acrimony, bitter squabbles and confusion that usually marred the Nawuriland, gave way to peace, glamour and fanfare in this year's celebration.
The traditional processes began in the early hours of Wednesday with the preparation of the festival food; prepared from maize, with palm nut soup and meat being carried by women for land cleansing.
According to oral tradition, the ceremonial meal signifies their main occupation, the Nawuri people acted industriously in farming and hunting.
However, the Nawuriland is being blessed with a lot of palm nut plantations, cassava plantations, good yields of yams and as a sign of appreciation to the gods in line with the rich custom of the Nawuri people, they expressed the cultural value of being industrious, creative and resourceful—as a way of ensuring the younger generation picks up these rich values of the ancestors.
In a way of showing those appreciations, the ceremonial meal was sprinkle on the streets of the township by by women followed by their chiefs and their subjects.
That symbolic exercise paved the way for a full glare of the thousands of people from all walks of life who had lined up on the streets to witness the memorable occasion to show gratitude to the ancestors of the land for their blessings.
The traditional chief priest later evoked the spirits of the land while asking for the protection from the gods in the coming years.
The event was also characterised by rich cultural display of drumming and singing of traditional songs to which the celebrants, mostly women, gracefully danced to.
The warriors of the various clans also fired several rounds of muskets as a show of authority and a sign of respect to the fall of ancestors and warriors.
Later in the day, they all gathered at the venue amid singing and dancing to what is known as "Baya".
The Nawuri Professionals' Association was formed to foster unity, education, skills development and to project Nawuri identify worldwide. The main architect and founder of this great idea, Nawuri Professionals'Association, Jerry James Maafo was also among the teeming crowd for this glamorous event.