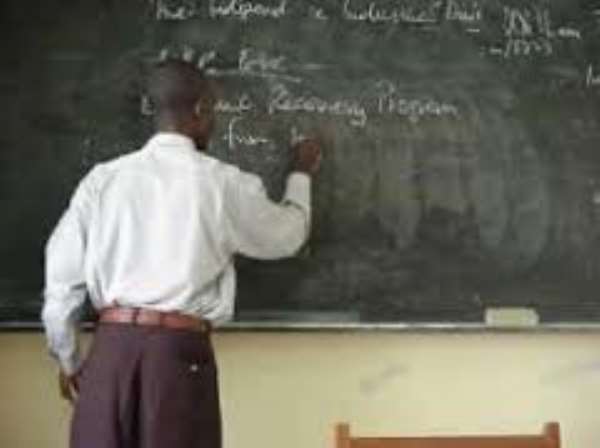 Two days ago, 23rd December 2019, over 50,000 Trainee teachers in the 46 colleges of education felt relieved after the proclamation by Former President Mahama to cancel the obnoxious Licensure Examination; an examination introduced by the Dr. Mathew Opoku Prempeh led Ministry of Education to deliberately deny teachers direct employment.
Foremost, let's understand that the Licensure Examination and Licensing of Teachers are two different things.
For clarity sake, the Former President responded to a simple question asked by a teacher on whether he would cancel the LICENSURE EXAMINATION when voted into office as President. His response was "straight forward" as he [Former President] puts it. "Yes I will cancel it..."
He goes ahead to say he believes in improving the quality and standard of education trainee teachers receive in college in order for them to attain the high teacher professional standards we are all seeking to achieve.
I have seen statements around purported to have come from my good boss and personal advisor, Dr. Prince H. Armah, the Acting Executive Secretary for NaCCA, and my brother and namesake Ekow Vincent Assafuah who is also the Communication Director for the Ministry of Education.
I honestly shared a lot with Doc regarding the licensure examination and licensing of teachers prior to its implementation. And I think I have made this clear to him before, "trainee teachers are not afraid of examination but it was/is just not right for the Ministry of Education to implement the Ghana Teacher Licensure Examination especially at a time we had completed college and awaiting our postings."
Their statements on Social Media are misleading.
With regard to that of Mr. Ekow Vincent Assafuah, his comment sought to portray that Licensure examination began under President Mahama. That is not true. The Ministry of Education under Dr. Mathew Opoku Prempeh presented a Teacher Education Reform Memo to cabinet in August 2017. In the memo the Ministry proposed Licensure Examination for pre-service teachers and their subsequent Licensing. The Memo was signed by the Honorable Minister and can be made available at any time.
It must be well noted that NO teacher sat for Licensure Examination under President Mahama, and till date, NO teacher has been given a Professional license though we were charged Ghc 220 for the sitting of the examination in 2018 and the issuance of both Provisional and Professional License. Unfortunately, we've only been given Provisional license which should have expired this year, 2019. I speak as a Former TTAG executive who sat in all meetings (meetings with T-TEL, NTC, MoE, Vice President, etc.) prior to the implementation of the Teacher Education Reform policy by the government of the day and also as someone who sat for the exams in September 2018 and has now been given a Professional License.
The Education Act, Act 778 (2008) does not make room for the said examination. Sections 12 and 13 of the Act where they talk about Licensing and Registration of teachers are clear that the prerequisite for a person be to Registered and Licensed as a Teacher is the acquisition of "initial teacher certificate" from a recognizable institution. It will be an insult, and of course, it is an insult to the University of Cape Coast and the University of Education, Winneba who are core educational institutions who issue certificates to persons they deem fit and qualified to teach only for National Teaching Council to regard their certificate as useless after one has successfully obtained it.
Teacher trainees do maintain the fact that the Examination was purposely introduced to deny them employment of which the Ministry of Education achieved. In the maiden Ghana Teacher Licensure Examination (GTLE), out of the 28,757 candidates who sat, 7472 failed. These are student teachers who received education from recognizable institutions like the University of Cape Coast, University of Education, Winneba and all 46 colleges of education. Some of these students had First Class, Second Class Upper, Second Class Lower Divisions from their respective institutions yet they were considered "not fit to teach" because they failed a paper or two of the entire examination. Remember, the Licensure Examination comes with three papers; Numeracy, Literacy and Essential Skills. The condition attached is that one must pass all three papers before he or she would be employed by the Ghana Education Service. Unfortunately, NTC did not think through to understand not all persons read courses relating to Mathematics or Numeracy. French and Early Childhood students do not read mathematics in college yet they are required to write Numeracy and pass.
I once received a complaint from a friend from UCC who read Education in Graphic Designing but didn't do anything relating to Mathematics but was asked to sit for Numeracy. You expect such a person with Graphic Designing background as well people with French and History background to sit for mathematics paper and pass. Are they going to teach mathematics after school?
Dear Someone, I do not know about how Lawyers are licensed but for Nurses, they do not write a separate licensure examination from their curriculum. In fact, their last three final year external papers qualify them to be licensed. In our case, after writing Trends and Management in Education and Guidance and Counseling, which are part of the 38 external papers we write before completing, one is expected to write another examination conducted by National Teaching Council before he/she would be given a Provisional license (Not professional license yet). And after one year on the field as a National Service Personnel, you would be given a Professional License.
Again the Nurses and Midwifery Council (NMC) considers the category of Nurses before their final examination which is also used to licensed them are conducted. Registered Midwives, Community Nurses and General Nurses are given separate papers to sit for. Unlike Teachers, Early Childhood Program students, General Program Students, Maths and Science Program students, French Students are all given same papers to write.
Meanwhile, these categories of students studied different programs in college whereas some didn't even do anything relative to mathematics but are to pass numeracy paper at the end of their course. Nobody should create the impression that Nurses "write licensure examination and so teaches should also write." The two examinations are not the same.
Teachers write 38 external papers before they complete their program. Nurses write only three external papers, and these three papers are used to license them. Teachers are not calling for much. Government should consider their final papers as their licensure examination and license them just as the Education act states. The initial Diploma Certificate should be the prerequisite for the issuance of the license.
I do not want to talk much but there is a lot to share on the shambolic payment of allowance while their school fees continue to go up, the cancellation of automatic employment of teachers by the Ministry and the additional national service which has been imposed on them. I have no doubt, the government is overburdening teacher trainees with these unpopular initiatives. They are only aimed at denying them employment.
Licensing of teachers Is good, as such, the initial certificate obtained in college should be used to license teachers just as the Education act has stated. The Progressive System policy by the University of Cape Coast is enough to produce quality teachers. Licensure Examination should be canceled. The Education act, Act 778 does not make room for it. The automatic recruitment of teachers should rather be restored. The core need of every trainee teacher is to be recruited and not be given allowance.
Ekow Djan
Former TTAG Executive