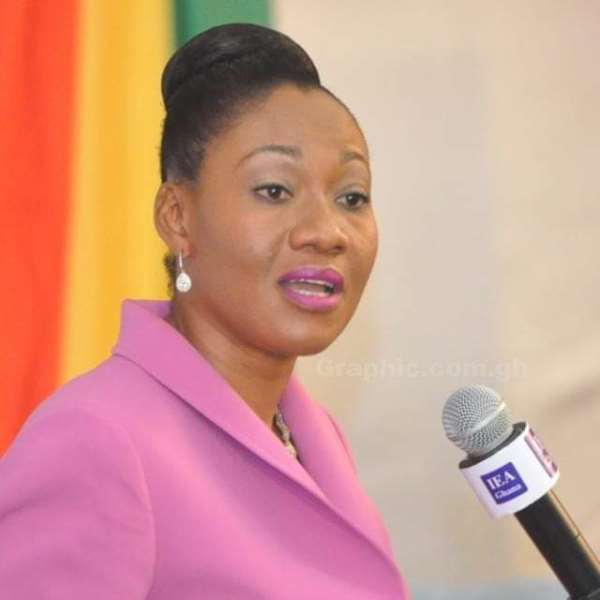 Dear Jean Mensa,
Greetings from Binduri.
I have for some weeks now listened to you demanding a new voter's register and have watched carefully with my brain, not my heart how you go about trying to justify it. This new gospel which sounds like a broken record you preach these days is not coming from Ghanaians, and it's not for free, it will come at a cost of GHc400 million of the taxpayers' money.
Madam, you are rushing into a zone where the Angels even fear to thread. When a lamb strays into a den of Lions only the Lions tell the story. What you seek is far fetched! Kindly remove the monkey's hand from the pot of soup before it turns into human hand.
There is absolutely nothing wrong with the current voter's register, this is the register that produced President Akuffo Addo who wickedly sacked Mrs. Charlotte Osei under mysterious circumstances that gave you this job. To claim this register is not credible means Sophia Akufo, the incompetent tribal bigot of a former Chief Justice was not a credible CJ and the incoming one Justice Anin Yeboah, another NPP collaborator, is not credible including yourself and your darling President.
The name Independent Electoral Commission of Ghana was not crafted by the framers of our constitution for nothing, your outfit should and be seen to be independent. However, your current crop of EC leadership is a complete betrayal of the word independent! I am sorry to reveal that you are on an agenda to gerrymander election 2020, this you've so far executed beautifully. It started with the referendum to create new regions, even though there was no opposition against that exercise, the results was still manipulated.
I am saying so because you, slay queen Jean Mensah, told us you recorded a 98% turnout, even the devil was surprised hearing that. When it came to the turn of Ayawaso West Wuogon, all types of NPP bandits and goons were deployed to cause mayhem which did happen, here again slay queen Jean Mensah disclaimed the violence; you said that nothing has come to your notice that something like that happened. When it got to the turn of MMDCE's referendum, the Tescon Patron, Bossman Asare, your deputy was openly campaigning for a yes vote! Even in Afghanistan, that crass display of arrogance and stupidity would never happen.
Now you're are saying you want to compile a new voter's register? What is wrong with the current one that produced the President who subsequently appointed you? The answer probably is Oga Sleeping Titus says you should do so to enable his team of rigging cartels operate smoothly.
The EC under your leadership is clueless and very arrogant! To make matters worse, you have presented yourself to the ruling government and the enemies of Ghana as a willing tool and executioner of their antics, from the corridors of power even to the level of interfering with sovereign powers of the masses.
This should not be so.
Ghana is sitting on a keg of gunpowder waiting to explode, you are leading us to a funeral parlour.
_'The lizard that throws confusion into his mother's funeral rites should not expect outsiders to carry the burden of honouring the dead'_
This is an African Proverb I thought you must know.
There is so much suffering and hardship in Ghana, the GHc400 million you are requesting can do a lot for the people of Ghana.
_It can give water to thousands of citizens who still drink from the same streams with their animals;_
_complete the abandoned *Bolga~Bawku ~Pulmako road* that is currently an eyesore;_
_complete the Eastern corridor road which is another death trap_
_procure ambulances to save innocent patients from dying_ and many more.
Let our votes count and in case your village people have not yet freed your brain, we the prayer warriors of Ghana will go to the Bansi mountain located in Binduri to pray for you.
When you assist a small clique of crooks to impose themselves on the people of Ghana, they will as they are currently doing plunder the country's resources, create more zombies like they have created zombies through substandard education, commit mass murder and subvert democracy for too long. A lot of citizens might be tempted to believe tyranny is normal.
When tyranny is normalized, citizens start finding justifications why they are poor, homeless and hungry while the despots and con-men have everything.
Citizens begin to hurl abuse at freedom fighters because they feel impotent. "God created rulers and made us poor," they will say.
"If you can't beat them, join them," they yell, not understanding that "joining them" means becoming their slave and accepting the subhuman condition that they have institutionalized.
Those yelling such nonsense are too scared to admit that "joining them" only means surrender. Accepting that you are a slave.
After despotism, conmanship and criminality have been normalized and institutionalized the way they are being done in Ghana , it is a duty of all self-respecting patriots to fearlessly, consistently and ruthlessly do everything within our power to uproot that system. Use all means necessary.
We will never give up.! We will never surrender!
We will never compromise.!
Despots must fall and not even your rigging can save them, Afghanistan, Syria, and Yemen can be reference points for you to use your brains for once and not plunder our country into a funeral parlour!
A hoot at hunger is done during Homowo! Beware the kpanlogo you are playing may become too unharmonious to dance to!
Thank you.