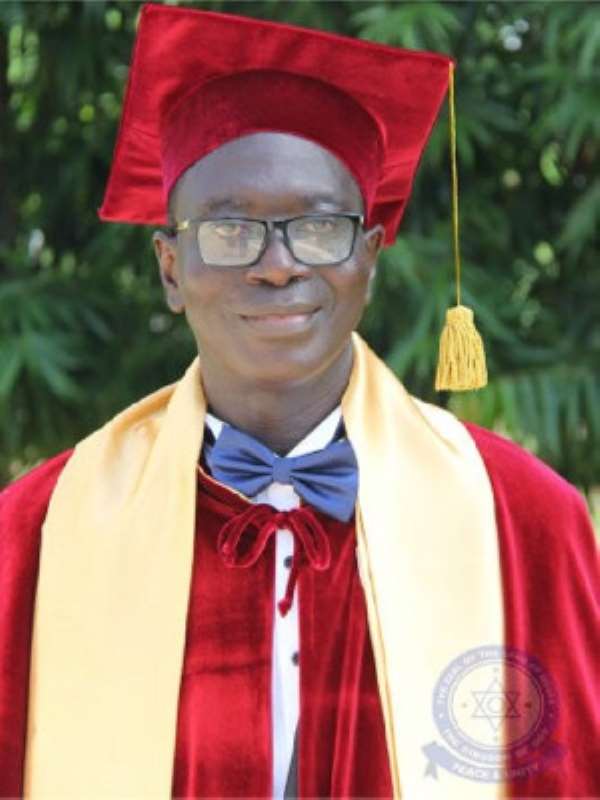 The Executive President of the Center of Awareness Global Peace Mission, professor Samuel Ato Duncan has to entreat Ghanaian youth to avoid engaging in activities that breed political instability by launching a violence-free election 2020 campaign to mark the 31st existence of the center.
He said that Ghanaian youth must eschew violence, character assassination, political emission, conflict and all forms of vices that could derail sustained national peace before, during and after the elections.
Speaking at the 3rd public lecture and launch of violence-free election 2020 on the theme "targeting youth and leadership across the globe to achieve peace worldwide through education", Prof. Duncan challenged the youth to act as good advocates everywhere they found themselves and help to promote the country's enviable democratic gains to ensure peaceful elections in December 2020 polls.
He then appealed to leaders to create an enabling environment for peace to reign in the country and urged all to avoid ethnic, political, gender, disability and all forms of discrimination among themselves in the name of politics, adding that "peace could reign if we all come together as one nation with a common destiny."
"You can kill and denigrate people to enrich yourselves, but the wheels of natural justice will certainly grind to catchup with you. Let's do good to at all times to avoid conflict."
Prof. Duncan further noted that, the Center is determined to form peace clubs in various Junior High Schools to sustainably inculcate in children the tenets of peace building, tolerance and conflict resolution to promote national integration and development.
Professor Borys Kholod, Founder and President of Alfred Nobel University in Ukraine and the Special International Guest at the celebration of the occasion said education was a key factor to changing the mindset and attitude of people.
Prof. Kholod entreated leaders to think of comprehensive development of the young people and noted that "the youth are the future and second key holders of peace in all.
In that regard, he applauded the President Nana Addo Dankwa Akuffo-Addo for his immense contribution to peace in Ghana and globally and his implementation of free education in Ghana.
It was attended by all security agencies, official of the Electoral Commission (EC), United Nations Association Ghana, (UNA) traditional and religious leaders, students and the media.
Awards, citations and plaques were given out to some individuals and institutions that had championed peace to urge them on.
The awardees are: The( President of the Republic of Ghana, Nana Addo Dankwa Akufu-Addo, John Dramani Mahama,, John Agyekum Kuffour, both former Presidents of Ghana, Osabarimba Kwesi Atta II, Paramount Chief of Oguaa and Dasebre Kwabu Ewusi VII, Omanhen of Abeadze tradional area.
The rest are; the Vice President of the National House of Chiefs, Ghana Police Service (GPS), Sheik Dr. Osman Nuhu Sharubutu, National Chief Imam and Professor Bory's Kholod, the President and Founder Alfred Nobel University, Ukraine among others.