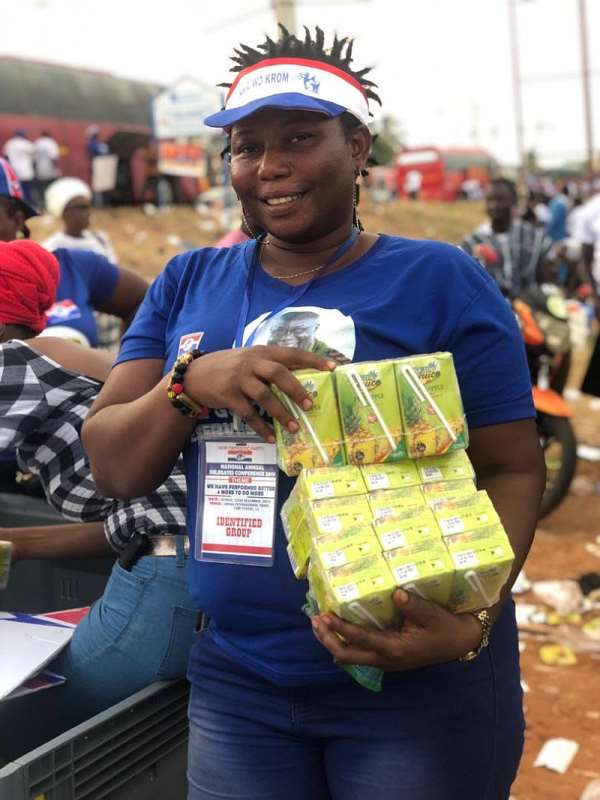 At the National Delegates Conference of the NPP saw NPP members lead by its volunteer group NPP Loyal Ladies distribute products from some factories under the One District One Factory (1D1F) initiative.
Speaking to Miss Riftka Ayim a leader of the NPP Loyal Ladies, she said they have distributed over twenty thousand boxes of Eku juice and, potatoes bread and chops from Casa de Ropa.
Miss Ayim was very excited how Ghanaians have accepted these Ghanaian brands and hope the demand for these products would be sustained.
Speaking to a cross-section of patrons to the rally, Miss Ayim urged other factories to display their products as seen at the rally so Ghanaians will see the reality of the NPP government's industrialisation efforts in the country.
The ruling NPP held a rally at the forecourt of the Ghana International Trade Fair Centre in Accra to climax the national delegates conference of the party on Sunday.
The conference was attended by about 6,500 delegates from Ghana and the Diasporan NPP community, including former President John Agyekum Kufuor, Vice-President Mahamudu Bawumia and the National Chairman of the NPP, Mr Freddie Blay.
Others at the conference were national party executives, Members of Parliament and representatives of some opposition political parties.