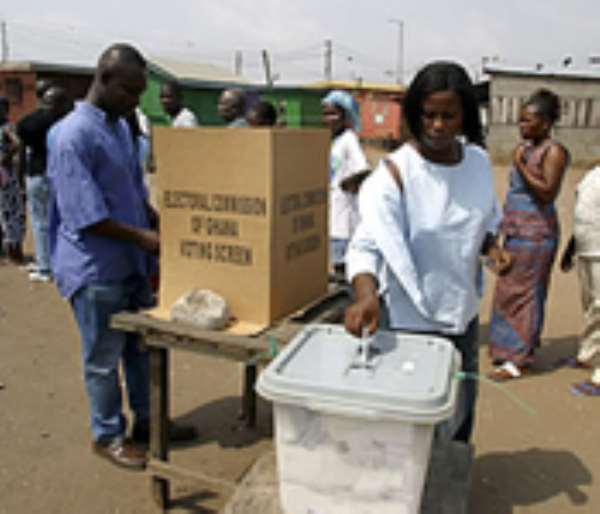 Cape Coast, let your Victorian name ring loud.
Let it ring louder during Election 2020, so that we shall cease to tickling ourselves and act as though all is cool, says this writer.
zzzzz
A foreboding warning has been issued to all political parties in Ghana, ahead of the December 2020 Elections. 'Don't Announce Election Results'.
Indeed, the wise tread cautiously, but a fool does contrary. I guarantee you, it's never cool until we put our act together and see ourselves as one united people and not people divided along party lines, or divided by tribal contours and religious affiliations.
Why Cape Coast?
This is where all the political actors and various stakeholders assembled last Friday 20 December 2019. They'd gathered at the former capital of the Gold Coast to do what I call 'self-inventory or 'soul searching''. The Sun is sinking fast and the political clock is ticking so quickly. Time is of the essence.
Who likes his beard to catch fire...except the fool probably or those who behave like the proverbial ostrich?
Basically, it was the inauguration of an Inter- Party Dialogue Committee (IPDC) , a unifying body which seeks to promote peace and resolve conflicts before, during and after general elections.
Who made you referees?
The question mimics this one- "who made you judge over us," as found in the book of Exodus.
The umpire has had enough of the political nonsense. Everybody blowing his or her whistle from everywhere with no regard to the rules of the game. It was time to call the stubborn guys to order. It was time to call them out to be of good behaviour and stop acting like referees.
It's becoming a bizzarely trend in Ghana's body politic----political parties announcing election results, literally usurping the prerogative powers of the Electoral Commissioner (EC).
Per the 1992 Constitution, the EC is the only official who is supposed to blow his or her whistle in this game. In other words declare election results. Thus this crucial assignment kicks in from the get-go up to end of the exercise. H/she must follow the rules of the game to the letter and ensure that the players also play by the rules.
The semantics or jargons
However, there are political clowns in this expensive game. There are non-comformists they don't adhere to rules. They've been employing political jargons to dictate the game. They argue, announcing election results isn't the same as declaring them.They choose to change the goal posts (to suit their whims). They can feign badly injured and they've a million whistles which they can blow them to call for the end of the game. In other words announce results and declare themselves winners.
But have the actors thought of the political ramifications?
I guess not. And I can second guess that they haven't lived here 'Ogyakrom' longer. If they 'd they wouldn't ask me, who the heck do I think I am.
Facts. This phenomenon has time and again put our nation on edge. It'ss increasingly gotten the umpire confused, subdued the aspirations of spectators (electorates) and even stunned the actors themselves during election seasons. Indeed some of the actors sometimes get overdosed or comatosed.
The admonitions
Mr. Samuel Asare Akuamoah deputy chairman, operations National Commission for Civic Education (NCCE) has henceforth, charged political parties to desist from announcing results.
"EC is the sole referee and its only the EC that can blow the whistle and declare the final results", Mr. Akuamoah says.
He further admonished political parties to peer review each other and name and shame all whose actions and inactions may result in election violation practices.
The IPDC would provide an effective platform for key stakeholders like the National Peace Council, the NCCE among others to engage with political parties in achieving a free, fair and peaceful election in 2020.
Mr Akuamoah pleaded with the Committee to use it's available mediums to engage in Civic Voter education and to make the public understand the preamble of the Constitution on their electoral rights.
On his part, Mr. Nicholas Boateng, the Central Regional Director of the NCCE says key indicators of any successful democratic dispensation is credible election, noting disruptive elections had brought untold hardship, violence and distraction to many developing countries in Africa.
"Ghana has not experienced this ,yet, there are pockets of conflicts in our election throughout the fourth republic, hence this Committee stands to ensure that political parties behave in a manner that is expected of them, and educate the electorates on the importance of peace"' he advises.
Dr. Kenneth Aikins, the Chairman of the IPDC says sustainable development, cooperation from all stakeholders is needed.
He has, therefore, urged members of the committee to have a united front to marshal out plans on what and how such plans could be dully executed.
"let's all be open-minded and objective and forge ahead in achieving a peaceful election 2020," Dr. Aikins concludes.