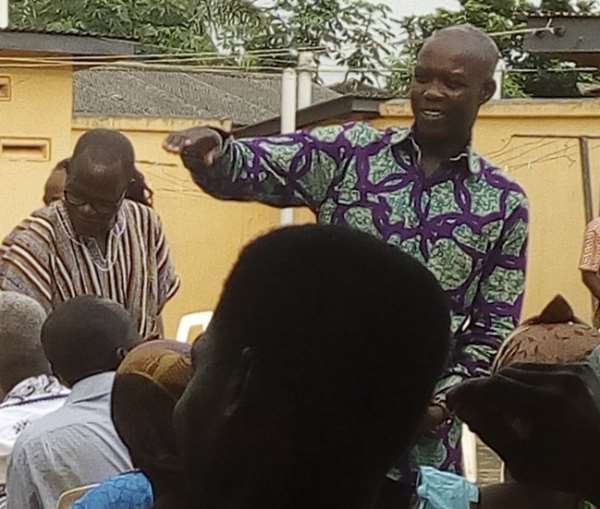 Hon. Bernard Ahiafor
The NDC Member of Parliament and parliamentary candidate for Akatsi South constituency in the Volta Region, Hon. Bernard Ahiafor embarked on what he termed as 'Thank you" tour in all the five (5) Zones in the Akatsi South constituency to show his appreciation for their support.
he has already visited four (4) Zones and finally end the tour today in the district capital of the Constituency, where thousands of the delegates poured out in their numbers to welcome and exchange hands with the prolific member of parliament for the Akatsi South constituency.
Accompanied by his constituency Vice Chairman, Hon. Famous Matsi, Constituency Secretary, Mr Daniel Dagba, Constituency Treasurer, Hon. Solomon Adoteivi, constituency Women organizer, Mad. Cecilia Agbolosu, Constituency communication officer, Hon. John Kobby Agbanavor, former constituency Chairman, Anthony Klutsey and former youth Organizer with their deputies.
Hon. Bernard Ahiafor commended the delegates for the confidence imposed in him and promised to fulfil his promises during the campaign tour in August.
The Constituency Secretary, Daniel Dagba Charges the delegates to continue to campaign for the presidential candidate of the NDC, John Dramani Mahama, he again noted that the market women are suffering, Teachers, drivers, Nurses and everyone in Ghana is suffering so they need a change and the NDC is the better alternative to match the supper incompetent New patriotic party out of power.
Addressing the delegates at perfect peace Hotel, the parliamentary candidate for the Akatsi south Constituency noted that the Akatsi south constituency needs to be alleviated from extreme poverty adding that education system in the vicinity should also be improved to enhance development and the only way to go about it is to vote out the NPP in 2020.
He appealed to the masses to work relentlessly towards the second coming of His Excellency John Dramani Mahama and the NDC come 2020.
The vice-chairman of the party in the Akatsi South constituency, Hon. Famous Matsi predicted victory for the prolific member of parliament ahead of the crucial 2020 general election.