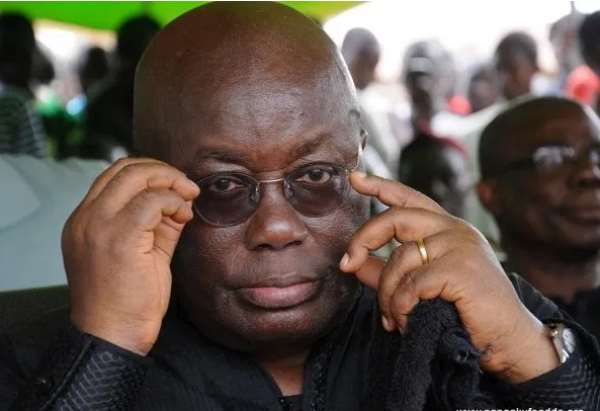 As the year, 2019 is coming to an end, let's go through some of the most reckless statements Nana Akufo-Addo made. As we go through the statements, I want you to assess him and see if Nana Addo is worth your attention as you prepare to vote for the next President of Ghana in December 2020.
I heard Nana Addo telling the first batch of the Free SHS students who were going to write their final exams that they should pass the exams well to shame his enemies. So who are the President's enemies? It could be you. If you want to vote for someone who sees you as his enemy, that is on you.
I heard the President telling Ghanaians the ambulances that he imported with Ghanaian tax money will not be distributed for Ghanaian use until all the 275 imported ambulances have arrived. He said this when it was pointed to him that as the ambulances are sitting idle, children and women are dying. This is the most insensitive President that Ghanaians have had since 1957.
I heard the President admitting that he is truly running a friends and family government but there are only two family members who are in his government. He mentioned Ken Ofori-Atta, who is the Finance Minister. He added that Ken is the Finance Minister because he helped raised funds for the party in 2015/16. Can anybody guess why Nana Addo couldn't mention the other family member? We are reliably aware that Hon. Atta Akyea, Hon Asante Bediatuo and Gyankroma Akufo-Addo who are in his government, are also his family members. So in addition to Ken Ofori-Atta, I have identified three other members. This means Nana Addo lied to the people of Ghana. He was lucky that he didn't lie under oath. Nana, the lying President.
When IMANI survey revealed that they scored 48% for the performance of Nana Addo's government, he rejected that score and gave himself 72%. He said the score card he has confirms that figure. If a President can set his own questions but will not get between 99 to 100%, why should he be happy with a 72% score card? The government of Nana Addo-Akufo is just a joke and it reflected on the just ended district level elections. No wonder when he was asked if he were not presiding over a corrupt government, he answered that he is not corrupt, as if he was asked a personal question.
Writing about Nana Akufo-Addo in 2019, this was what Manasseh Azure wrote:
"Three years later, I am disappointed in the alternative. The "incorruptible and no-nonsense" personality of Akufo-Addo turned out to be a well-packaged lie. That personality turned out to be a poisonous bait some of us swallowed hook, line, sinker and rod, without questioning because we were too hungry for change"
I rest my case. Merry Christmas.
By the way, did Opana go and sleep at the AU summit in Niger too? Just a harmless question.
Lawrence Appiah-Osei
703-400-1621