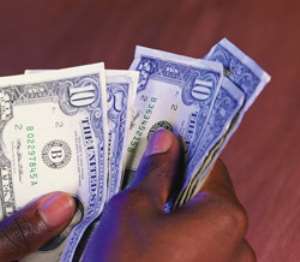 Accra, March 30, GNA - President John Agyekum Kufuor on Thursday said the trend in the flow of remittances to Ghana suggested that compared to imports and exports, remittances as a percentage of Gross Domestic Product (GDP) had been increasing at a faster rate.
He said private remittances to Ghana averaged 202 million dollars per annum in the 1990s, rose to one billion dollars in 2000, and 1.55 billion dollars in 2005.
The figures, the President said, expressed as a percentage of GDP indicated an increase from 2.24 per cent in 1990 to almost 14.4 per cent in 2005 and as a percentage of exports, remittances rose from 22.0 per cent to 57 per cent within the same period.
"This suggests that, compared to imports and exports, remittances as a percentage of GDP, have been increasing at a faster rate over the period," the President said in a speech read for him by Papa Owusu Ankoma, Minister of Justice and Attorney General at a two-day regional forum on Remittances and Trade for West Africa in Accra.
The forum was organised by Bruks Associates Limited, a Management, Finance and Marketing Consultancy Firm in association with the Institute for the Study of International Migration and Inter-American Dialogue. The forum brought together participants from within the Economic Community of West African States (ECOWAS) to review proposed initiatives and reforms aimed at enabling the private sector to harness regional remittances and trade settlements for the benefit of citizens.
President Kufuor observed that remittances all over the world were increasing with developing countries receiving an estimated 125.8 billion dollars from its citizens working in other countries in 2004.
He, however, noted that though remittances were very important their impact on growth and development had not received much attention till recently.
"Collecting data on remittance flows in Africa has been problematic. This is because remittances through informal channels are not captured in the statistics and are, therefore, not reported." President Kufuor said for example, in Ghana, reports were made on exchange control forms of the Bank of Ghana and that the situation improved in 1987 to 1990 after the liberalisation of the financial sector when financial institutions were expected to report on inward transfers into Ghana through the banking system.
"Currently, reporting has been refined through a format which tries to break down and identify sources of the transfers. But with this refinement, there is still room for improvement in the reporting mechanism," he said.
The President also noted the improvement in the banking sector and stable exchange rates had reduced the tax on funds transferred and this was encouraging the shift of transfer of migrant resources from unofficial to through official channels.
The remittances to Ghana, he said, were made for private property development and small businesses by the migrants but the government and international organisations saw this as an opportunity to promote self-employment and the development of small scale business activities in recipient countries.
President Kufuor said; "as important as the remittances are, there is no denying the fact that there is an aspect of migration which is negative for development.
"This is what has been called the brain drain, which is the exodus of highly skilled professionals like doctors, nurses, teachers to name but a few."
The President acknowledged efforts towards the management or institutionalisation of the phenomenon to curb it but called for the formation of migrant associations abroad and the institutionalisation of their commitments to home countries in order to highlight their developmental effects.
He mentioned the hometown associations (HTAs) in the United States of migrants from Latin America countries such as El-Salvador, Guatemala, Honduras, Mexico and the Dominican Republic to make contributions to finance investment for community projects in their home countries with similar ones in Egypt and India.
President Kufuor commended the recently formed Italy based Ghanaian Co-operative Society whose main objective was to raise money for investment in their homeland.
Dr Paul Acquah, Governor of the Bank of Ghana, said the fundamental issue raised by remittances had to do not so much with their importance as the potential source of foreign exchange earnings, or their stabilising influence on a developing country's external payments position or their general macroeconomic impact but went to finance domestic consumption expenditure and mostly small-scale and micro business plans and thus affected aggregate demand and output and influenced welfare, especially of the recipient families.
"They bridge the gap between the standard of living between the family members resident abroad and the beneficiaries living in the home country, and can directly mitigate poverty," he said, adding "some may represent repatriation of savings and capital for portfolio or direct investment that can contribute to higher growth."
Dr Acquah said the fundamental policy issue regarding remittances had to do with the factors responsible for the flows, which were migration and the causes of the migration.
He said the issue, raised questions such as why the direction of remittance flows was mostly from industrial more affluent countries to developing countries and why among the developing countries, the volume of remittances increased almost exponentially when the economic conditions began to improve.
"Surely, the fundamental issue, therefore, has to do with economic development policies, growth and poverty reduction."
Dr Acquah said recent global estimates by the IMF in April 2005 showed that remittances to developing countries had grown steadily over the past 30 years and that currently amounted to about 100 billion dollars a year.
He said for many developing economies, remittances constituted the single largest source of foreign exchange, exceeding Foreign Direct Investment and other private capital flows.
Despite such glaring evidence on the extent of the flow of remittances, gaps still remained in the understanding of how they were used or could be used to promote development and how best to capture their development impact, Dr Acqauh said.
The Governor, therefore, observed that it was important to address several policy questions on remittances to maximise its impact on savings, investment, income distribution and poverty reduction. He enumerated some of the relevant policy questions to include those on whether there were specific incentives to stimulate increased inflows of remittances; how to reduce transaction costs through simple mechanism transfer; whether banks could develop lending instruments tied to remittance flows and whether there were legislations with interest to prevent money laundering activities but hinder remittance flows. Dr Acquah cautioned that in the bid to increase efforts to control money laundering or the financing of terrorism, stakeholders should learn form the experience of the Southern American experience in order not to unnecessarily increase the costs of sending money home.