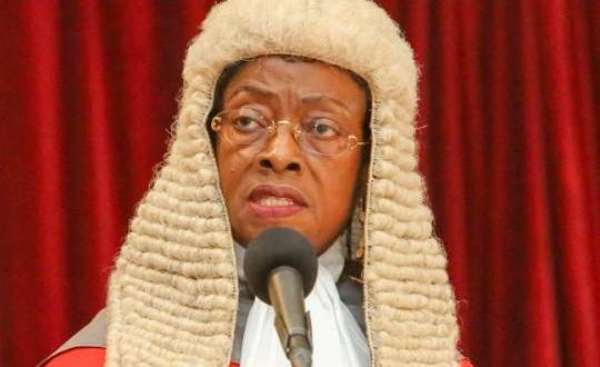 Or perhaps more aptly, "She Is Not Yet Dead!!!" Anyway, a recent news story covering a thanksgiving service at the Kaneshie Presbyterian Church of Ghana, Accra, during which retiring Chief Justice Sophia Akuffo was reportedly honored with a citation by the President of the Ghana Bar Association (GBA), Mr. Anthony Forson, began as follows: "The Ghana Bar Association has eulogized the soon-to-retire Chief Justice, Justice Sophia Akuffo, for her strong advocacy on upholding and maintaining high standards, professional ethics, dignity and integrity in the legal profession is worthy of mention" (Classfmonline.com / Ghanaweb.com 11/29/19). Anybody with remarkable familiarity with the English language is fully aware of the fact that a "eulogy" or an "eulogy" is praise rendered unto the distinguished recently deceased or even long deceased, in much the same way that Ghanaian citizens and politicians periodically panegyrize transitioned leaders and statesmen and women like Messrs. JB Danquah, Kwame Nkrumah, Emmanuel Obetsebi-Lamptey, Ebenezer Ako-Adjei, William "Paa Willie" Ofori-Atta, and Edward Akufo-Addo, all of the legendary Big Six, and Justice Annie Jiagge and Dr. Susanna Ofori-Atta (Mrs. DeGraft Johnson), among a host of others.
It goes without saying that journalism of the seedy caliber being presently discussed is distasteful journalism that ought not to be tolerated even in a free-speech-protected constitutional democracy like ours. And the sooner the Ghana Journalists' Association (GJA), the nation's leading and only professional membership organization for media practitioners set up a standards-policing desk and a newsletter to monitor and promptly expose such insufferable flaws of media reportage, commonly known as "howlers," the healthier it would be for the significant improvement of the same. It is simply not enough to institute a countless number and categories of annual awards commending and/or celebrating the best and the most remarkable practitioners of Ghanaian journalism and general media practice. Regular professional development workshops on the responsible use of language need to be organized by the GJA on a regular basis, if such skills-honing facilities or avenues do not already exist.
It is also quite obvious that the writer who committed this blunder in the proper use of the English language is not very conversant with the critical use of this most global or universal of languages, in particular vis-à-vis the deft and apposite deployment of "diction" or the proper choice of words. And on the latter count also ought to be promptly observed that it is highly unlikely for a highly literate writer or speaker of any one of the country's major indigenous languages to have committed such an unpardonable blunder. In sum, practitioners of the media trade who use Ghana's official language of academic instruction and the conduct of business, diplomacy and governance need to pursue their professional practice or trade with a critical sense of familiarity with this most basic media tool.
The preceding notwithstanding, in the realm of dialectics, what was not said or reported to have been said by Mr. Forson, the President of the GBA, was deafeningly and definitely as significant as what the latter was widely reported to have said. Which was that while she may be aptly "eulogized" for having been the longest-serving Chief Justice in postcolonial Ghanaian society and history, nevertheless, long-retired Chief Justice Georgina Theodora Wood does not appear to have done as well as she possibly could have done to significantly improve judicial cultural practice in the country. But, of course, we also recognize the fact that as a "pioneer" or the very first woman to hold the post of Chief Justice of the Supreme Court of Ghana, Mrs. Wood had a relatively more uphill task than her immediate successor, especially being that the temporal bulk of her tenure occurred directly under the inescapably and incontrovertibly hostile tenure and political domination of the Rawlings-founded National Democratic Congress (NDC), a party whose leadership is widely known for its inordinate penchant for judicial decimation and/or total destruction.
To be certain, for most of her tenure under the Mills-Mahama-led regimes of the National Democratic Congress, Chief Justice Wood was consistently and doggedly harried by infamous party bullies like Mr. Koku Anyidoho, an Atta-Mills Communications Director at the Presidency, with the glaring complicity of the extant Commander-in-Chief of the Ghana Armed Forces. There was, for example, that seismically scandalous moment during his final State-of-the-Nation Address to Ghana's Parliament, when a speech written for him by Mr. Anyidoho, by the latter's own impudent public confession, had a terminally ill President John Evans Atta-Mills flagrantly omit the name and title of Chief Justice Wood in its routine and conventional salutation. The extant President would shortly apologize for Mr. Anyidoho's authorial savagery and inexcusable vindictiveness after the same was publicly brought to his attention by the media. Chief Justice Sophia Akuffo, on the other hand, served all her nearly four years of stewardship under the most auspicious and conducive, as well as judicially enlightened, of political climates. Which is just another way of saying that in order to fully appreciate the immediate predecessor of Justice Akuffo, the climate or environmental conditions of her service must be inextricably contextualized.
*Visit my blog at: kwameokoampaahoofe.wordpress.com Ghanaffairs
By Kwame Okoampa-Ahoofe, Jr., PhD
English Department, SUNY-Nassau
Garden City, New York
December 19, 2019
E-mail: [email protected]