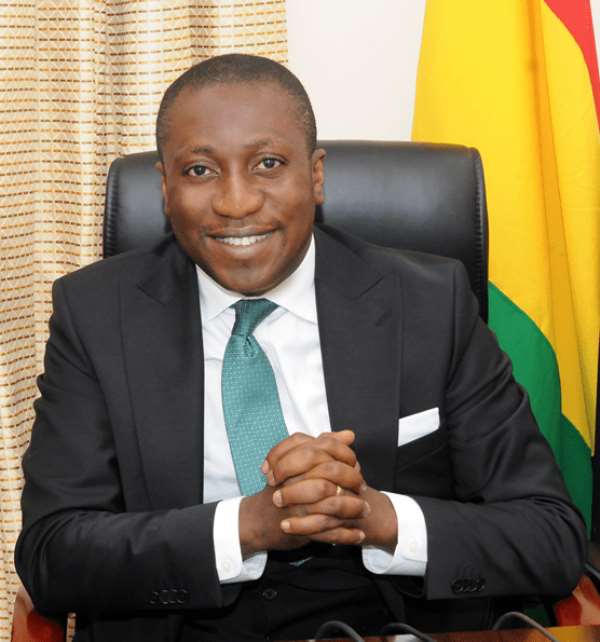 Hon. Alexander Kwamena Afenyo-Markin, the Member of Parliament for Efutu
The good works of Hon. Alexander Kwamena Afenyo-Markin, the Member of Parliament for Efutu, have endeared him to the hearts of the teachers in Awutu Senya West Constituency that they wish they had him for their Member of Parliament.
According to these teachers, especially those who teach at the Senior High School level, Hon. Afenyo Markin has done so much in the area of health, education, security and other infrastructural projects like providing community centres as well as cushioning petty traders to pick up but what baffles them most is his decision to provide all the teachers in his constituency with laptops. According to the teachers, laptops will go a long way to promote teaching and learning activities.
My personal interaction with some of these teachers reveal that they will use the laptops to set their examination questions since printing fees are no longer taken from students. They are also of the view that with the introduction of the free Senior High School with its Concomitant adoption of the double-track system, the contact hours have reduced. Nevertheless, with these laptops, they can easily prepare lesson notes that can be printed for the students after lessons. This they claim, will help them cover many topics within a term and still ensure their students benefit from their lessons. As a teachet myself I just agree with them because I have been doing this and with that I am able to use six months to prepare remedial students in Ideal College to pass their WASSCE, with the excellent ones who are new to Government, the subject I teach, scoring grade A.
Hon. Afenyo Marking has not only limited himself to the provision of laptops as some of the things he does to promote teaching and learning in his constituency. He is also providing his constituents with the state of the arc library. This will promote reading culture and produce more lawyers, teachers, engineers, doctors, etc for Efutuman.
This has however made them angry because they think with their Member of Parliament as a deputy minister in the Ministry of Communication with links with companies that produce such communication gadgets, he could have been in the best position to help them with laptops. This anger endangers the chances of the NPP retaining the seat should they go with the same MP for the 2020 presidential and parliamentary elections. Teachers are the most influential leaders when it comes to elections because they lead students, who are hero worships. So as they tell the students how they could have helped them better if somebody had done something similar for them, the students will also take it up to their parents and other relatives who have interest in their well being.
While the teachers are planning on taking their pound of flesh, the MP is also doing all he can to win the primaries. Since I would not want to campaign for anyone, for my own good reasons, I wish the stakegolders, especially the NPP loyalists who are teachers strategize to deliver their party from this mess.
For now, I bow out!
Bala Ali
Concerned Constituent
Awutu Senya West Constituency
0241260017 (what'sAPP/ calls)