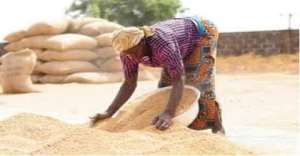 Must we be even told to support our own? For years this country have been finding reasons to support its own Music, Movies and even food to no avail due to our colonised mindset.
It was therefore very heartwarming when from no where we decided to support the eating of our local rice.
We have been eating foreign rice for years with some politicians being beneficiaries of it by importing and selling therefore it was never going to be easy to change that status quo.
It was only going to take some miracle and lo and behold that miracle happened with the media lead by Citi Fm leading the campaign for us to eat our own rice.
As anticipated the rice importers retaliated by withdrawing their Adverts from the station but that did not deter them it rather made them stronger and as powerful as the media is they showed why they are indeed the fourth pillar of democracy.
Today we can proudly say that all school feeding programs will use local rice and all government offices this Christmas will share local rice as their Christmas bonus.
One thing which is quite a worrying is the non availability of the rice on the market at our regular supermarkets. You can check all the supermarkets in your neighbourhood and trust me you will not find even one shop that sells some and that must change immediately by adding the product to the distribution chain before we leave people with no choice than to return to the foreign rice.
We are not saying we should throw the foreign ones away but the local ones must be available in more than equal measure for us to make that choice.
Now we all know the benefits that will come to our own citizens with this action and the kids acquiring this taste via the school feeding exercise means the future rice economy is indeed secured.
This is the way to go and it will take the support of the media to lead these campaigns.
The next target should be our Movies and Music as our TV screens keep showing us foreign soap operas and radio playing us more foreign songs just for a few greedy folks to benefit at the detriment of the majority.
I want to believe that even the dumbest person on earth will obviously like to support his or her own so the wise must be able to do better.
Ghana is our Market and we need to Protect this Market in order to make Economic gains from it.
Let's support everything we produce locally till we even start making major gains from Exporting them.
#SuppourtYourOwn
#VhimMobeMent