Japanese PM to visit Ghana from 1-3 May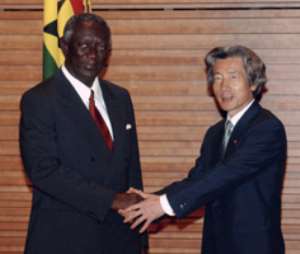 Accra, March 29, GNA - The Japanese Prime Minister, Mr Junichiro Koizumi will pay an official visit to Ghana from May 1 to May 3, the Japanese Ambassador in Accra, informed President John Agyekum Kufuor, on Wednesday at the Castle, Osu.
Mr Masamichi Ishirawa, the Ambassador, said it was the first visit of a Japanese Prime Minister in 49 years.
He would make his first stop in Addis Ababa, Ethiopia, where he would be at the African Union (AU) Headquarters and then continue to the country.
President Kufuor said he was happy Mr Koizumi was coming, considering the huge support Ghana has been receiving from Japan, mentioning particularly, roads being built through their assistance. "We will take him round to see the good things and what we are trying to do with the Japanese support."
President Kufuor said the Government, people and entire nation was looking forward to playing host to Mr Koizumi.