MTN Ghana Foundation is expected to commission a new six-unit classroom for the Adugyama Senior High School in February next year.
The announcement comes as officials of the Foundation inspected the ongoing project on December 11, 2019.
The population of the school is more than the current classrooms affecting effective teaching and learning.
Acting General Manager for the Northern Business District of MTN, Simon Amoh, who made the announcement told journalists that the project follows a request from school authorities appealing for extra classroom and boarding facilities.
He explained that the MTN Ghana Foundation decided to help with the classroom facilities to enhance teaching and learning in the school.
The building which is yet to be roofed comprises washrooms, a store room and a staff common room.
MTN officials also assured that the new block will be disability-friendly.
The project is estimated to cost of about GH¢500,000.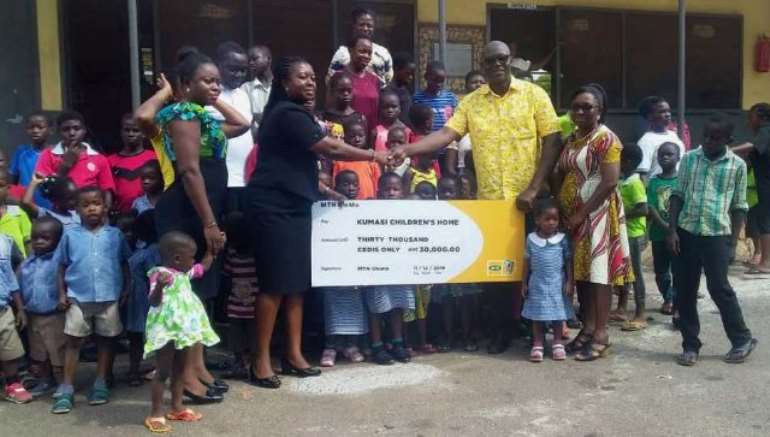 Acting General Manager for the Northern Business District of MTN, Simon Amoh at Kumasi Children's Home
In the meantime, officials of MTN Ghana have presented a cheque for GH¢30,000 to the management of the Kumasi Children's Home.
The gesture is to support caregivers at the home in taking care of the needs of the children.
According to Mr Amoh, the amount presented was a part of the proceeds generated from the MTN Stands in Worship Concert.
The Kumasi Children's Home was a selected recipient of the proceeds because the management had made an appeal to MTN to show them some kindness.
''We raised this money during the MTN Stands in Worship Concert and the idea was to distribute [proceeds] to some to homes and orphanages that had requested for support from our quarters,'' Mr Amoh said.
According to him, MTN takes delight in helping the needy and the destitute.
''Every brand thrives when people patronise either the services or products it represents and MTN having seen customers patronise its products and services [we] also give back to help the needy in society,'' Mr Amoh intimated.
The manageress of the Kumasi Children's Home, Mabel Amponsah, thanked MTN for the gesture and explained the donation is timely since the home had had to deal with many challenges on its own.
Though she admits government support for the facility, support from individuals and benevolent organisations helps to cater to pressing needs of the home which currently has 77 residents made up of 30 females and 47 males aged between three weeks and 28.
---Luv Fm