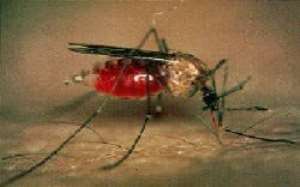 Accra, March 29, GNA - Professor Agyeman Badu-Akosa, Director-General of the Ghana Health Service, on Wednesday called on parents not to neglect the health needs of their children and crave for material things.
He said the fight against malaria still remained an important task for the nation and that it was only parents that could help win it. Prof. Badu-Akosa said this at a ceremony where 1,350 treated mosquito nets were presented to 32 health institutions in the Greater Accra Region.
He urged Ghanaians to maintain a clean environment, as it was the only panacea to a healthy living and entreated expectant mothers to buy and sleep under the treated nets to avoid contracting the disease. "When your health is poor, your child's health is also poor."
Prof. Badu-Akosa noted that artesunate ammodiaquine in the divided dosage still remained the right choice for the treatment of malaria. Sheik Ibrahim Cudjoe Quaye, Greater Accra Regional Minister, whose speech was read on his behalf, said the handing over of the treated nets to the health institutions signified the Region's continuous fight against mosquitoes and the reduction in the rate of malaria infection. He said the donation bought with part of a 73,000 dollars grant received from the Japanese Embassy.
Sheik Quaye thanked the Japanese Embassy and called on corporate bodies to join "Friends of Greater Accra" in the fight against mosquitoes and malaria in general.