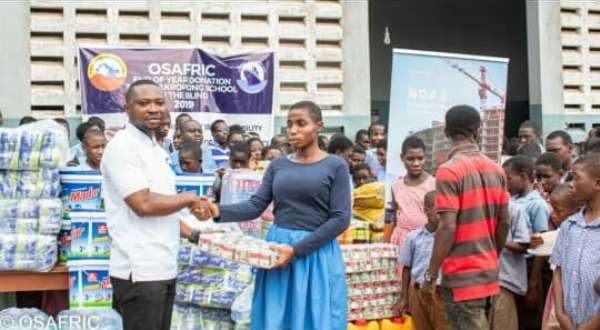 The Akropong School for the Blind in the Eastern region of Ghana was a beneficiary of the kindness from Osafric Ventures and Osafric Mining and Construction Company.
The School took delivery of items such as bags of rice, gallons of cooking oil, milo, milk, full pack boxes of Indomie, packs of toilet tissue, soft drinks, a bale of used clothes, buckets of washing powder, sachets of water.
Oscar Adu Sarfo, the founder of Osafric Ventures and Osafric Mining and Construction, who made the presentation on behalf of the group, said the donations are worth over ¢10,000.
He said they are meant to help cater for the upkeep of the students of the Akropong School for the Blind.
Mr Adu Sarfo indicated that the donation is an annual gesture and a norm of the company to give back to society.
Osafric Ventures is a freight forwarding company with over tens of experience in the transport and freight industry founded by Oscar Adu Sarfo and Francis Sarfo.
The company which started out with a home base office located in Tema, community 4 in 2013 is now a well-recognized freight forwarding company in the country.
The company deals in clearing and forwarding, warehousing, import and export, consolidation, haulage, and general merchant.
"Osafric donation is also meant to inspire the children at the School and to assure them that they have not been forgotten. This is to remind them that Osafric cares for them," he said.
He added, "also significant today is the fact that the company is fulfilling a heart desire to put smiles on the faces of the students and we are furthermore excited about what we have been able to accomplish here at the Akropong School for the Blind."
Mr Adu Sarfo used the opportunity to appeal to individuals and to all government and private institutions to show love and care to the needy since they are mostly neglected and forgotten.
He some individuals with intentions of buying another expensive gift for themselves could forgo the purchase and render a helping hand to the needy in society.
Benjamin Boateng, the Music Director for the School, who welcomed the team with a warm reception, together with the teachers of the school thanked the team from Osafric Companies for their kindness and the judicious time spent with them.
Story by Myjoyonline.com