In the capital of the world, Washington DC, USA, Dr Bawuah-Edusei clears the air and focus on youth development when he launched his newly released autobiography 'Thrived Despite The Odds'.
As a consummate diplomat and an esteemed physician, Dr. Kwame Bawuah Edusei had been calm in the face of innuendos and lies from elements who felt they should have been the ones who discovered the oil in Ghana.
The Ambassador clearly asserted that "EO Groups operations were always legal and transparent. That no matter how hateful and untruthful these sick rumours persist; the TRUTH will always prevail.
That is why the US government vindicated the EO Group and its partners.
The selection of EO / Kosmos partnership was based on pure merit and was a no-brainer. Dr Kwame Bawuah-Edusei stated in no uncertain terms they beat the competition for the West Cape Three Points block (WCTC) as they met the criteria at the time. Also the EO group and partners went through the comprehensive process every oil company passes through till unanimous parliamentary approval in July 2004.
All these were done when he was a private citizen. He was neither a party nor government official and not an ambassador at the time. After the full approval of the petroleum agreement, his role ended at this stage.
In the book, he articulates being born to an ethic oriented family with fulfilling values of Integrity, education and business acumen.
The reader is introduced to the challenges Dr Bawuah-Edusei faced when he was taunted most of his childhood.
After the death of his father at a very tender age he was faced with challenges including having minimal school supplies at school yet was always among the top of his class. He broke all barriers and helped lead a nonviolent advocacy in both high school and Medical school to change administrators for the better of the students in the schools.
These challenges continued even in the United States where he assertively engaged the Ghana health authorities for several years till his new medical school (KNUST School of Medical Sciences) was given a retroactive recognition. This is an usual gesture he has always been proud of.
In business as a private citizen, (neither a Government nor political party official), Dr. Bawuah-Edusei formed an oil company, EO Group with his partner.
The hard efforts deployed by EO Group contributed eventually to the discovery of oil in large commercial quantities for the first time in Ghana.
This transformational asset helped Ghana move from a highly indebted poor country (HIPC) into a middle-income one. He won a national award for this effort.
It was later on that Dr Bawuah-Edusei was appointed Ghana's Ambassador to Switzerland and Austria, as well as Permanent Representative to the United Nations and other international organizations in Geneva and Vienna.
In recognition of his exemplary service, he was re-posted to serve as Ambassador of Ghana to the United States.
When the new government took office in 2009, Dr Kwame Bawuah-Edusei and his partners were attacked by a Cabral instigated and led by elements who felt they should have rather been the ones who discovered the oil.
Their well-orchestrated mudslinging based on lies and innuendos suffered a humiliating defeat when the United States Department of Justice and even the hostile Ghana Government eventually legally cleared Dr Kwame Bawuah-Edusei, his business partner and the EO group upon full and comprehensive review.
Dr Kwame Bawuah-Edusei and his partner had lived a combined 60 years of their lives in the USA at the time so the authorities knew them best.
The harrowing tale of his ups and downs and courageous fight based on his integrity will make anyone who values courage and justice want to stand up and cheer.
After the vindication, he did not let the bitterness wear him down but he rather took a positive attitude of development.
Dr Kwame Bawuah-Edusei not only regains his footing he dedicated his life to philanthropy and started the Edusei Foundation, a 501 (c) non-governmental Organization with his wife and family to focus on youth and women empowerment.
This foundation Implements programs for youth in Ghana, United States, Canada, and United Kingdom. They build orphanages, medical clinics, create housing for medical staff and make multiple donations all over Ghana.
Though Dr Kwame Bawuah-Edusei ultimately emerges victorious and thriving he
attributes his strength to the Almighty God.
'Thrived despite the Odds' is a true story that is a testament to human endurance and a prescription for those who believe that they do not have it in them to win in the face of overwhelming odds.
Dr. Kwame Bawuah-Edusei shows the way for the Youth to aim high and be inspired.
Dr Kwame Bawuah-Edusei is a physician, patriot, diplomat and business executive with a track record of philanthropy who has dedicated his life to enhancing youth development, women and children upliftment through positive engagements.
Dr Kwame Bawuah-Edusei even though now retired and focusing on his foundation and business he affirms remaining as a private citizen for the rest of his life.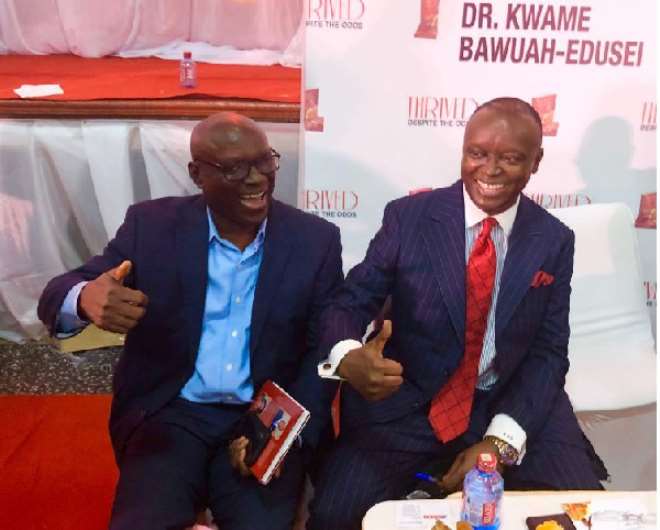 Ambassador Edusei And His Eo Group Partner George Yaw Owusu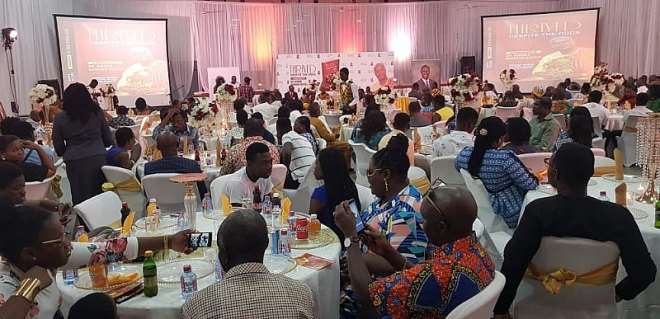 At The Book Launching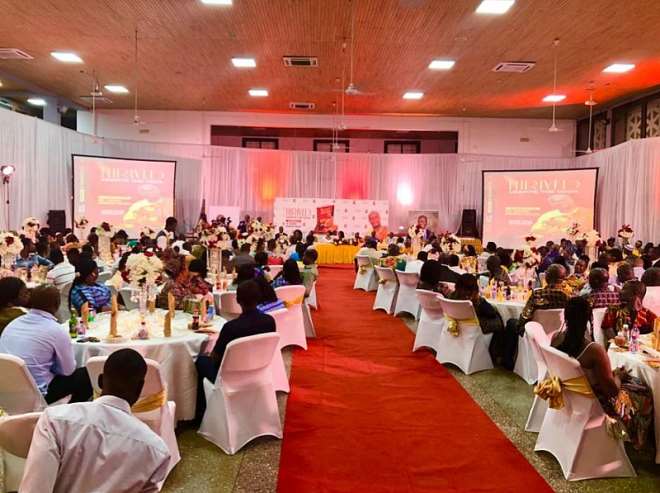 Beautiful Setting At The Christ The King Parish Hall In Accra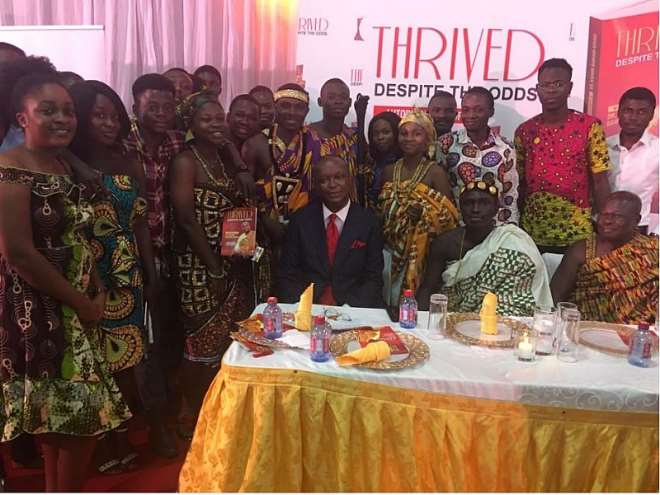 Dr. Kwame Bawuah-edusei With Some Traditional Chiefs And Group At The Book Launching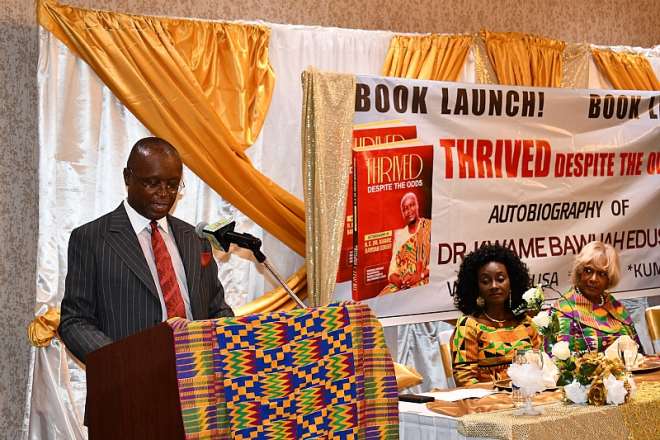 Dr. Kwame Bawuah-edusei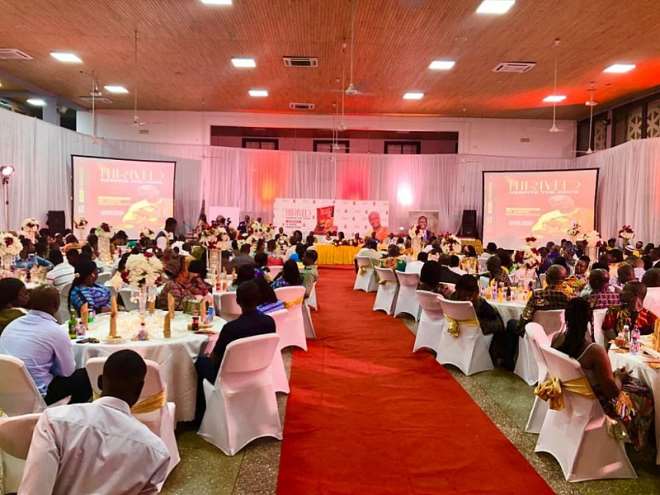 Fr[1]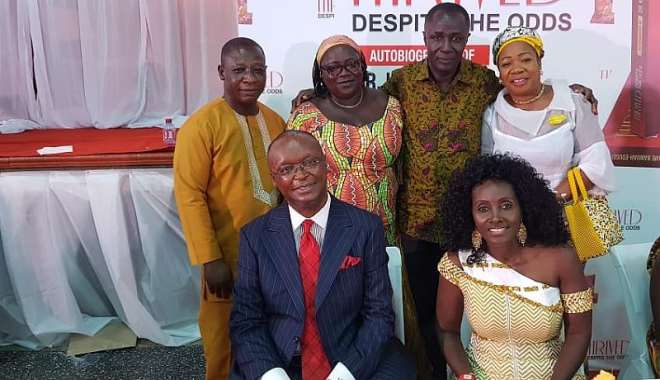 With The Asu Branch At Legon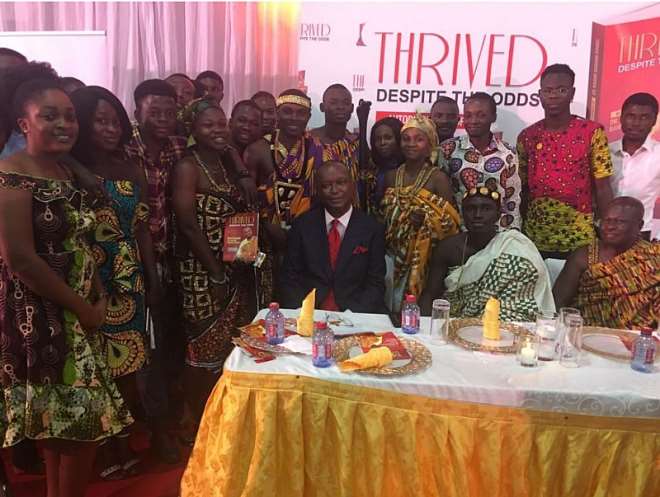 With Traditional Chiefs And Group