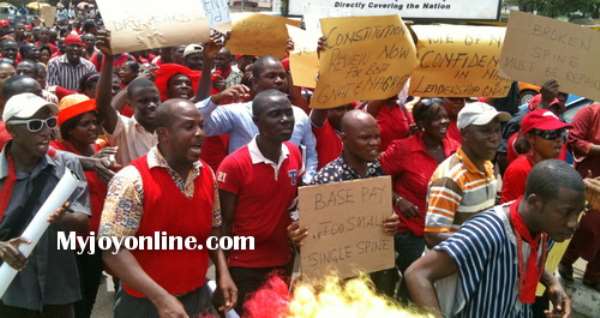 Without teachers in the country, we could not have had, and still continue to have, our past and present Presidents, Prime Ministers, politicians and heads of public institutions, just to mention a few. Teachers do impart knowledge to us through formal education to let people become what they are in the competitive global market where acquisition of formal education is mostly the key to success.
Therefore, the importance of teachers can in no way be underestimated in any society or country that is desirous of achieving political, social and economic success. They are the corner stone of the success of any past or present great country in the world. For them teaching us in school, we grow up to acquire the intelligence and wisdom needed for the greater things we end up doing to benefit not only the country but humanity in general. If this is not an indisputable fact, someone must please tell me!
However, for Ghana teachers to go on strike, despite the pleadings by the government and her efforts being made to meet their requests, although it is taking a bit longer, is probably ungrateful. Yes, teachers cannot work without getting salary commensurate with their hard work done let alone, not being paid for months or years. But with their current demands, the non-fulfilment of which has led to the demonstration they embarked on only to be stopped by a court injunction, I can accuse them of ungratefulness, maliciousness and ill-timed action.
I hope their staging of the public demonstration, walking out of classes to leave the pupils and students to their miserable fate, was not politically motivated despite the support they have had from the National Democratic Congress (NDC). If it was, then I am sorry and I cannot hide how I will be disgusted at their attitude.
That human character which they have exhibited is all about how when you offer someone your finger, they will want to take your whole arm. If you offer someone something little, according to your means, they will keep asking for more than you can afford. The attitude by the demonstrating teachers is not peculiar to them but an inherent quality in human beings especially, my fellow black people, who always expect more rewards by doing very little. I say this on authority because I know my people inside out.
There was a time in Ghana, under the late President Professor Evans Atta Mills and former President John Dramani Mahama's tenure of office when an embargo was imposed on recruitment of civil servants including teachers. During the NDC administration of former President John Dramani Mahama, some civil servants were not paid for about three years, although they were still legally employed and were working. This affected some teachers. The teachers' allowances were cancelled but they did not go on demonstration. Therefore, it is very shocking, thus jaw-dropping, to see teachers making demands on end on the New Patriotic Party (NPP) government with threats to go on strike and striking, something they dared not do under the NDC. What has happened to give them that courage?
I think, I know the answer. More is often demanded of the kind person than the wicked. When you are seen as a soft touch, you will unceasingly be pestered with trivial problems or requests. No wonder that under the NPP government of President Nana Akufo-Addo, more is being demanded from the government amid threats of strikes, voting against them in election 2020 and all sorts of things unimaginable.
The government must please come into agreement with them to pay them at the appropriate time when sufficient fund is available for they cannot do a charity work, working for free. In the same manner, I shall advise the striking teachers to be reasonable in order not to harden the heart of the NPP for them to decide not to honour the payment the teachers are seeking since it dates back to year 2012 to 2016, if I am not wrong.
Can the teachers reassure me that should I initiate a process to compel former President Mahama's younger sibling to refund the huge sums of money he borrowed from the banks that he has refused to pay back, they will give me their support? I will love to see them lend me a hand since he paying back his loans will make more money available to the banks to help create more jobs for others.
The government must please look after the teachers. They are the solid foundation on which we have been building, and hopefully continue to build, a successful Ghana provided our politicians will stop embezzling funds and State assets. The teachers must so far be thankful to this listening President who is doing whatever it takes to look after them properly. They should not let former President John Mahama, alias "Yen ntie obiaa", deceive them into thinking he could do much better for them. If he could or would, why did he not pay them what they are owed by the government during his tenure of office but let it to accumulate into arrears?
"Once bitten, twice shy". And, "Ye besi wo so a, nka ye hyee wo ma" – This is an Akan warning proverb meaning, "If they intended to help you, they would have done or shown it in the beginning". For example, when you present yourself at a gathering where palm wine is being served as happens in our villages, and your are served a half-full of the calabash, you are advised not to ask for more once you finish drinking it. This is because if they would give you extra servings, they would have filled your first calabash serving to the brim.
If Mahama says he will help you much better than the current President, he should have paid you all your entitlements when he was the President. Do not deceive yourselves so that you are not deceived. This is my only advice to you teachers, whose efforts or dedication has shaped me and made me what I am today. I do not like equalization to justify wrongdoings but I cannot stand the NDC's hypocrisy and malignity.
I dedicate this write-up to my late Kumawu Roman Catholic Primary School teachers Mr Appiah Kubi and Headteacher Mr Antwi Agyei for their patience, dedication and studiousness to teaching their pupils.
I salute you Ghana teachers.
Rockson Adofo
Sunday, 15 December 19