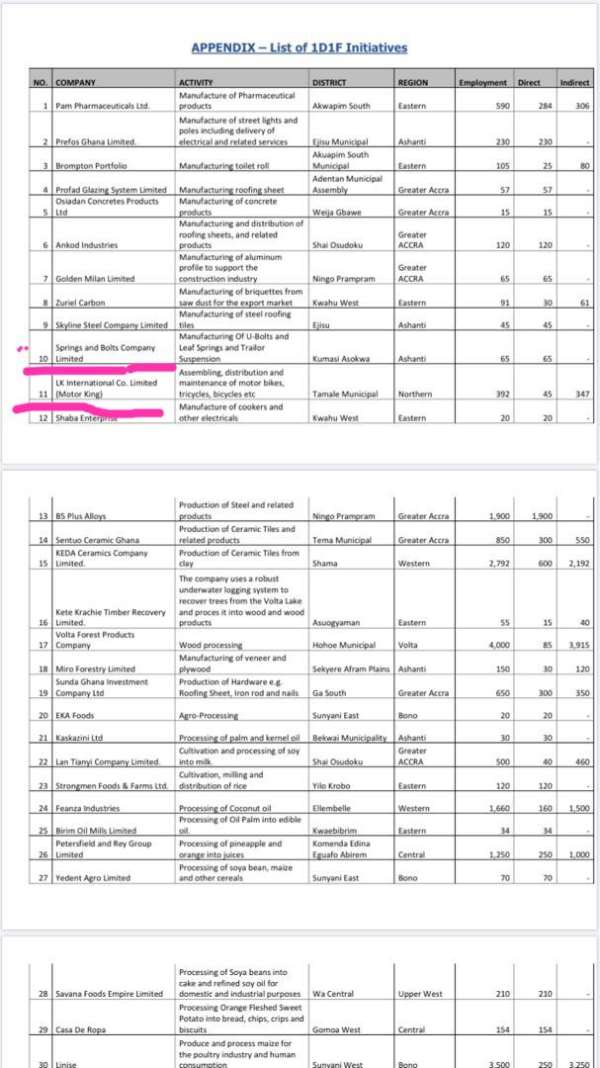 Among the lists of so-called 1D1F put out by govt, please check No. 11 on that list attached. How could Akufo Addo and his NPP look into the eyes of the good people of Tamale and its environs and say that, LK International Company Limited (popularly called Motor King) located in Tamale, precisely close to Nyohini Dam, is part of his 1D1F initiative? This is yet another example of deliberate lies by Akufo Addo's govt to hoodwink unsuspecting Ghanaians as 2020 elections are approaching.
For the records, Motor King company is a Chinese company. They started assembling tricycles and motorcycles in 2007/2008. Today Motor King company is over 11 years old in Tamale. Everyone in Tamale and perhaps Northern region is aware of this basic fact.
Originally, the company's assembling warehouse location was in Gumani near ABE Happy School complex. They operated at this Gumani location until sometime after December 2017 when they decided to relocate to their current site along Nyohini-Lamashegu road after Diamond Fm new location.
Before they moved to their current location, fire gutted parts of their original warehouse located at Gumani on Sunday 31st December 2017 at about 2:30 pm.
As a matter of fact and records, I personally purchased a motorcycle from MotorKing company in August 2008 at their assembling warehouse at Gumani. These kinds of lies are unpardonable and disgraceful to say the least. The President charged Ghanaians to be citizens and not spectators.
It's an insult to us in Tamale for President Akufo Addo to tell us that a company that is over 11 years old is 1D1F. The people of Tamale and for that matter Ghana, deserve better than these lies. We were not told that existing factories were going to be branded as 1D1F.
I am a citizen and a native of Tamale. Ghanaians must take time to scrutinise the so-called lists of completed 1D1F put out by government
Baba Musah
[email protected]