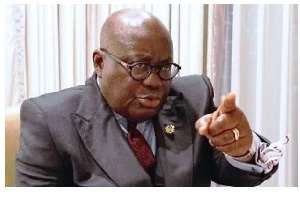 Dear Akufo-Addo's God,
Nana's father, who art in heaven; doest thou really art in heaven or you are living in some 5-star plaza on a distant planet next to Pluto? Anyways Hallowed be thy name, Thy Kingdom Come.
Thy will is about to be done on earth, and that is the reason why I am writing you this letter. I am neither a baby elephant following my mother around in the Mole, nor am I standing under a yellow umbrella to allow cash out. I am the dropout son of a retired photographer, who is currently farming; but neither for food nor for jobs.
My name did not make it to the Sunday school register, so I do not know too much about the Holy Book you sent down, but I know that if you are the same God who is fond of taking people out of misery and placing them in bountiful gardens, then what is about to happen on this piece of land that Nkrumah fought for, would not make you happy at all.
Did you hear the cry of Maame Yaa last night? Maybe you are too far away so you didn't hear her, let's have a petty gossip, shall we? Maame Yaa was weeping last night simply because her only daughter died yesterday after being turned away from the hospital! The reason, NO BEDS. For the LACK OF BEDS, MY PEOPLE, YOUR PEOPLE, are perishing!
As if that wasn't enough, Mba Bawa has also been cursing and wailing because his wife of 14 months died in labour as she was being transported in a MotorKing along the bad stretch of road that links his village to the big town, The Reason, Bad Roads! Even if the road was good, No ambulance. Still Not Enough?
The harmattan too came too early this year, and as a result, the only dam we share with the cattle and goats of our village is now a muddy pool. Drying up would mean the perennial trek to the next village to share their dam with them is just about to begin; 2 Villages, 1 Dam kerr?
I am enumerating these happenings so that you may consider toning down your appetite for the Cathedral our president promised you. He has demonstrated beyond measure that he is grateful for the favour you bestowed on him, by making his childhood dream and prophesy of becoming president come to pass.
O ye master of the day of judgement, our president has begun pulling down the houses of the people who represent you in courtrooms, as a sign of how serious he is about fulfilling his promise to you. On earth, we call that Good Faith. I know this cathedral would mean so much to you.
But in the meantime, would you consider pardoning the promise, so he could use that money to build a befitting country for the same children of yours who ask you for Daily Bread Everyday?
If they ask you for daily bread everyday and yet drink from the same pond with donkeys and cattle, would that make you happy? Are the cries of the bereaved families not reaching your distant skies?
Dear God, let's make a deal! I have something small in a brown envelope, and a ram the size of what you gave to Abraham to replace his son on the altar. Would you consider?
Don't worry about the cameras. Manasseh is busily counting Johns, and the eyes of Anas' Tiger have been plucked out, so nobody is watching. Not even the special someone!
Grant me, my wish, and forgive us our trespasses. For Thine is the kingdom, the Power and the Glory, For Ever and Ever, Amen!
Signed
Abdul-Moomin Tuurosung Shahabdeen
[email protected]
0206982464 / 0246173282