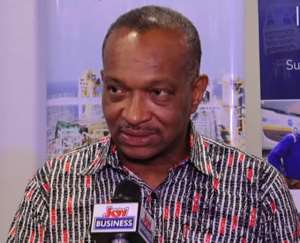 Executive Vice President of Tullow Ghana, Kweku Awotwi has explained what caused the company's failure to meet its production target for 2019.
According to him, the lower than forecast full-year outcome is predominantly due to topside issues that constrained water injection and gas handling during the year.
He said at TEN, production was impacted by the delayed start-up of one of its wells, that is, the EN10-P well and the suspension of the EN14-P well and production drawing on fewer wells than planned.
"In Jubilee, one of the most important reasons for why we did not meet the target we set of about 170,000 is that we had a significantly reduced offtake of gas by Ghana Gas and that meant that we had to re-inject significant volumes of gas back into the reservoir." He said addressing some seasoned journalists at a media soiree organized by his outfit.
"The fact of the matter is that the Jubilee partners have been re-injecting gas from day 1 because remember we didn't have a gas plant at first and then more recently with the advent of ENI, Ghana Gas has been taking the ENI gas over the Jubilee gas." Mr. Awotwi added.
According to the Tullow Ghana Executive Vice President, discussions on increasing gas offtake are ongoing.
The company has attributed the lower export of gas to a lack of demand from the Ghana National Petroleum Corporation (GNPC).
The lack of demand is due to the Sankofa gas taking priority. If less Sankofa gas is offered and GNPC nominates more of Jubilee's gas, the current plant capacity could max out, Mr. Awowti believes.
Background
Tullow Oil Plc earlier announced the resignation of its Chief Executive Officer Paul McDade and also scrapped its dividends, as it continued to face issues at its main producing assets in Ghana.
The company faced problems at its operations in Ghana because of mechanical issues at the Jubilee field and a delay in completing a well at the TEN offshore field, which led Tullow to cut its estimates for 2019 oil output last month.
Wayforward
Tullow Ghana says it's in discussion with GNPC to increase gas export and anticipates increased offtake. The company says it is optimistic more gas demand will occur allowing for increased export. It says the government of Ghana is creating more demand by the relocation of the power barge to the Western Region and switching it to gas. It also revealed plans to export gas from the West to Tema through the West African Gas Pipeline.
Planned shutdown
Tullow Ghana says it's Jubilee planned shutdown for maintenance is scheduled for the first quarter of the year 2020.
The nine-day period with four days full shutdown, according to the company, will prioritise the gas handling modifications to increase gas capacity and maintenance on the water injection and cooling system.
---JoyBusiness