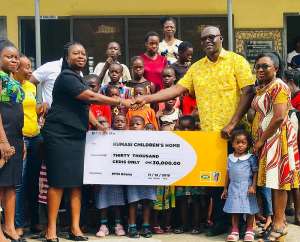 Kumasi Children's home has received a Mobile Money donation of GH30,000 from MTN. The donation is the care home's share of proceeds from Ghana Stands in Worship Concert organized by MTN last month.
Acting General Manager, MTN Northern Business District, Mr. Simon Amoh who made the donation on behalf of MTN said 'this is in fulfillment of our promise to patrons of the concert'.
According to him, Christmas is approaching and as every home is preparing so does the beneficiaries also need to prepare towards it.
The amount he said, is, therefore, their Christmas package to help the Care home in their planning and preparation towards the festive season.
"There is one symbolic thing about Christmas and that is giving, that is why we have come to show them our Yello love". Mr. Amoh stressed.
Mrs. Mabel Amponsah, Home Manager of the Kumasi Children's Home expressed gratitude to MTN.
'Indeed this will really enhance our planning and preparation' she said praying for God's abundant blessings on the telco.