Akufo-Addo Apologises For Failure To Meet Media Twice This Year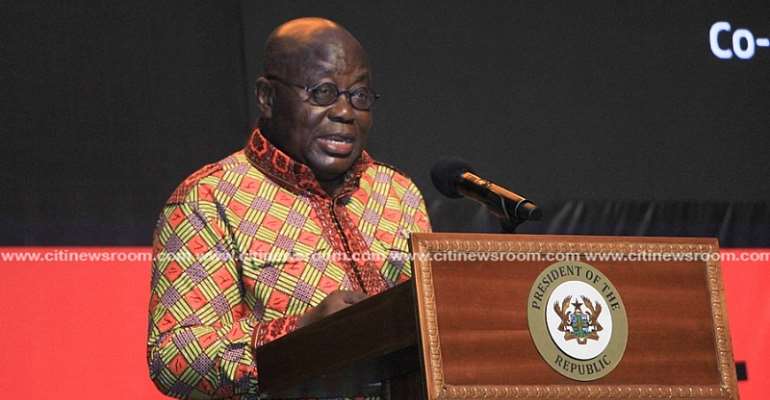 President Akufo-Addo has rendered an unqualified apology to the media fraternity for his failure to fulfil his promise of meeting them twice this year.
Speaking at the media encounter at the Jubilee House on Friday, he attributed the inability to meet them earlier to what he says is his tight schedule for the year.
For this reason, he said the current ongoing session which is the first of its kind this year, will be extended to compensate the media.
"It is something that is always awkward to do. I have to begin with an apology. I did make a commitment [in 2017] to meet with you at least twice a year but the pressure of events and my own movement have made it very difficult for me to do so. So I need to apologize to you and to say that, as a result, we are going to have an extended version today. It is a way of our modest compensation for the fact that I have not been able to meet you twice this year," he said.
At his first media in July 2017 , President Akufo-Addo said:
"Eleven days ago, 7th July, was exactly six months since I swore the oath of office as the 5th President of the 4th Republic. Needless to say, it has been an eventful six months. But, apart from one or two brief encounters, I have not had a sustained, direct engagement with the media. I believe that, symbolically, this is a good time to do so. Hence my invitation for this occasion. It will enable me to share some of my thoughts on what has gone on, and allow you, members of the media, to express your concerns and questions, if any, for my response. It is my intention to have such encounters twice a year."
He organised that meeting arguing that it was a crucial approach to engage Ghanaians and take criticisms to shape the government's flagship programmes and policies. Today's encounter
This is the fourth time the President is subjecting himself to media scrutiny having done same in July 2017 and January/December 2018.
For day's journalists are soliciting responses from Nana Akufo-Addo on topical issues as far as his three-year-old stewardship is concerned.
Before the commencement of the questions and answers session, he is in an address that highlighting some of the major issues under his administration.
Nana Addo touted his achievements in the country's economic space, health and education sectors.
The last encounter criticised
The Media Foundation of West Africa (MFWA) after the last engagement criticised the President's meeting with journalists and described it as the worst presidential media encounter ever.
Its President, Sulemana Braimah also observed that President Akufo-Addo "clearly wasted too much time" on some of the questions that demanded straightforward answers.
One major point of concern for him was that the President hoarded all the time from the media members present to make a speech which Mr. Braimah described as "a rehearsal for his State of the Nation Address."
"If you have an encounter that lasts for 90 minutes and the President spends almost 70 minutes out of that then you have 20 minutes for these media guys that you have invited to interrogate you. I think that there are quite a number of disappointments and generally we think this is the worst ever," Sulemana Braimah said.
---citinewsroom