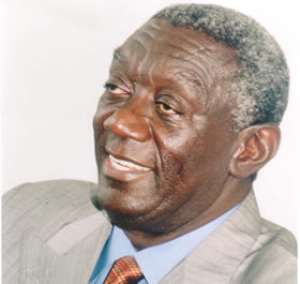 President John Agyekum Kufuor is to table a motion in the court of public opinion to push for an agenda for the extension of the four-year political term to five year-term for the President of Ghana.
Disclosing this in an interview at the Castle shortly after a media briefing yesterday, the Press Secretary to the President, Mr Kwabena Agyapong, said, this is one issue which is very dear and passionate to the heart of President John Agyekum Kufuor.
Mr Agyapong said President Kufuor after year of experience has come to realize that, the four-year term is too short, and has made it an agenda to push the matter through the appropriate quarters for redress.
He disclosed that President Kufuor is of the view that, Ghana's political system is not highly developed and that given the limited time within which the President is expected to grapple with the operations of certain key institutions, there will be very marginal and limited period within which the President can see to development.
The Press Secretary explained that, President Kufuor has been explaining that when elected, the President has to grapple with the difficulty of appointing Ministers of State and their Deputies, District Chief Executives, an exercise which takes a long time to complete. In addition to that he would have to take time to study the workings of the Civil Service.
These situations of acquaintanceship with government machinery and appointments, the press secretary explained, take about one year, and the President can settle and effectively undertake development in line with his vision in the following year, which is the second year. According to the Press Secretary, to the President, this creates a situation of inertia and there is the need to get through with such a situation of inertia in order that government machinery could operate smoothly.