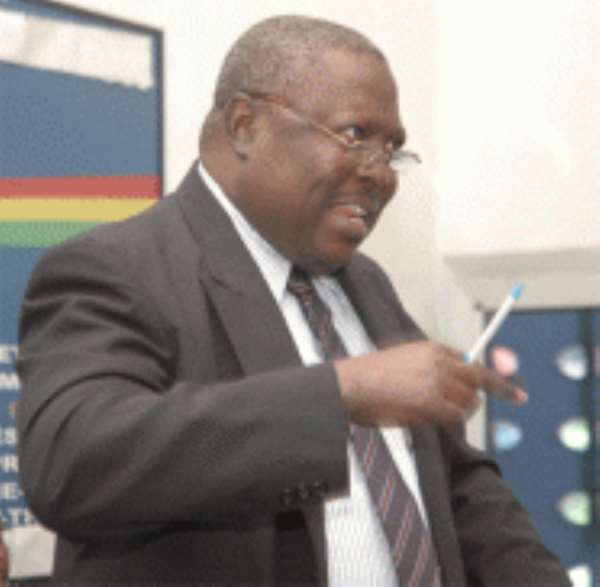 Think you'd bad seeds, hence the low yields?
What a great idea to ridicule Martin Amidu, Ghana's Special Prosecutor!
For some time, Mr. Amidu has become a laughing stock. He's been mocked, subjected to all manner of attacks and criticisms.
How about name-calling?
He hasn't been spared with that either.
From a sloth to a failure, a lame duck, to a do-nothing-man.We've been chuckling at the misfortunes of this great individual, unbeknownst to us that same misfortunes are befalling us almost by the day.
Yes, we seem to be oblivious to the huge problems that confront us as a people. And instead of directing the blame at the right source we are targeting the wrong person.
Is that how we fight corruption?
You can't fight corruption with a luke warm attitude, being apathy and being indifferent.
You can't fight corruption
when you're shielding party members, cronies and friends from being gagged by the law.
You can't fight corruption by aiding and abetting criminals. If you give thief a cover, he' would turn against you when he's broke.
You know the individual that stole five state vehicles, including other state assets. And you know the man that evaded taxes, looted the banks and emptied the kitty. Yet, you were the first to cast the stone. First to blame Mr. Amidu.
Would a man pursue mosquito in the jungle when the giant-- Elephant is sitting right in his face? It's obvious no. But we are doing just that.
Aren't we backing up the wrong tree?
We are simply, backing up the wrong tree.
And I couldn't be wrong on that assertion.
Most Ghanaians have misunderstood Mr. Amidu, just like the Jews had a misconception about Jesus Christ. The Jews saw Jesus as a political Messiah-- one who would fight to free them from political bondage. They wanted a king to rule them as the other nations did.
That was far from their expectations.
They'd backed up the wrong tree.
Similarly, in the eyes of many or most Ghanaians, the prosecuting Czar has the magic wand, he has the political clout to drag every corrupt official to the courts of the land.
Many Ghanaians saw his office as a silver bullet. KwasiPeter was going to uproot corruption, put a million into prison and recoup all that had been stolen or looted from the state coffers.
Herculean task isn't it?
Yet, we expect that individual to get it all done by himself, while we sit in our bedrooms, living rooms and board rooms, whine and gripe.
Think about this:
Who goes to Makola Market with say 10 Ghana cedis and expect to return home with an Elk meat, Moose meat, crocodile meat, tiger meat, 10 Guinea fowls, 10 bags of rice, two catons of olive oil, ten cartons of ABC Larger Beer, two cartons of Guinness, two cows, one elephant, and one he-goat?
If you want the police to work effectively and efficiently give them the requisite incentives, Don't undermine them and lampoo them in public.
If you surround yourself with fools you'll get foolish advice and if you surround yourself with wise men you'll get a wise counseling.
You can't cut your nose to spite your face and blame it on Moses.
KwasiPeter isn't from Jupiter. He is not a super man. He's one of us. He is not a magician.
So let's give him our support, if we truly want to fight corruption. Bear in mind, fighting corruption isn't a one man-show.
I wrote this in one of my articles sometime last year. And I think it bears repeat.
We are all hypocrites. Yes I think we are.
Even with the mirror up to our faces we refuse to accept the image we see. The mirror tells us, this is you. I only reflect on what I see.
The only way to change me (the mirror) is for you to change yourselves, change your characters, change your attitudes and don't ask me to change myself or who I am.
When you change I will change. If you make a face, you'll see same image, same you because I mirror what I see. I hate corruption I can't stand it. I hate hypocrisy I can't go to bed with her.
Lastly,. you cannot tame your bulldog and expect him to be wild. It doesn't work—that smacks hypocrisy.