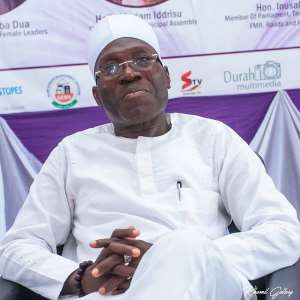 I wish to, on behalf of NASSCANS, congratulate Hon. Inusah Fuseini as the most honourable political figure in the North, and indeed Ghana, for your carefully considered and deeply reflective decision not to put up yourself for legislative elections in 2020. Your decision to step down, you have said, "is to allow the younger once bring in the needed vitality, dynamism and freshness to your party in order to invigorate and revitalize your party.
Much as we all agree that the work of parliament is steeped in the experience of its members, we cannot close our eyes to the need for the creation of opportunities for the youth in this country. It is for this reason that we, the old students of Nalerigu Secondary School, on behalf of ourselves and the current students of the school, want to Congratulate you for the bold and decisive step you have taken. We are indeed proud of you. We have no doubt that you will continue to be a useful and responsible citizen of this country as we hope to be hearing your reasoned comments and contributions on national issues."
Hon. Inusah Fuseini is considered one of the finest gentlemen of the North. He is currently a member of parliament for the Tamale Central Constituency and former Minister of Roads and Highways under the John Dramani Mahama administration. As a man who sees power as transient, he, in accordance with his beliefs and convictions abhors any attempt by one to entrench oneself in power.
Most significantly, Oldboy Inusah Fuseini has assured his successor of his support for the 2020 election. The old students of NASS are indeed proud of you. You will continue to inspire the students of NASS, the people of the North and in fact generations to come.
I therefore on behalf of NASS, salute the honourable member of parliament for Tamale Central Constituency for his humility, dedication, respect, commitment and simplicity to you people and indeed the nation.
Congratulations Hon. Inusah Abdulai Bistav Fuseini of the 1979 batch!
To us, you are a mark of peace, excellence, hope, humility, love, and exemplary leadership! U are a rare gem! Elsewhere in this country or continent we that lives are either lost or maimed in order to perpetuate one's continues to stay in power. The case of neighboring Cote D'Ivoire (Abidjan) in the case of Gbagbo, is fresh in our minds! Nass in deed imbibed these rare principles in you.
And we must be proud of u for setting an unprecedented example for others to emulate suit. Jit only opponents but innocent lives were lost! Hon Inusah Fuseini more grease to ur elbow. Your vision to see Nass transformed into a model school shall surely come to pass, if not now but surely later. CONGRATULATIONS old bone
Nalerigu Secondary School is proud of you!
Long live NASS
Long live Ghana
God bless us all!
Yentik Gariba
Vice-Chairman
Interim Committee
Old Students
Nalerigu Senior High School (NASS)