Will Others Follow Jesus College Cambridge By Returning Looted Benin Artefacts To Nigeria?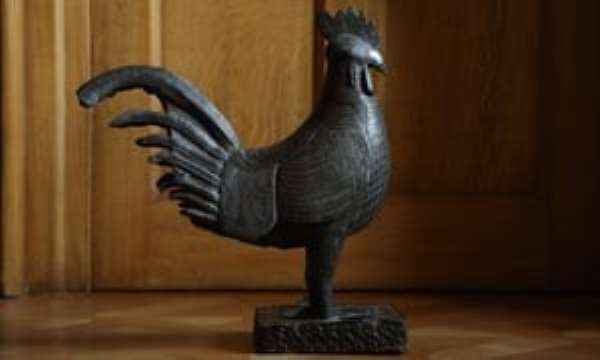 The Benin Cockerel above was looted by the British invasion army in 1897 during their notorious 'Punitive Expedition' in which they stole over 3500 Benin artefacts from the palace of the Oba of Benin.
'Truth must be repeated constantly because error is being repeatedly preached round about all the time, and not just by a few, but by the masses. In the periodicals and encyclopaedias, in schools and universities, everywhere error prevails, being confident and comfortable in the feeling that it has the majority on its side."
Johann Wolfgang von Goethe. (1)
According to several reports, Jesus College, Cambridge, has finally decided to restitute Okukor, the Benin statute of a cockrel which the British stole in their notorious imperialist invasion of Benin in 1897 and had been given as gift to Jesus College in 1930 by a former British army officer, Captain George William Neville, a member of the nefarious Punitive Expedition, whose son attended Jesus College. (2)The sculpture which had been prominently displayed in the dining hall of the college, was removed in 2016 from public display as a result of student protest. The decision to restitute was taken as a result of a recommendation by the Legacy of Slavery Working Group(LSWP) of the college. The Master of Jesus College, Sonita Alleyne stated that the decision was taken 'after diligent' and 'careful' work by the working group: 'We are an honest community, and after thorough investigation into the provenance of the Benin bronze, our job is to seek the best way forward.'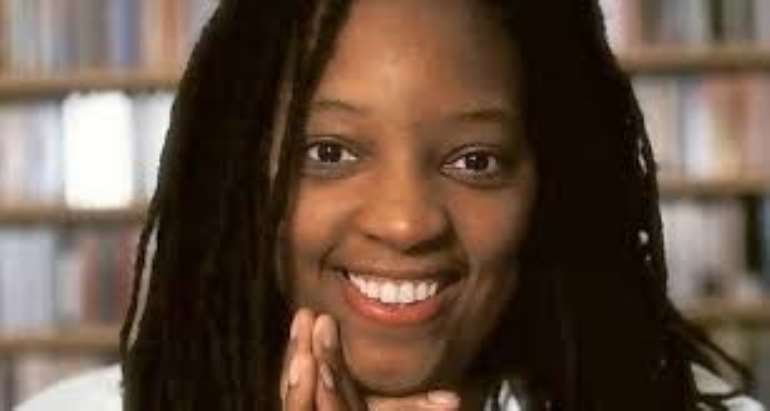 Sonita Alleyne, Master of Jesus College, Cambridge, first female to hold the post in the college founded in 1496.
The decision of Jesus College is first such restitution from a major British institution in recent times as far as we can recall. The decision comes after the famous Ouagadougou Declaration of French President Macron on 28 November 2017: "I cannot accept that a large part of cultural heritage from several African countries is in France. There are historical explanations for that, but there are no valid justifications that are durable and unconditional. African heritage can't just be in European private collections and museums. African heritage must be highlighted in Paris, but also in Dakar, in Lagos, in Cotonou. In the next five years, I want the conditions to be met for the temporary or permanent restitution of African heritage to Africa. This will be one of my priorities."(3)
The Sarr and Savoy report on restitution commissioned by the French president also recommended that African artefacts looted with violence in the colonial period or taken without the consent of the owners should be restituted. (4) This report has kept many museums and governments busy with restitution matters.
Many European States and their museums are busy trying to find solutions for restitution issues whilst the British Museum as well as the Victoria and Albert Museum have reaffirmed their long-standing opposition to restitution of looted African artefacts. These major British institutions are willing to consider only loans of looted artefacts to the deprived owners. Victoria and Albert Museum has made an offer of loan of the Maqdala treasures looted in the invasion in 1868 but has been rejected by Ethiopia. Nigeria on the hand, has within the Benin Dialogue Group (BDG) accepted, to our dismay, the idea of loans of looted Benin artefacts. We have already expressed our concerns about loans from holders of looted artefacts to their owners and earned criticism from a member of the BDG.(5) We are comforted to know that Geoffrey Robertson in his brilliant book, Who owns history? Elgin's Loot and the Case for Returning Plundered Treasure ,shares our view that an offer of a loan from looters or holders of looted objects to the owners constitutes an insult: 'It is also an insulting and unacceptable way-even a permanent loan is infused with the taint of colonialism, betraying a fixed belief that good title was legitimately obtained by colonial aggression and plunder. The British Museum used the excuse that it was not allowed to de-access but its trustees were not prepared to ask the government to amend this law. They are not prepared to acknowledge the wrongful acts of the British army in wars of aggression in Africa, namely by returning possession of its plunder.'(6)The Benin Dialogue group includes European museums such as British Museum, London, UK, Museum of Archaeology and Anthropology, University of Cambridge, UK Pitt Rivers Museum, University of Oxford, Oxford, UK, Ethnology Museum Berlin/Humboldt Forum, Berlin, Germany, World Museum, Vienna, Austria and as well as the Nigeria National Commission for Museums and Monuments, Abuja, Nigeria Edo State Government, Nigeria The Royal Court of Benin, Benin City.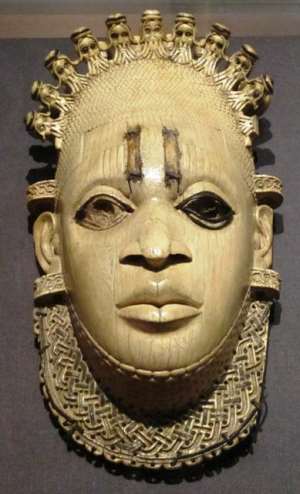 Queen-Mother Idia, Benin, Nigeria, now in British Museum, London, United Kingdom. Will she finally be allowed to return home in Benin City from British exile since 1897? Will the British play the same game as they played when Nigeria asked for the sculpture for FESTAC?
The Cambridge decision also comes just after a brilliant legal practitioner, Geoffrey Robertson, has demonstrated in his book, Who owns history? that Britain and the British Museum have no legal right to hold the Parthenon Marbles or African artefacts acquired under dubious circumstances. Robertson largely endorses the conclusions of the Sarr-Savoy report. (7) Shortly before the Jesus College decision, France returned to Senegal the looted saber of El-Haji Omar Tall, founder of the Toucoulor Empire, which the French looted in 1890.
The Jesus College decision should be compared to the decision of the Hamburg, Arts and Crafts Museum that did provenance research on three of its Benin bronzes and concluded that they were indeed looted and part of the 1897 loot from the nefarious British invasion. But what did the Hamburg museum do with the stolen objects afterwards ? Send them to Benin City? No! The Arts and Crafts Museum, after having given all the grounds for returning the looted artefacts to Benin, decided to transfer all the three pieces to the Ethnology Museum, Hamburg, now called Museum am Rothenbaum, Kulturen und Künste der Welt (MARKK) in Hamburg. because this museum has many more Benin artefacts and can therefore display them better. They thus achieved one of those incredible reasonings that one often finds in matters of restitution. A holder of artefacts establishes that his artefacts were indeed looted and decides therefore to hand them to another museum because it has more of the looted objects, now amounting to 200 pieces. This example also help us to understand why there is so much talk about provenance research in Germany: establishment that an object has been looted would not necessarily result in its restitution. This point has been emphasized in the German Guidelines on handling of objects acquired in colonial contexts. (8)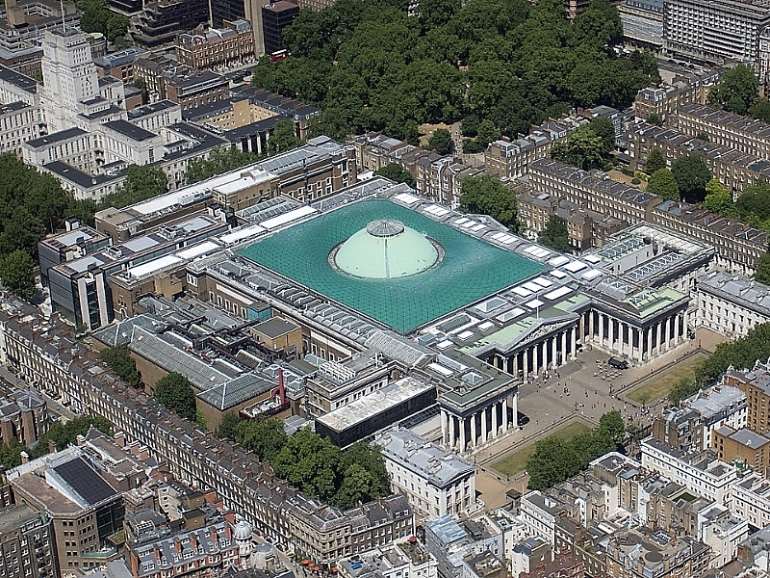 British Museum ,London ,United Kingdom. Wikipedia. Is this the largest citadel of looted artefacts in the world?
We hope and expect that the example of Jesus College, Cambridge, in deciding to return the Okukor sculpture to Nigeria would inspire other British institutions to do the same. We were however surprised to read that the Director of the Museum of Archaeology and Anthropology, Cambridge, that also holds looted Benin artefacts, regarded the Jesus college decision as 'principled and progressive decision' that would 'add momentum to the work of European museums in the Benin Dialogue Group that supports the development of a new museum in Benin City'. (9) Inspiration may, of course, take different forms and.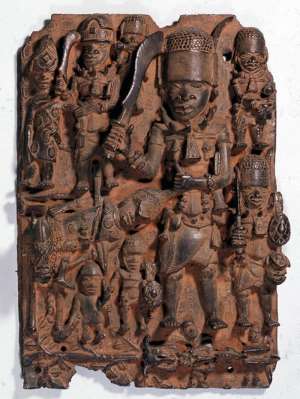 Relief panel with a battle scene, Benin, Nigeria, from Museum für Kunst and Gewerbe, Hamburg. This one of three eBenin artefacts found on research by the museum to have been looted but were not returned to Benin but rather to the Museum at Rothenbaum, former Ethnology Museum, Hamburg.
shapes. Here it seems to divert attention from possession and restitution of Benin artefacts to construction of a museum that seems calculated to reinforce the untenable argument of illegal holders of African artefacts that there are no places in Africa where the looted objects could be preserved. One is never told where the objects were kept before they were stolen with violence. It would be interesting to know how the Jesus College decision has inspired other British and European institutions to restitute or not to restitute looted African artefacts they have stubbornly held for over hundred years despite demands for restitution.
Nigeria welcomed the Jesus College decision to restitute the Okukor and took advantage of the occasion to issue a warning notice to all holders of looted Nigerian artefacts that Nigeria would use all legal and diplomatic means to recover her treasure: "We have called this press conference today to announce the launch of the Campaign For The Return and Restitution of Nigeria's
Looted/Smuggled Artifacts from around the world.
"With this announcement, we are putting on notice all those who are holding on to Nigeria's cultural property anywhere in the world that we are coming for them, using all legal and diplomatic instruments available. Gentlemen, we are under no illusion that this will be an easy task, but no one should also doubt our determination to make a success of this campaign.'(10)
The declaration of the Nigerian Minister of Information and Culture may seem familiar to those who have been following Nigeria's unsuccessful efforts to recover her stolen treasures. Every Nigerian Parliament and Government since Independence in 1960 has issued similar statement calling for the return of Nigeria's looted treasures. Yet nothing has come out of these appeals which are often forgotten as soon as they have been made and there have been no follow- up action nor has any official been criticised for not executing the decision of the Parliament or the Government.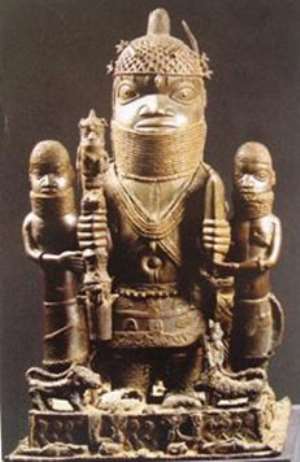 Alter group with Oba Akenzua I, Benin, Nigeria now in Humboldt Forum, Berlin, Germany.
Noticeable is the total absence of specificity in such appeals. They are not directed or addressed to any particular State or museum. Yet we know which museums still hold undoubtedly looted Benin artefacts: British Museum, London, Ethnology Museum/Humboldt Forum, Berlin, Museum at Rothenbaum, formerly Völkerkunde Museum, Hamburg, Ethnology Museum Leiden, and Worldmuseum, formerly Völkerkunde Museum, Vienna. This seems to be a continuation of the policy of 'tough' words at home and soft diplomacy abroad.
The Minister of Culture praises the BDG and yet these are the very institutions that still hold looted Nigerian artefacts and have repeatedly stated they are not willing to restitute them. Does one not see the obvious contradictions here? One of them is in the State responsible for the original looting in 1897.
We know that many Europeans will simply dismiss an appeal that is not directly addressed to them. They even deny appeals made to their parliaments such as the appeal submitted by the brother of the previous Oba of Benin to the British Parliament in 2002 that is known as Appendix 21. Similarly, the appeal made on behalf of the late Oba of Benin during the International Symposium on Restitution, organized in connection with the exhibition in Vienna, Benin Kings and Rituals Court Arts from Nigeria,2007,was simply ignored by the Western museums after a prompt negative response by the then director of the Völkerkundemuseum. In the catalogue of the same exhibition, the Oba stated in an introductory note , inter alia: as you put this past on show today, it is our prayer that the people and government of Austria will show humaneness and magnanimity and return to us some of these objects which found their way to your country." (11) As recent as 8 October 2019, I heard in a radio broadcast on 8 October 2019, the director of World Museum declare that there has been no request for restitution before his museum. This same denial was also repeated on 4 December 2019 by a curator from the World Museum. These museum officials must explain to us, if there has been no demand for restitution before their museum, why the World Museum, Vienna, and other European museums are discussing with the Nigerians, within the context of the BDGroup the question of loans. They must explain why the BDG announced last year that it was removing restitution from its agenda. (12) They must furthermore explain why the first meeting of the BD issued a document entitled Benin Plan of Action for the Restitution of Benin artefacts. (13) Even when a Nigerian Minister of Culture went to Berlin to plead for the return of Benin artefacts, Germans were saying there had been no demand for restitution. It is thus clear that a statement such as'' we are putting on notice all those who are holding on to Nigeria's cultural property anywhere in the world that we are coming for them' would not gain much attention. (14)
It is also noticeable that the minister refers to 'legal and diplomatic instruments.' Diplomatic instruments have not secured in the last 60 years a single restitution as distinguished from police or customs seizures of contraband Nigerian artefacts. Nigeria has so far not used any legal instrument to recover her looted artefacts. Nigeria could at least try to secure an Advisory Opinion from the International Court of Justice through a Security Council, ECOSOC or General Assembly decision. This will perhaps not be done for fear of annoying the Europeans who seem to have a hold on Nigerian leaders and officials. Political, economic and cultural measures that would be more effective in securing restitution are not included in the strong sounding statement of the Culture Minister.
We recall similar declaration made under Jonathan Goodluck's government. (15) Moreover ,recently Nigeria announced that its looted artefacts must be returned unconditionally but within a few months the leading African State was negotiating temporary loans of three years with museums in the Benin Dialogue Group. (16)
The courageous decision of Jesus College to return the looted Okukor to Nigeria puts to shame all those institutions and persons still presenting untenable arguments with sophistication to justify their retention of objects looted in colonial crimes. The violent invasion of Benin in 1897 and the consequent looting of Benin artefacts by the British Army must be condemned by all those seriously interested in better African-European relations. The primitive racist argument that Africans cannot look after our artefacts must be abandoned. Even today, an army of 1200 soldiers, determined to rob with violence, such as were under Admiral Rawson in the invasion of Benin City, cannot be easily repelled. Those Europeans who repeat insulting arguments must reflect on their own views on racism and colonialism, the breeding grounds for such anti- human argumentation. No one is accusing our contemporary Europeans for the crimes of their predecessors but by holding on to the fruits of colonial crimes, resulting in their having more African artefacts than Africans, they cannot escape criticism. One cannot condemn colonialism and racism and still hold on to looted African artefacts made possible by colonialism and racism.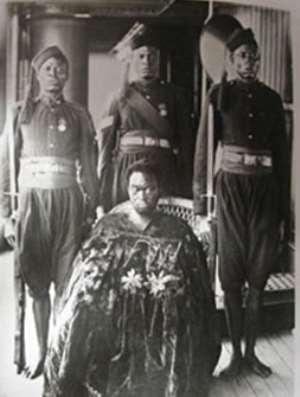 Oba Ovonramwen, during whose reign the British looted the Benin Bronzes, with guards on board a ship on his way to exile in Calabar in 1897. The gown he is wearing hides his shackles. Photograph by the Ibani Ijo photographer J. A. Green. From the Howie photo album in the archives of the Merseyside Maritime Museum, United Kingdom.
European youth is generally horrified when they learn about slavery and colonialism which are not generally taught in European schools. They are shocked to know that there are looted African artefacts in the so-called universal museums. They cannot believe that many European institutions are still defending such barbarous robberies from African peoples. They simply cannot believe that the fine museums in their cities are citadels of looted artefacts acquired by force of arms against the African peoples
The decision of Jesus College to return the looted Okukor is a triumph of justice over colonial injustice, humanness over oppression but above all, a call from the youth to the conservative classes in the governments, museums and other institutions to abandon the anachronism of our times, criticising colonialism and racism whilst at the same time upholding illegal acquisitions of the colonial system. The decision is also part of the world -wide revolt against colonial oppression of the past and the present possession of colonial loot in the major Western museums. The revolt of the youth is manifested in the Decolonize the Museum movement and the activities of Postkolonial Berlin and No Humboldt 21 against the Humboldt Forum that seeks to display looted African artefacts in Berlin. (17)
We bring again to to the attention of those who underestimate the significance of the looted Benin bronzes and their role in Euro-African relationship, the following text from a British academic, Jonathan Harris, who writes in his book The New Art History - A critical Introduction:
"The question of the meaning of the "Benin bronzes" or "Elgin Marbles" in London - 1900 or 2000 - is inseparable from the issue of British attitudes towards Africa and the Orient as sites, once for direct military and political colonisation, and now for their post-imperial economic exploitation and indirect manipulation. To return them would imply the belief, on the part of the British authorities, that the peoples of those parts of the world were now capable of competently looking after artefacts that were removed ostensibly on the grounds that the local inhabitants were unfit, because of the "degeneration" of their societies, to act as their curators. Their return would also imply admission of their illegal possession by the British. Both implications remain largely unthinkable because post-imperial racism continues to be a highly significant aspect of British foreign policy. Though British society may be relatively "multicultural now, its ruling elite, like that of the US, is still predominantly white, middle-class and male." (18)
Europeans must finally control their unbridled greed and selfishness that prevent them from seeing the grotesque situation of the rich and powerful robbing the poor and weak with violence and still pretending to be acting on behalf of humanity. They should stop defending Western traditions of brutality, violence and imperialism that are no longer acceptable and contrary to the Charter of the United Nations. Those who praise the violence of the past may be prone to violence in our days.
The permanent subversion of public morality by the looting/stealing and refusal to restitute African cultural artefacts is demonstrated by the absence of any consciousness on the part of many that they are handling stolen objects of other nations defeated by force of arms.
"The public interest must surely be in upholding the rule of law, rather than promoting an international free-for-all through the unrestricted circulation of tainted works of art. Do we really wish to educate our children to have no respect for history, legality and ethical values by providing museums with the opportunity freely to exhibit stolen property? "
Extract from a letter by several members of the British House of Lords. (19)
'The looting of Benin City and Maqdala were British war crimes then and now: it should be a matter of national shame that the spoils are still displayed in the British Museum or in the museum of any other Western country which procured them by purchase from the British Foreign Office.' Geoffrey Robertson, Who owns History? (20)
Kwame Tua Opoku.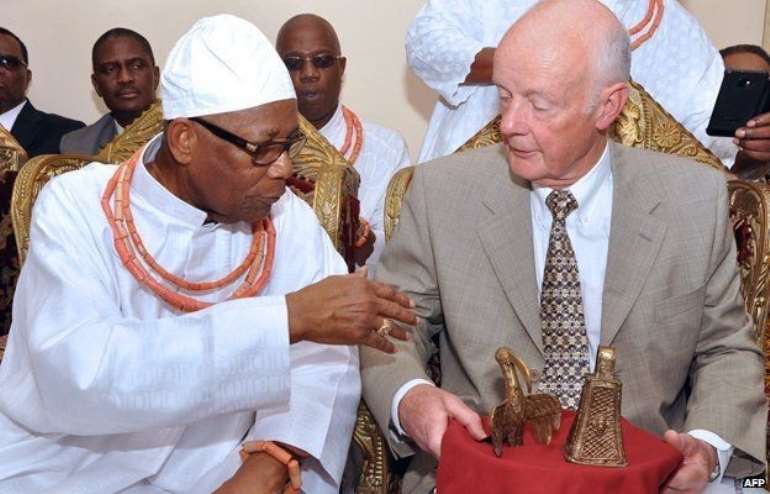 Prince Edun Akenzua with Mark Walker who returned Benin artefacts to Benin. Imagine, that instead of returning the Benin artefacts stolen by his great grandfather in the 1897 raid, Walker went to the assembled Benin nobles and the excited crowd and said, I am returning on loan the artefacts stolen by my great grandfather in 1897.
NOTES
1."Und denn, man muß das Wahre immer wiederholen, weil auch der Irrtum um uns her immer wieder gepredigt wird, und zwar nicht von einzelnen, sondern von der Masse. In Zeitungen und Enzyklopädien, auf Schulen und Universitäten, überall ist der Irrtum oben auf, und es ist ihm wohl und behaglich, im Gefühl der Majorität, die auf seiner Seite ist."
Goethe am 16. Dezember 1828 Johann Peter Eckermann, Gespräche mit Goethe in den letzten Jahren seines Lebens, Seite 311, Reclams Universal Bibliothek, Nr.2002, Stuttgart, 2006.
2. Jesus College to return Benin bronze cockerel after students ...
3. Emmanuel Macron Says Return of African Artifacts Is a Top Priority ...https://www.nytimes.com/.../arts/emmanuel-macron-africa.html Will French Museums Return African Objects? Emmanuel Macron ...
4. Felwine Sarr and Bénédicte Savoy, The Restitution of African Cultural Heritage. Toward a New Relational Ethics
5. Kwame Opoku -Nigeria To Borrow Looted Nigerian Artefacts ... https://www.toncremers.nl › kwame-opoku-nigeria-to-borrow-looted-niger..
List of Participants in the Benin Dialogue Group, Benin City, 2019 Edo State Government, Nigeria The Royal Court of Benin, Benin City, Nigeria National Commission for Museums and Monuments, Abuja, Nigeria Weltmuseum Wien, Vienna, Austria Ethnologisches Museum, State Museums of Berlin, Prussian Cultural Heritage Foundation, Berlin, Germany Museum am Rothenbaum, Kulturen und Künste der Welt (MARKK), Hamburg, Germany Staatliche Kunstsammlungen Dresden, Museum für Vӧlkerkunde Dresden und GRASSI Museum für Vӧlkerkunde zu Leipzig, Germany Linden Museum, Stuttgart, Germany Nationaal Museum van Wereldculturen, Leiden, The Netherlands National Museums of World Culture, Stockholm, Sweden Museum of Archaeology and Anthropology, University of Cambridge, Cambridge, UK British Museum, London, UK Pitt Rivers Museum, University of Oxford, Oxford, UK
6. Geoffrey Robertson, Who owns history? Elgin's Loot and the Case for Returning Plundered Treasure, 2019, Biteback Publishing, London.
7. Robertson generally approves of Sarr-Savoy: 'The Sarr-Savoy report makes the most powerful case to date for the restitution of heritage items. Although directly relevant to sub-Saharan Francophone countries, its facts incriminate the colonizers of others, with details of German atrocities in Namibia, Italian looting in Libya and Ethiopia, British brutality in Kenya and Nigeria and the deaths of millions in the Congo at the hands of Belgium's monstrous King Leopold II - not to mention the Dutch in Indonesia, the Portuguese in Angola and Mozambique and the British and French in the Opium Wars against China. 16,op.cit,p.16.' The Sarr-Savoy report is a convincing and even moving argument for justice, to be achieved by return of cultural property seized or inequitably taken from African countries during the colonial period. Its test can usefully be applied to military seizures in other theatres of nineteenth-century colonial conquest and aggression-most notably ,perhaps, the Opium Wars, in which Britain, to reduce the debt incurred by its people's love of Chinese tea, deliberately addicted the Chinese to opium and fought a war to force them to maintain an open market in a substance that degraded and killed many millions.' Op. cit. p .29.
8. K. Opoku, Brief comments on german guidelines on handling objects ...
9. Cambridge college returns Benin bronze to Nigeria
10. Nigeria launches campaign on return of looted cultural artefacts
11. Barbara Plankensteiner(ed.), Benin Kings and Rituals-Court Arts from Nigeria, Snoek Editions, 2007,p.13
12. Benin Dialogue Group Removes Restitution Of Benin Artefacts ...
13. Benin plan of action | Pambazuka News
14. How often does Nigeria have to ask for artefacts to be returned? www.elginism.com › similar-cases › how-often-dos-nigeria-have-to-ask-fo...
15. Kwame Opoku - Nigeria Demands Unconditional Return Of ...
Nigeria demands unconditional return of looted artefacts: A ...
16. Reflections on The Abortive Queen-Mother Idia Mask Auction ...
See also, Japhet Alakam. "Nigeria; Shyllon Decries Leaders Ineptitude Towards Visual Arts", Vanguard, 9 September 2012. www.vanguardngr.com/2012/
17. Berlin Postkolonial www.berlin-postkolonial.de
18. Routeledge, 2001, p. 275.
19. Extract from a letter by several members of the British House of Lords http://www.timesonline.co.uk
20. Geoffrey Robertson, op.cit.p.169.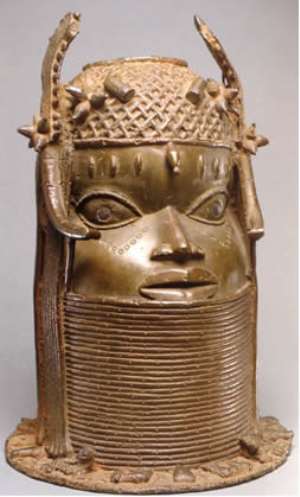 Commemorative head of an Oba, Benin, Nigeria, now in Ethnologisches Museum/Humboldt Forum, Berlin, Germany.
ANNEX I-
STATEMENT BY MINISTER OF INFORMATION AND CULTURE, NIGERIA, AL HAGI LAI MOHAMED-November 28, 2019.
"We have called this press conference today to announce the launch of the Campaign for The Return and Restitution of Nigeria's Looted/Smuggled Artifacts from around the world.
"With this announcement, we are putting on notice all those who are holding on to Nigeria's cultural property anywhere in the world that we are coming for them, using all legal and diplomatic instruments available. Gentlemen, we are under no illusion that this will be an easy task, but no one should also doubt our determination to make a success of this campaign.
"We cannot imagine by what logic an Ife Bronze or a Benin Bronze or a Nok Terracotta can belong to any other part of the globe except to the people of Nigeria, whose ancestors made them. We have never laid claim to the Mona Lisa or a Rembrandt. Those who looted our heritage resources, especially during the 19th century wars, or those who smuggled them out of the country for pecuniary reasons, have simply encouraged the impoverishment of our heritage and stealing of our past.
"Some cynics might wonder: What is in an Ife bronze head or a Nok Terracotta that we will be launching a campaign to return or restitute them? Our answer is simple: These timeless and priceless pieces of work are an important part of our past, our history, our heritage resource, and allowing them to sit in the museums of other nations robs us of our history. Also, those who proudly display what they did not produce are daily reaping financial gains from them, while those whose ancestors made them are not. Of course, as you all know, the tourism and culture sector is one of the critical sectors that have been identified for the diversification of the nation's economy, and these priceless heritage resources have a role to play.
How can we benefit from what is ours when most of them adorn the museums and private collections of others, who describe as their properties?
"Gentlemen, in launching this campaign, our hands are strengthened by UNESCO and ECOWAS. Article 4 of the UNESCO 1970 Convention, to which most nations subscribe, identifies the categories of cultural property that form part of the cultural heritage of each member state, thereby belonging to that State. By the provisions of this Article, they include cultural property created by the individual or collective genius of nationals of the State concerned, and cultural property which has been the subject of a freely agreed exchange or received as a gift or purchased legally with the consent of the competent authorities of the country of origin of such property. Let's relate these provisions to an Ife bronze head or a Benin Bronze head, both made several centuries ago. One cannot fathom how an individual or collective genius of people who had not visited that part of the world created such object, or how they are "subject of a freely agreed exchange, or received as a gift or purchased legally with the consent of the competent authorities".
"Also, the Heads of State and Government of the ECOWAS Region met in December 2018 in Abuja and adopted a Political Declaration on the return of cultural property to their countries of origin. We are bound by this Declaration, which has further brought discussions towards a Plan of Action.
"We want to commend the work of the discussion group that is now known as the 'Benin Dialogue Group', which is working to resolve this issue. We are not averse to agreements such as the one being fashioned out by the group. But whatever decision is taken by the group must be based on the inviolable, logical and natural conclusion that the looted/smuggled artifacts belong to Nigeria. Again, they can be enjoyed by art lovers all over the world, but on our terms, which must also benefit us. We also note some positive steps that have been taken by some countries, including the Netherlands and Germany, on this issue, but those are yet small steps.
"Let me say that we desire that our heritage resources circulate around the world, especially because we are aware that art lovers all over the world truly love them. We also know that all the major museums around the world desire to have them on loan. For these reasons, we do not mind to conduct joint exhibitions and have the objects loaned out too. But doing these is predicated on the condition that the nations and museums holding them understand and absolutely agree that ownership of these cultural objects reside in the Nigerian State now and forever. Under no legal interpretation or rule shall we ever be divested of the ownership of these objects, for they are intrinsically ours. They represent important pages in our history. In other words, whether these heritage resources are presently domiciled in Nigeria or are in any other part of the world, whether they are in public or private museums, in collections or in private households, they were wrought by the genius of our forebears. They shall never belong to any other person or nation but to us.
"Gentlemen, we call on every museum and person holding on to our heritage resources anywhere in the world to initiate dialogue with us on the basis of the conditions we have enumerated today. We urge them to identify what is in their collections, transparently make them public, approach us for discussion on terms of return and restitution, as well as circulation and loans. They must acknowledge that ownership resides in us. They must be ready to sign agreements and Memoranda of Understanding in this regard, and they must be ready to release some of these antiquities for immediate return to Nigeria.
"We will not be deterred by the well-worn argument that there was no customary international law that forbade the looting of antiquities in war time in the 19th century, when most of these antiquities were looted. We will not agree that our claims are statute barred. We will also not be swayed by the insulting argument that Nigeria, and Africa in general, does not have places to keep the antiquities. After all we kept them somewhere before they were looted.
If those who make that argument so desire, they can join us to build more museums that will house such returned antiquities.
"While we are keeping our strategy for the return and restitution of our artifacts close to our chest, let me announce here that, beginning from next year, we will be organizing an annual National Conference on Restitution of Cultural Property. This is in line with the recommendation in the Declaration by ECOWAS Heads of State and Governments last year in Abuja. The essence of the conference is to keep the issue of return and restitution on the front burner of national discourse.
"Meanwhile, we are kick-starting the Campaign For The Return and Restitution of Nigeria's Looted/Smuggled Artifacts with a quest to retrieve the Ife Broze Head, which was one of the items stolen in 1987 when one of our national museums was broken into. After it was brought to an auction in London two years ago, the auction house observed that it was an Ife Bronze Head which belongs to the ICOM (International Council of Museums) Red List of cultural goods that are deemed to be the most vulnerable to illicit traffic. These lists are made available to national police and customs authorities by INTERPOL and the World Customs Organization as well as to museums, auction houses, and galleries. They are intended to help users identify the kinds of artifacts e.t.c that may have been stolen or smuggled so that they can be confiscated and returned to their rightful owners if an attempt is made to sell them illegally.
"Now, the London Metropolitan police has seized the object, and it has invited Nigeria to make a claim, otherwise they will have to return it to the fellow claiming ownership. We have now started work on the return of the Ife Bronze head to Nigeria.
"Finally, gentlemen, we appeal to you to be part of this campaign, using your various platforms to publicize the campaign and to keep it in the front burner of national discourse. We also appeal to Nigerians at home and in the diaspora to lend their support to the campaign. From time to time, we will be briefing Nigerians, through you, of the progress being made in bringing our looted and smuggled artifacts back here in Nigeria, where they belong."
Meanwhile Mohammed has expressed delight at the Cambridge University's Jesus College, United Kingdom, to repatriate a Benin Bronze Cockerel, known as 'Okukor", to Nigeria.
The Cockerel is one of the hundreds of Benin Bronzes that were taken after Benin City was occupied by the imperial troops in 1897, according to the BBC, which quoted the British Museum. The Nigerian government is very delighted at this development, which we have been following for some time now, especially the role of the Nigerian students in that University in pushing for the repatriation of the Cockerel.
"Considering the hundreds of Benin Bronzes looted during that occupation, the decision to return the cockerel is like a drop in the ocean, but it is an important drop and we welcome it. Again, we appeal to all those holding our artifacts to follow the footsteps of the Cambridge University by willingly returning them to Nigeria, where they rightly belong. I thank you once again."