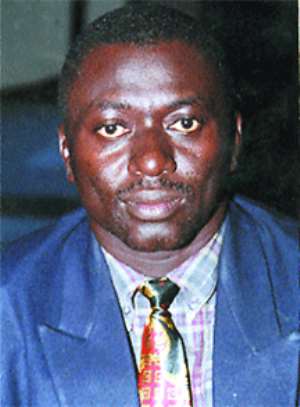 Dr Obed Asamoah's Democratic Freedom Party (DFP) has a new spokesperson, Kofi Asante, former Member of Parliament for Amenfi West. Mr Asante's decision to serve as spokesperson for the DFP has surprised many.
Kofi Asante who currently pursuing a Master of Arts programme at the University of Cape Coast says the party recognizes the growing maturity of the country, which calls for a stronger emphasis on greater freedom to be enjoyed by all citizens.
The former MP who says he has no regrets resigning as MP from the NDC in April 2003, believes that politics should be devoid of insults, hostilities, personal attacks and threats which have become synonymous with the opposition NDC. He said the DFP is committed to acceptable behaviour and would welcome those who are prepared to conduct themselves in a manner to ensure progressive co-existence of people who want to move the country forward. Mr Asante said the DFP would promote development of national agenda and would bequeath a clear development path for the current generation of Ghanaians and for posterity.
Making a strong case for his party, he said the DFP was formed because of certain developments in the political scene in the country. He said there seem to be unhealthy inter party rivalry which should give way to inter party unity.
"For instance why should a politician say that, his opponents should run away when they come to power or that Nsawam prisons should be expanded because we are going to make them account for their stewardship. You first have to establish a competent court of jurisdiction whether a misdemeanor or misdeed has been carried out before you start expanding prisons to deal with wrong doers," he said.