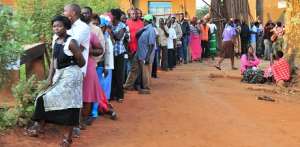 As we enter 2020, the question of whether President Akufo-Addo and the NPP deserve another term will be posed with increasing frequency. I have already been asked this by quite a number of people, in both parties.
While this piece will focus on the Presidential election, some of the factors would affect the Parliamentary contest.
2020 would pit a former President against a sitting President. While it happened before with Limann contesting Rawlings, Limann was a pale shadow of himself and the party that elected him, the PNP, had morphed into the NDC and was supporting Rawlings.
This match-up would be different. The current President, like all other incumbents, would have an advantage. But it would be less than any other incumbent in the 4th Republic.
Ten American Presidents, beginning with John Adams and ending with George Bush, have lost re-election bids. Only one, Grover Cleveland, managed to reclaim the Presidency after losing it.
Here in Africa, incumbents losing used to be rare -- partly due to rigging--but that is now more common. Incumbents, including President Mahama, have lost elections Benin, Ghana, Ivory Coast, Gambia, Nigeria, Senegal, and Madagascar, amongst others. Indeed in South Africa, the ANC ousted it's own President, Mbeki, in favour of Zuma.
In 2020, incumbency would matter, in the areas of corruption, infrastructure, jobs and the deepening of our democracy.
Corruption was the signal issue of 2016. The Mahama administration was perceived to be corrupt. The central issue of 2020 will be whether the President's reputation for incorruptibility has been enhanced or dented during his Presidency. Ghanaians would ask ourselves whether this President and the Special Prosecutor he appointed have fought or fostered corruption. Ghanaians would ask whether there has been accountability, not just for members of the Mahama regime but also for members of this government that rode to power on the President's anti-corruption credentials.
Then there will be a comparison of the infrastructure and job creation records.
Policy initiatives, like Free SHS, will be judged on the strength of the initiative and implementation.
Also, Ghanaians would look at how democracy has been deepened and peace and the public order promoted. Here, new regions, Dagbon and the Ayawaso-Wuogon election disturbances will be dissected.
Job creation and the economy would be points of contention, with the banking crisis in the background.
And then people will judge the empathy and humility quotient of this government. Empathy and Humility is what binds people to a struggling government. Is the "he understands and cares about people like me" factor"
Finally, there is time.
A year in politics is an eternity. The government can deliver on things it has not delivered on or make more mistakes. Unforeseen events can intervene. Those who want to call the elections now remind me of my friend who turned off the T.V. after 70 minutes of a Hearts-Kotoko match to eat his celebratory fufu, went to bed happy and found out later that Kotoko, who was leading had lost courtesy of two late goals and all-around they were singing "Arose--Arose". It is not over till it is over.
Then there are the tickets and the campaign. Can President Mahama shake the race with an inspired choice of running mate? Which campaign would be better? A great government can run a bad campaign and lose while a bad government can mount a brilliant campaign and win.
The closeness of the coming campaign has been foreshadowed by the 2019 Afrobarometer report. It indicates that the NPP and NDC would get 34 and 22 percent respectively if the elections were held now with things heading for a run-off. Two factors are interesting here. First, incumbents tend to lose run-offs and the NPP's support has declined 15% since the 2017 Afrobarometer report.
The question of which of these multiple issues will be most significant will depend on the campaigns.
As Sir John said famously, "Fear delegates". He was, of course, talking about voters-- us.
Finally, in 2020, I am firmly supporting -- Ghana!
Whatever happens, may Ghana be the winner.
God bless Ghana.
Arthur Kobina Kennedy (9th December 2019)