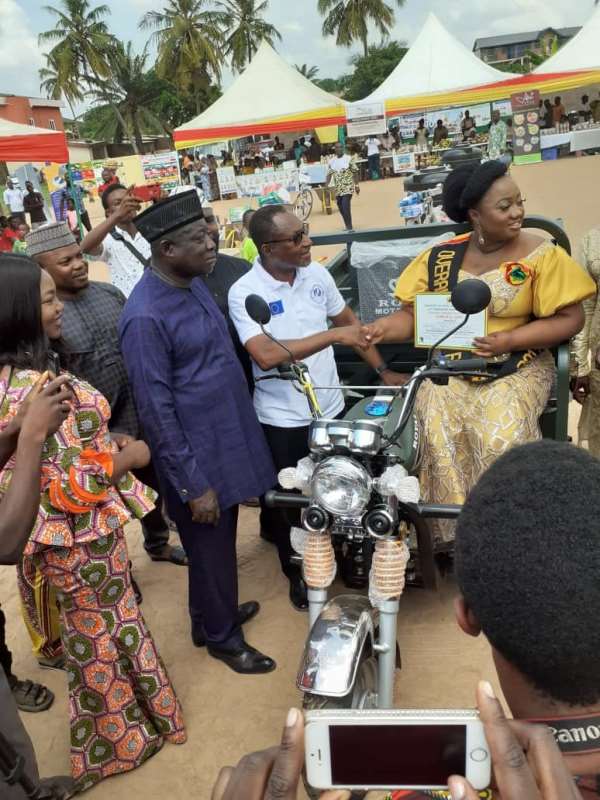 Mrs Pamela Agbotse receiving the overall Best Farmer award
Sixteen farmers in the Adentan Municipality have received awards in agriculture in recognition for their commendable services in ensuring food security in the Municipality on Farmers' Day, 2019.
The event, which took placed at Manmomo, a suburb of the Adentan municipality was dubbed:: "Enhancing Small-scale Agriculture Towards Agri-buisness Development"
The CEO of Pamela Chicks And Feeds, And Agri-life Pro, Mrs Pamela Agboste was adjudged the overall best municipal farmer and took home a tricycle, a pair of Wellington boot, protective wear, two (2) cutlasses, agro chemicals, a spade, a knapsack sprayer as well as tuna fish.
The Best Farmer (1st runner up) award went to WO 1 Rtd, Christopher Annan Laryea from Amanfro. He went home with 0ne (1) double door refrigerator, a pair of Wellington boot, protective wear, cutlasses, a knapsack sprayer, spade, a wheel barrrow, sachets of okro seeds, boxes of liquid fertilizer as well as tuna fish and Mr. Eric Asare Boateng from Amrahia Zongo who was adjudged Best Farmer (2nd runner up) also went home with a table-top refrigerator, a pair of Wellington boot, protective wear, 2 cutlasses. a knapsack sprayer, spade, half piece of cloth and tuna fish.
Thirteen meritorious farmers with specialty in various areas of agriculture also received recognition and consolation awards.
Addressing the gathering, The Municipal Chief Executive, Hon. Daniel Alexander Nii-Noi Adumuah, indicated that, as part of efforts to transform agriculture and to promote the "Ghana beyond Aid" agenda, the government had focused on 5 key thematic areas of interventions including; Planting for food and jobs, planting for export and rural development, greenhouse village program, rearing for food and jobs as well as agriculture mechanization promotion.
"Since the inception of the planting for food and jobs, more than 21,000 metric tons of assorted seeds have been supplied to farmers. And almost 25,000 metric tons of inorganic and organic fertilizer have been supplied. In addition to these, 2,700 agricultural extension agents have been recruited, 9,000 nabco trainees have been recruited under the feed Ghana module and 216 pickups have been distributed to agric departments nation-wide and various protective clothing have been delivered to the various regions and so on, "said the Municipal Chief Executive, adding that: "The government is focused on development in the cocoa sub-sector irrigation development, agricultural financing and private sector Investment in agric.
Delivering the keynote address, CEO of E90, Ghana Limited, and Best Farmer Awards ( 2nd Runner Up) winner, 2018, Mrs. Fafape Ama Foe, noted with regret that, although sustainable small-scale agriculture had the potential to boost the local economies and lift communities out of poverty, the practice remained underserved in major policies relating to food security and job creation, adding that: "Marketing of farm produce is a huge challenge to farmers. As a result, earnings of farmers are relatively lower compared to the amount of capital, their efforts and other resources invested. Some small-scale farmers of perishable produce such as tomatoes, leafy vegetables mushrooms to mention a few have to hastily sell them at cheap prices."
On his part, the Municipal Director of Agriculture, Mr. Kodwo Ennin Fynn expressed optimism about the future of agriculture in the municipality. "If I look at what is currently going on in Adentan in terms of peri-urban agriculture, i see a future that has every house in the municipality doing some farming to feed members of the household," intimated Mr. Kodwo Ennin.
On the other hand, Mr. Ennin bemoaned the lack of veterinary clinic in the municipality and called on the assembly to help set up one, so as to meet clients animal healthcare needs and also generate some revenue.
Presenting the overall Best Municipal Farmer Award to Mr's Agbotse, the MCE, Mr. Adumuah urged the people of Adentan Municipality to take to backyard farming as well as add value to what they produce even on a very small scall and change the narrative for a better ghana.