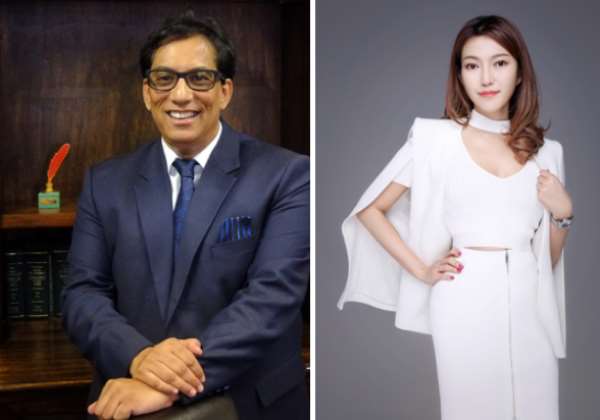 Diversified investment group, Sekunjalo Investment Holdings (Sekunjalo), has announced it has partnered with Chinese public Blockchain leader, Ultrain Technology Limited (Ultrain), to develop a pan-African open Blockchain business ecosystem - The African Chain 3.0.
Sekunjalo and Ultrain will develop a robust new generation of financial infrastructure in Africa that is commercially sustainable, and responsible. The African Chain will be run in unification with Sekunjalo's pan-African eCommerce platform. The foundation will be built on the public access for commercial use Blockchain model developed by Ultrain, to handle payments, clearing and potentially, lending, among other key financial services, all of which is aimed at providing African people and businesses with convenience and accountability.
Emma Liao, co-Founder at Ultrain remarked: "It's crucial to build a convenient, secure and reliable financial infrastructure for African people. We are honoured to work with Sekunjalo and to build such a tool together, and to promote it with the help of Sekunjalo's matrix of businesses. We will also provide training and solutions to other African enterprises or ventures who wish to use blockchain features to get on board. We believe this has huge potential to benefit the end users and businesses, with a better purchasing experience and more efficient transactions."
Typical businesses that will benefit from The African Chain include the likes of the travel, luxury goods, supply chain, sharing economy, health care, retail, media entertainment, new energy sectors and many other industries, trading in the 4th Industrial Revolution (4IR) and beyond.
Dr Iqbal Survé, Chairman of Sekunjalo said: "I am excited about this partnership and investment with Ultrain, as the potential to radically change and enhance how the continent does business, is unlimited.
"Sekunjalo is delighted that the advances China has made in technology, are now going to be made available for an African payment infrastructure. The opportunities for collaboration with Ultrain are immense and we are therefore looking forward to growing our joint footprint on the African continent, and positively contributing to Africa's digital evolution."
Dr Survé also commented on how Ultrain and Sekujanlo through various networks, including the Belt and Road Networks and the Belt and Road African Fund, were looking forward to expanding the vision of President Xi Jinping for the Belt and Road to have a positive impact for all of the people living and working on the African continent.
Ultrain and Sekunjalo have also jointly committed to directing a substantial part of the profitability of their partnership, to philanthropic initiatives on the African continent that will include the training young Africans - with an emphasis on women- in block chain technologies and payment systems. Through the offices of Survé Philanthropies, an additional foundation will now be established for block chain technology training in Africa to be co-chaired by Dr Surve and Emma Liao.
A further announcement regarding the partnership's investment, will be made at the African Union meeting in Addis Ababa in 2020, with the Belt and Road Africa Council and Belt and Road Africa Fund.
//ends
About Dr Iqbal Survé and Sekunjalo Investment Holdings:
Dr Survé is the immediate past Chairman of the BRICS Business Council and served as President and Chairman of the BRICS Business Council for the five countries in 2018. He is a council member of the Belt and Road News Network and a participant of the Belt and Road Think Tank and was a member of the Belt and Road Forum held in Beijing earlier this year, at the Summit Davos meeting in Dalian 2019, Dr Survé who served as Chairman of the World Economic Forum Global Growth Companies Advisory Board announced the involvement of Chinese capital in the Belt and Road Fund for Africa and the launch of the Belt and Road Africa Council of the first to second quarter of 2020.
About Ultrain:
Ultrain is a public blockchain for commercial usage set up by former Alibaba Security Group technical director Ray Guo, managing director; Golden Brick capital/senior investment banker Emma Liao Zhiyu; and Ant Financial Group Blockchain technology leader William Li.
Ultrain is a global leading public-chain 3.0 provider of an innovative general-purpose tech-infrastructure, which is aiming to be the decentralized Amazon cloud and Android. As at 15 April, Ultrain has successfully released its main-net, which has outperformed its peers such as Dfinity and Algorand. Ultrain's goal is to be the No.1 commercial public-chain globally, not only providing state of the art technology, but also constructing a real business ecosystem, leveraging its powerful R&D capabilities and the unrivaled global business resources provided by its founding team.
With its important breakthrough on consensus (RPOS), Ultrain's own user-friendly smart contract and developer framework, and its specialised customisable privacy solutions(zkp), Ultrain is able to provide an easy to use and efficient solution with huge customization flexibility, and an extremely economical price comparing to other available public chain offerings. At the same time, Ultrain also realizes the unique original stochastic dynamic fragmentation technology and has the only zero-knowledge proof privacy protection scheme on the chain in the world; along with 12 independent invention patents.