Menzgold Customers Vex Over Payment Schedule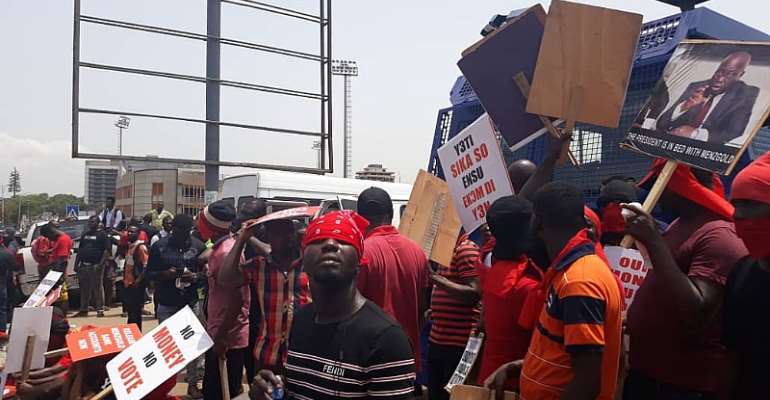 Some aggrieved Customers of Menzgold Ghana Limited say they are disappointed at the company for announcing plans to publish a payment schedule without their inputs.
The troubled gold dealership firm on its social media handles gave indications that a payment schedule will be published on December 18.
The news has since agitated some of the customers who say earlier arrangements with the company suggested that they will be pre-informed of every step aimed at retrieving their locked-up funds.
In an interview with Citi News, a spokesperson for the Coalition of Aggrieved Customers of Menzgold, Fredrick Forson expressed fears that such actions by management will affect the trust between the parties.
"As leaders of the customers, we do not want any surprises. I think it would have been fair if they had met with the leadership that has been with them all this while. Maybe we will have made some useful inputs. It is very disappointing because if you check all the platforms we belong, some management members of the company are there and they can attest to the tempo of the customers. People are highly agitated and we do not want things to explode. It is the leadership that can calm them down but if they are not coming forth with relevant information, how do they do that?"
Customers of the company have on several occasions called on management to convene a meeting for a schedule to be agreed by both parties for the payment of their locked up cash .
They said the meeting will ensure that all the paperwork are completed for the December timeline for payment to be met.
This was after the company in September assured of plans to make payments in December this year after a validation exercise last October.
Management of Menzgold has however said that it is committed to meeting its payment obligation to its aggrieved customers after several months of its failure to do so due to government instructions. Validation
Citi News sources close to the company revealed that there was an internal auditing process to pave way for the validation exercise .
The company scheduled October 28 to November 28 as the period for the exercise which will take place at designated venues in four regions, which are: Greater Accra, Central, Ashanti and Western.
But some customers of Menzgold mounted pressure on the company to announce a detailed payment plan.
According to the customers, this is the only way they can repose confidence in the company to refund their locked up investments. NAM1 in court; accused of bagging GHc1.68bn from customers
Beleaguered Chief Executive Officer (CEO) of Menzgold Nana Appiah Mensah is standing trial for defrauding his customers of about GHc1.68 billion.
According to the charge sheet, the money was from about 16,000 people who invested a total of GHc1,680,920,000 in the company.
The charge sheet indicates that Mr. Appiah Mensah's two companies — Brew Marketing Consult and Menzgold Ghana Limited; represented by him, have also been charged with defrauding by false pretence, contrary to sections 20 (1) and 13 (1) of the Criminal Offences Act, 1960 (Act 29).
The two companies have also been charged with carrying out a deposit-taking business without a licence, contrary to Section 6 (1) of Act 930.
Mr. Appiah Mensah's sister and his wife, Benedicta Appiah and Rose Tetteh, have also been charged with two counts of abetment to defraud by false pretence and two counts of abetment to carry out banking business without a licence, contrary to Section 6 (1) of Act 930.
The charge sheet explained that the accused persons purportedly aided Brew Marketing Consult and Menzgold to defraud the customers.
—citinewsroom