Yvonne Nelson Cannot Eat Her Cake and Have It as Well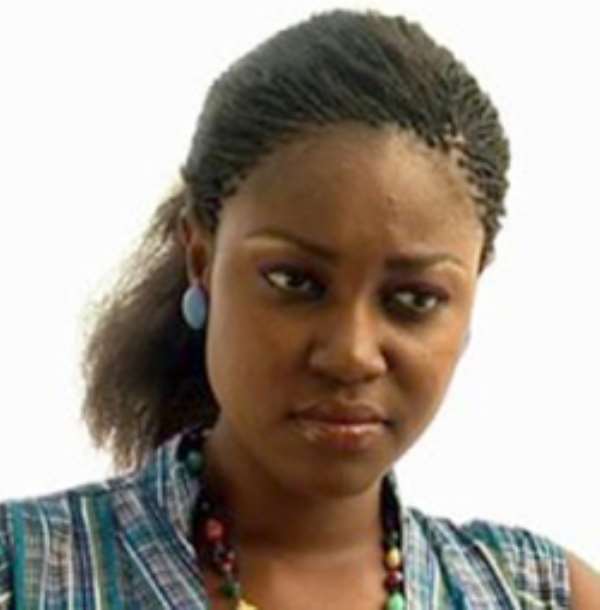 Yvonne Nelson
If she has nothing substantive over which to query the most dynamic, progressive and visionary Fourth-Republican Ghanaian leader, Ms. Yvonne Nelson would do herself and the rest of us better service by concentrating her talents and skills, or whatever passes for the same, on her chosen professional field of acting and directing and leave the conscientious development of the country to those better qualified and able to do so. You see, Ghollywood, that is, Ghana's movie industry, has a lot of catching up to do with the globally recognized and acclaimed Nollywood, unarguably the most celebrated movie industry on the African continent and the third of its kind around the globe. In short, Ms. Nelson should stop pretending as if she has done any better in Ghana's movie industry than President Addo Dankwa Akufo-Addo has, so far, done and is laudably doing with the country's economy and general level of Ghana's development (See "Ghanaians Have Questions – Yvonne Nelson Tells Nana Akufo-Addo" Ghanaweb.com 11/28/19).
You see, it is rather silly for this young movie producer and nursing mother to be praising Candidate John Dramani Mahama, on the latter's 61st birthday anniversary, for having constructed Terminal 3 at the Kotoka International Airport (KIA), and the Ridge Hospital, both in Accra, while conveniently ignoring the fact that the mere erection of hospital buildings – no pun is intended here, by the way – does not the generally poor and unenviable quality of healthcare in the country raise or improve (See "You Impressed Me with Terminal 3, Ridge Hospital – Yvonne Nelson to Mahama" Classfmonline.com / Ghanaweb.com 11/30/19). What is even more rankling and irritating is for Ms. Nelson to scandalously ignore the inescapable fact that Mr. Mahama was at the Presidency for some 8 years, with four-and-half years of this period as the substantive President of the Sovereign Democratic Republic of Ghana and Commander-in-Chief of the Ghana Armed Forces.
The critic also conveniently ignores the fact that but for the visionary zeal and inimitable leadership competence of President Akufo-Addo, the National Health Insurance Scheme (NHIS) would have effectively collapsed, and there would be absolutely no worthwhile healthcare delivery system in the country to talk about. Indeed, when our national healthcare system was callously being allowed to literally go down the drain, as it were, by Messrs. John Evans Atta-Mills, late, and John Dramani Mahama, where was this barbed-wire-mouthed Ms. Nelson? At any rate, are the construction of KIA's Terminal 3 and the Ridge Hospital the only significant development projects in the country? I mean, why is the critic not talking about the fee-free Senior High School System, which former President Mahama envisaged to be the exclusive preserve of the children and grandchildren of Ghana's most privileged and powerful entrepreneurs like the former President himself and Ms. Nelson?
As well, doesn't this snooty and morbidly self-absorbed critic also recognize how impressive Nana Akufo-Addo has been with the uninterrupted energy production and distribution in the country? In Ghana, this sort of selective memory and convenient amnesia is called "hypocrisy." And it is about time anybody more patriotic, progressive and levelheaded pointed this out to this hip-shooting critic. What also prevents Ms. Nelson from facilitating the crucial supply of beds to our public hospitals? After all, did she not witness the more than impressive construction of the state-of-the-art Maternity Ward at the Komfo Anokye Teaching Hospital (KATH) by First Lady Rebecca Akufo-Addo? This deliberately wicked failure by cynical celebrities like Ms. Nelson to appreciate good quality-of-life-improvement work is a critical part of the problem with our country's healthy development.
*Visit my blog at: kwameokoampaahoofe.wordpress.com Ghanaffairs
By Kwame Okoampa-Ahoofe, Jr., PhD
English Department, SUNY-Nassau
Garden City, New York
November 30, 2019
E-mail: [email protected]