Let Us Settle the Western Togoland Problem Once and for All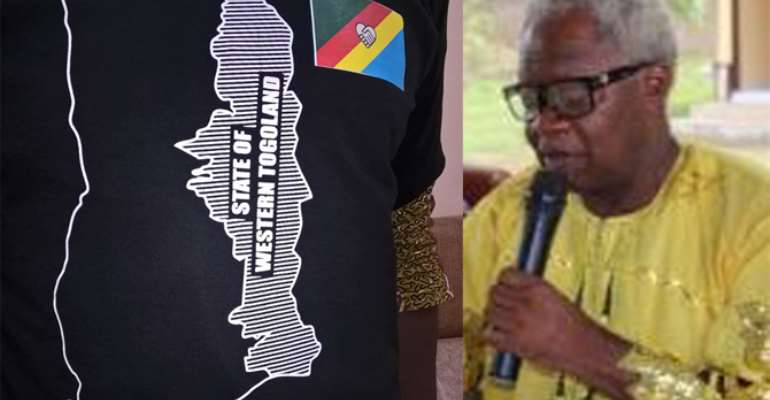 By now, Ghanaian leaders ought to have grown tired of this protracted, nation-wrecking intrigues and terroristic shenanigans of the agitators for the secession of the erstwhile Trans-Volta Togoland, also known as Western Togoland, that may very well seriously threaten the stability of the entire country and, perhaps, even the entire West African sub-region as well (See "Separatist Movement Declares Independence for Western Togoland" CitiNewsRoom.com / Ghanaweb.com 11/17/19).
In May this year, a group of secessionist agitators calling itself leaders of Western Togoland were arrested in the Volta Region, its present legally recognized official name, at a conspiratorial strategy-planning session. They would be released by the Government some two or three months later, for reasons that were not adequately explained to the Ghanaian citizenry at large. In a quite meaningful sense, this violent agitation for independence is the practical fulfillment of the prophecy of the putative Doyen of Gold Coast and Ghanaian Politics, to wit, Dr. Joseph (Kwame Kyeretwie) Boakye Danquah.
On the eve of the 1956 United Nations-sponsored Plebiscite, Dr. Danquah is widely reported to have warned then-Prime Minister Kwame Nkrumah, his former protégé and by then Danquah's implacable nemesis, that any future virulent demand for separation by any ethnic group or geographical enclave of the soon-to-become post-independent Democratic Republic of Ghana, may very well come from the present-day Volta Region, especially from the Ewe-speaking enclaves of this strip-mall of a region or geopolitical province.
Several reasons have been given by scholars, historians and critically-thinking observers for why Prime Minister Nkrumah doggedly and adamantly pushed for the western-half of the erstwhile lost German colony of Trans-Volta Togoland to be legally incorporated into the erstwhile Gold Coast colony, which was to be shortly renamed Ghana scarcely a year later on March 6, 1957. Now, this author is here far less interested in a rehash of these reasons which, by the way, has been extensively written about and globally publicized by legions of writers, both on behalf of our post-plebiscite quest for national unity and fierily against the same.
Rather, we are here far more interested in the ways and means by which this fundamentally "Ewe Problem," rather than even a "Volta Problem," as these "Papavi Revolutionaries" would have the rest of our country and the global community believe, might be most constructively resolved short of the traditional and temporally benighted method of an all-out war, which, by the way, I have increasingly become inclined towards advocating in recent weeks and months, in view of the already catastrophic and predatory consequences wreaked on the Akan-speaking Ghanaian majority populace, in particular, by the Anlo-Ewe-led Trokosi Nationalist Revolutionaries.
For, let no one make any mistake, the Rawlings-Tsikata orchestrated so-called Provisional National Defense Council (PNDC) junta that dominated Ghana's political landscape for a little over 10 years, was a veritable part of the largely Anlo-Ewe agitation for the wanton predatory domination of the country's Akan-ethnic majority and our natural and human resources for the carte-blanche appropriation of the Trokosi Revolutionary Nationalist agitators and their supporters and sympathizers.
But that the Day of Reckoning, as eerily predicted by the immortalized Dr. Danquah, may be inescapably upon us, is evinced by the apparent snowballing of massive support, to overt and covert varying degrees, of course, of the patent false-front or façade that is the so-called (Togoland) Homeland Study Group. Now, common sense ought to inform us about the urgent and imperative need for Ghanaian leaders to call up a national conference to settle the Trokosi Menace once and for all, or in default find our children, grandchildren and great-grandchildren embroiled in a long, fierce, bitter and bloody civil war down the metaphorical pike.
We may wisely decide to revisit the 1956 UN-sponsored Plebiscite by giving the chance for the Homeland Study Group secessionist agitators and their supporters and sympathizers to, once again, decide their political destiny – the richly endowed Akan majority populace and our internal traditional allies and kinsmen and women have little to lose in this process one way or another – and then staunchly and hermetically beef up our national security apparatus on the southeastern and eastern-central boundaries of our country to effectively and permanently ensure that no "Western Togoland" denizens ever re-cross that border back into the country from which they seceded, ECOWAS Protocols or no ECOWAS Protocols.
By now, the overwhelming majority of Ghanaian nationals and citizens ought to be sick and tired of this Trokosi Nationalist agitational poppycock, whose long prefabricated grievances recently found a lightning-quick convenient pretext in the policy faux-pas that was captured in the Road-Construction Budgetary Proposal read in Parliament by Mr. Kenneth Ofori-Atta, adamantly forgetting that in all other aspects of the same budgetary presentation, the Volta Region had not the least bit been left in the lurch.
*Visit my blog at: kwameokoampaahoofe.wordpress.com Ghanaffairs
By Kwame Okoampa-Ahoofe, Jr., PhD
English Department, SUNY-Nassau
Garden City, New York
November 17, 2019
E-mail: [email protected]