They Will Call You Dangerous If You Refused To Be A Wolf In Sheep's Clothing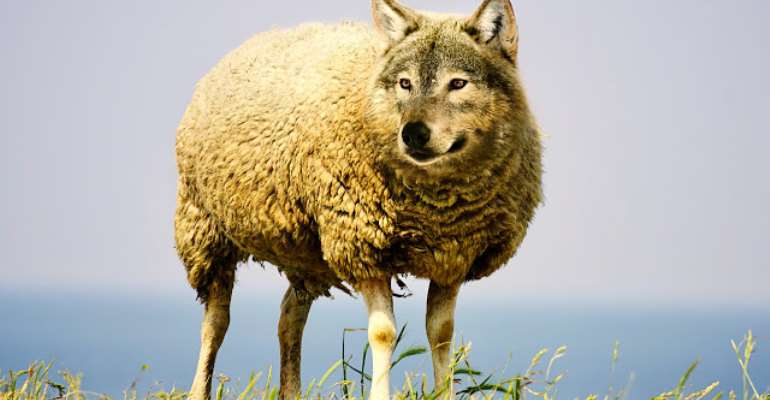 Everyone knows that: "From the days of John the Baptist until now, the kingdom of heaven has been subjected to violence, and violent people have been raiding it." This is one of the famous biblical verses that speak about violence and wickedness at Matthew 11:12.
The world now does struggle against Satan and his forces, which are neither animals nor extraterrestrial but normal human beings, yet so powerful and decisive, they prefer to live different by destroying the earth with lies, hypocrisy and biological weapons.
These so-called elites or powerful rich people, like Barack Obama, Bill Gates, George Soros, Ted Turner, etc, who think they are above God, have followers who are pleased in whatever evil they do since birds with the same feathers attract the same species.
These so-called elites have admirers all over the world, some people even wish to be them, yet many actually don't know the pure evil in these men who keep destroying the world together with the World Health Organization, Centers for Disease Control and the US government.
They have deceptive answers to every evil thing they do and often put the blame on things such as bats, monkeys, bush meat, poverty, after every sinister and clandestine crime they commit against humanity.
It is not only disturbing that our world is indeed in the hands of dangerous lunatic people but the fact that they hate anyone who does not want to follow them. One fails to join these wolves in sheep's clothing instantly makes him an enemy and often called a dangerous person.
So now people who want to be rich will do every evil thing to get to where ever they want to be. Celebrities, such as musicians, footballers, film stars, royal families have all joined the "Wolf in sheep's clothing club," to avoid damaging their reputation.
They are more interested in the money they get from their careers than the destruction of the world. Let any celebrity, for example, a musician speak out now that Ebola is a biological weapon by the US government, no one will buy his music and he may die of hunger.
Let any rich and famous pastor, reveal to the world that the US government, WHO and CDC are responsible for Ebola in Africa, he will lose the entire congregation of his or her church and the sowing of seeds in God's house will come to an end.
The fear of getting neglected by the world or losing all your friends because of truth is haunting good people on earth. They keep on fighting with their integrity and conscience but what shall it profit a man to gain the whole world and lose his poor soul to the earth?
Joshua said: "But if serving the LORD seems undesirable to you, then choose for yourselves this day whom you will serve, whether the gods your ancestors served beyond the Euphrates or the gods of the Amorites, in whose land you are living in. But as for me and my household, we will serve the LORD."
Neither can I call a black colour white nor a white colour black, this is one of the reasons I have chosen the true path, even though I know that direction I have chosen will hurt me. I will never join the "The Wolves in Sheep's Clothing Club," and sell my soul for the devil. Anyone who hates this writer can call him a dangerous person.
There is one particular Ghanaian leader I do really like when I was at school but all changed when I realized that John Jerry Rawlings executed those high-military officials he accused of corruption for nothing because those killings had not brought a single change to Ghana today.
Ghana is corrupt and a country without a future. You don't need to be a clairvoyant, a soothsayer, or one with a third-eye to know this. There is no country on earth that can flourish with such a useless judiciary system.
Let the politicians continue bragging to the easily-convinced Ghanaians that the country is getting better, however, time will tell.