NDC Has No Mandate to Lord It Over the BoG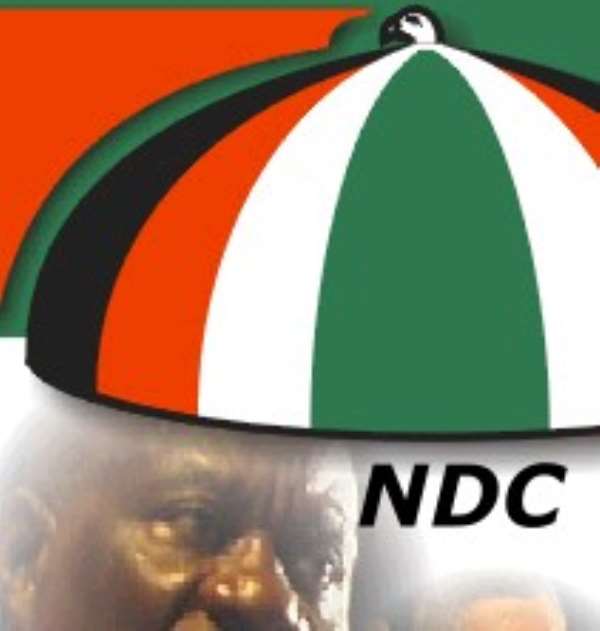 The man adamantly demanding that Dr. Ernest Addison withdraw the GHȻ 100 and Ȼ 200 currency notes that were due to go into circulation early this week, said it best, in contradiction of his own demand, when Mr. Benjamin Komla Kpodo also noted that "We do not have any laws to demand that they come before the House to seek permission" for the decision taken by the Governor of the Bank of Ghana and the latter's associates to release the Ȼ 100 and Ȼ 200 notes into the system. Nevertheless, like all his fellow power-drunken robber-baron hoodlum pack of the main opposition National Democratic Congress' Parliamentary Minority, Mr. Kpodo would, nonetheless, have rather had Dr. Addison to have "consulted" with the Haruna Iddrisu Gang beforehand, prior to making what these anti-progress and development double-salary-drawing political scumbags deem to be a landmark decision that could have a seismically deleterious and catastrophic impact on our national economy (See "Minority Demands Withdrawal of New GHȻ 100, GHȻ 200 Notes" 11/30/19).
It ought to be crystal clear to all Ghanaian citizens, in particular all eligible and prospective voters, by now, that the Mahama-led National Democratic Congress (NDC) is a party of profligate and pointless consultations. I mean, if, indeed, the Governor of the Bank of Ghana and the currency issuance department of the latter institution have the discretionary right to make policy decisions vis-à-vis what kinds of monetary denominations to put into circulation, then why are Mr. Kpodo and his cronies of the Parliamentary Minority so rudely demanding to have Dr. Addison appear before a plenary assembly of members of the august House in order to justify the reason or reasons behind his decision to add two new higher currency denominations to those that are already in circulation? The BoG Governor has already noted that the introduction of the Ȼ 100 and Ȼ 200 currency notes has become necessary as a result of "the significant increase in the demand for higher denomination banknotes" by entrepreneurs.
Now, that is meaningful and constructive reason enough. Besides, Governor Addison is more than well qualified to make the relevant judgment call vis-à-vis the fact of whether the introduction of these new currency notes is apt to have any negative or deleterious impact on our national economy. It is also rather comical that although he does not provide any concrete historical evidence to prove that, indeed, the introduction of these new currency denominations will skyrocket the level of inflation in the country, which, by the way, is much lower than it ever was under the protracted four-and-half-year Dumsor-inflected tenure of former President John Dramani Mahama. Perhaps somebody with better and more expert or better informed appreciation of the dynamics of the macroeconomy ought to explain to Mr. Kpodo the fact that inflation does not occur merely because two higher currency denominations are put into circulation. Rather, inflation is the direct result of low productivity and grossly incompetent management of the economy such as occurred during most of the Dumsor-inflected four-and-half-year tenure of the Mahama presidency.
It goes without saying that going by this scandalously facile logic of Mr. Kpodo, the National Democratic Congress' Member of Parliament for Ho-Central Constituency, in the Volta Region (or is it Western Togoland?), the United States of America, with its 12 currency denominations, must be the one country or global economy with the highest level of inflation. But, guess what, Mr. Kpodo? America is not! By the way, the 12 American currency-note denominations are as follows: $ 1; $ 2; $ 5; $ 10; $ 20; $ 50; $ 100; $ 500; $ 1,000; $ 5,000; $ 10,000 and $ 100,000. For the most part, I only handle or deal with currency notes not higher than $ 100 (One-Hundred Dollars), but even in the latter case, this is only occasionally. For the most part, I prefer to carry $ 20 notes and below. It may, indeed, be of great interest to the Tanyigbe-Anyigbe native to learn that the Automated Teller Machines (ATMs) in New York City, for example, are fed with a wide variety of currency notes, depending on the class status or economic class of the overwhelming majority of the residents of any particular or specific neighborhood.
Once, I found myself on the Lower-East Side, Midtown, neighborhood in the Borough of Manhattan or New York, New York and decided to withdraw a few dollar notes from a bank of about 20 ATMs outside one of the local branches of Chase Bank – it could very well have been a Citibank – only to be informed by one of these ATMs that I could only withdraw $ 100 notes at a minimum. I had to hop onto the Subway (train) and go to another ATM in a relatively more economically depressed neighborhood with residents of my class and income bracket in order to be able to withdraw the needed currency denominations. In short, what I am trying to point out here is that the new Ȼ 100 and Ȼ 200 currency notes will not be randomly put into circulation. Rather, it very likely will be issued by banks and other authorized financial institutions to the rich and well-heeled entrepreneurs who may be in dire need of the same.
The idea that the mere issuance and circulation of these two currency denominations will breed thievish banditry in Ghanaian society is a patent farce. You see, the fact of the matter is that the main opposition National Democratic Congress is chockfull of thieves and robber-barons who have been stealing from the Ghanaian taxpayer for as long as any 50-plus-year-old adult can remember. And it did not take the decision by Governor Addison to circulate the Ȼ 100 and Ȼ 200 denominations to have the Mahama cabinet appointees and some of their executive associates to criminally draw home double salaries. The fact of the matter is that a certified professional thief is psychologically not motivated by the introduction of new and higher currency denominations. Mr. Benjamin Kpodo and his associates need to get a grip by focusing their attention on more substantive and socioeconomically and politically pressing matters. You see, Ghanaian citizens and voters are not this simple-minded.
*Visit my blog at: kwameokoampaahoofe.wordpress.com Ghanaffairs
By Kwame Okoampa-Ahoofe, Jr., PhD
English Department, SUNY-Nassau
Garden City, New York
November 30, 2019
E-mail: [email protected]