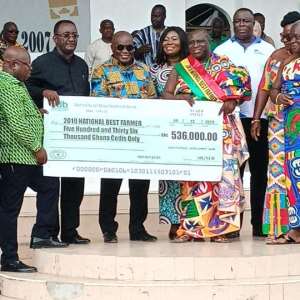 We just celebrated our 35th Farmers' Day and I join in congratulating our farmers. Since I spent a summer on a farm just before entering University with my friends Kwamina and Clement growing maize, I have always held farmers in awe. They wake up early, work hard, battle the elements and lack many of the comforts many of us take for granted.
On this occasion, the Minister for Agriculture, Dr. Owusu Afriyie-Akoto, made a statement in Parliament. He touted as a "historic improvement ", the government's plan to spend 10% of the 2020 budget on Agriculture. Furthermore, he listed programs like planting for food and jobs, planting for export and rural development and rearing for food and jobs. I must confess that it seems we glossed over this farmers' day a bit. When President Akufo-Addo announced his Ministers in 2017, I believed Dr. Owusu Afriyie-Akoto was one of the best appointees because he was educated in the field and a farmer. I hoped he would transform this key sector. And I keep hoping-- and praying for him to deliver.
In a Graphic online story published on 17th July, 2018, the Finance Minister, Ken Ofori-Atta disclosed that Ghana spends about 2.4 billion USD per year importing food--- rice, sugar, sorghum, chicken and meat. He went on to state that this was due mainly to our appetite for imported consumables.
While he is generally correct, it might also have something to do with prices, supply and demand. In the same article, the President of the Chamber of Agribusiness, Anthony Morrison ascribed our decreasing Agricultural productivity to "decreased state funding". He asserted that the state had left agricultural funding to donors-- the same donors whose farmers grow the food we import!
Indeed, according to the World Bank, since 2009, agriculture as a percentage of our GDP has fallen from 31.8% to 18.3%(2017).
Despite occasional flurries of activities, like "Operation Feed Yourself" in the early 1970's and grandiosly titled, "Comprehensive African Agricultural Development Framework" launched by Presidents Kufuor, Mbeki, Obasanjo and others under AU/NEPAD, our problems in Agriculture remain depressingly familiar and stubbornly persistent. The Blair "Africa Commission Report" of 2005 listed lack of investments, irrigation, absence of rural roads and infrastructure, irrigation, land tenure, lack of post harvest infrastructure and storage, markets etc -- leading to 25 to 50% of post harvest losses and global trade and the causes of our Agricultural woes. And they have been the culprits for a long time.
To return to the Minister, here are my questions related to these challenges.
1:How much land has this government put under irrigation in addition to the 1% reported by the World Bank in 2014?
2: How much funding through Agriculture Development Bank etc, has the government provided or guaranteed to farmers?
3: How much progress has been made in land tenure to give poor farmers more control?
4: How many higher-yielding rice and maize seeds have been given to farmers?
5: How many storage facilities have been built?
Before partisans of the NDC start celebrating, we must acknowledge that neglect of our Agric sector has been a bipartisan sin for a long time.
The dire situation of Agriculture has been exacerbated by 2 new factors.
First, the increasing urgency of climate change has made irrigation more indispensable to agricultural self-sufficiency.
Second, the closure of the Nigerian border since August to prevent smuggling of rice and other goods has underlined the security implications of food self-sufficiency.
In addition to the questions I posed, what is the role of subsidies and dumping in our problems?
Should we consider tariffs against imports?
On this important matter, the President, Nana Akufo-Addo, has urged Ghanaians to eat local rice.
He stated, "We must eat what we grow to motivate our farmers and support the development of the local food industry. Indeed, Rebecca, my beautiful wife, our first lady, insists that we eat local rice at home, and has made sure of it. I call on all Ghanaians to follow my example and eat local rice".
And for completeness, he could have added gari, beans, brode ne nkate etc. While the President is on point, the truth is that besides patriotism, affordability compared to imported rice would help. And so would loans to farmers, high-yielding seeds and solutions to some of the post-harvest problems.
In addition to his exhortations, the President must help us achieve self-sufficiency by solving some of these perennial problems.
May God bless our farmers.
May God bless Ghana.
Arthur Kobina Kennedy ( December 6th, 2019)
[email protected]