Prez Akufo-Addo Mesmerized Nollywood Star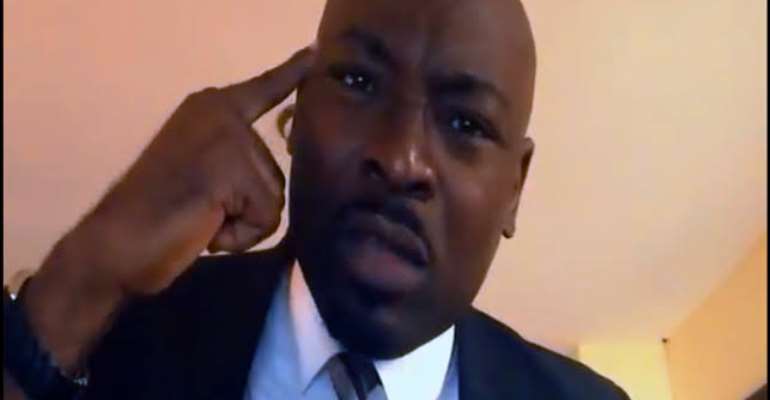 Two years ago today, Nollywood (Nigeria) actor and human rights activist Joseph Okechuku stacked praises on Ghana's President Akufo-Addo in a short video that made marked waves in the World Wide Web.
The actor's compliments followed a joint press conference held at the Flagstaff House(now Jubilee House)—the presidential palace in Accra between Mr. Akufo-Addo and his French counterpart Mr..Emmanuel Macron.
At the historic meeting Mr. Akufo-Addo admonished African nations to wean themselves off aids dependency and chart a new pathway that will free the continent from her economic woes.
In the clip misty-eyed Mr. Okechuku was seen almost in tears. He seemed to be over the moon if not beyond our sister planet, Venus. Almost choked up, almost weeping.
Yes, the actor who was literally awestruck couldn't resist his emotions and how he felt about the president's comments.
"To hear you speak the real truth the raw truth that nobody wants to talk about…. It's just a breath of fresh air," he spoke of the president.
"Today you've officially become my hero. . I don't know if this means anything to you. Maybe it doesn't…maybe it does. But I just want you to know," Mr. Okechuku remarked in the footage that lasted for about five minutes.
Indeed, it was a breath of fresh air in an otherwise mundane practice that over the years has seen the continent with a cup in hand knocking on doors of the Breton Woods institutions. It was presumably that newness and the way Mr. Akufo-Addo crafted his comments that have triggered huge commendations from within Ghana and beyond her frontiers.
The social media was inundated with images of the Ghanaian president amid praises. And it appeared many; especially African youth were more than excited to hear such comments from a sitting president. The video had been shared more than a thousand times and cyber gurus said it could hit a million threshold.
I called it the Sermon on the Mount. Without doubt it was a Gospel truth that was preached at the highest and most prominent citadel in Ghana. It wasn't one of the usual prepared speeches which are usually read on tele-prompters by world leaders with hordes of cameras panning and groping around. But aside that it wasn't the first time perhaps the world had heard comments like that.
In fact the president himself acknowledged that what he was going to say wasn't anything new. But did his message achieve its purpose?
Sure, it was pregnant with good stuff. It was worth reiteration or repeat.
And credit to the questioner that put the red meat on the president's plate. Probably, he too was expecting 'business as usual 'response.
However, it turned out to be a real gem. A local journalist had sought to find out what the French government planned to do for the rest of Africa besides its former colonies or the francophone nations. France had pledged to increase her aid budget to 0.55 per cent of GDP by 2020.
In 2016 it had cut its aid budget by 140 million euros in July as part of 4.5 billion euros of reductions in public spending.
After Mr. Macron's submission Mr. Akufo-Addo delivered his all-inspiring comments:
"I hope that the comments I am about to make will not offend the questioner too much and some people around here."
Was he referring to his guest Macron?
That had been the interpretation in some circles several days after the two leaders met at the Flagstaff House.
Mr. Akufo-Addo went on to say that: "We can no longer continue to make policy for ourselves, in our country, in our region, in our continent on the basis of whatever support that the western world or France, or the European Union can give us. It will not work. It has not worked and it will not work."
"We have to get away from this mindset of dependency.This mindset about 'what can France do for us?' France will do whatever it wants to do for its own sake, and when those coincide with ours, 'tant mieux' [so much better] as the French people say…Our concern should be what do we need to do in this 21st century to move Africa away from being cap in hand and begging for aid, for charity, for handouts. The African continent when you look at its resources, should be giving monies to other places…We need to have a mindset that says we can do it…and once we have that mindset we'll see there's a liberating factor for ourselves," President Akufo-Addo said.
This explains why perhaps, Mr. Okechuku was swept off his feet totally in euphoric mood heaping praises on the Ghanaian president.
"For the first time in my life I just feel like someone else was supposed to be my father… For the first time when I listened to you address the French president, I felt like you're supposed to be my father or like I came out of your lungs. You made me cry for the first time in so many years."
I tried as much as I could to wake my Nigeria people up. I tried to tell them that you've just entered into a terrible situation of re-colonialism again. By the kind of nonsense that's going on in Nigeria today where the colonial master hold sway all over again…
All the colonial vestiges have returned to Nigeria. And the people are not even aware of it. Nigerians are borrowing themselves to oblivion and yet nobody is even lifting the voice to say anything."
"To hear you speak the real truth the raw truth that nobody wants to talk about. It is just a breath of a fresh air.
"We never had independence Sir, and I am so happy you know that. Our independence is just about to begin, and it's beginning with great warriors like you the true African sons like you are the ones that are going to lead that movement. This is the birth of the Africa Renaissance it is beginning with Nana Akufo-Addo of Ghana, the actor remarked."
And this is where I think Akufo-Addo's critics (the opposition NDC) would never pardon or forgive Mr. Okechuku, his prayer that the Ghanaian president must be allowed to rule the West African nation for the next 20 years. I could hear them say: 'you must be daydreaming Okechuku.'
"Someone like you must rule Ghana for the next 20 years if it is possible. This man you as a president is the best thing that could have ever had happened to Ghana and across the continent of Africa as a whole. Nana Akufo-Addo God will bless you," Mr. Okechuku said.
This was Mr. Macron's first tour of Africa, after he'd been to Burkina Faso and the Ivory Coast (Cote d'Ivoire in an effort to revitalise France's image on the continent according to France officials.