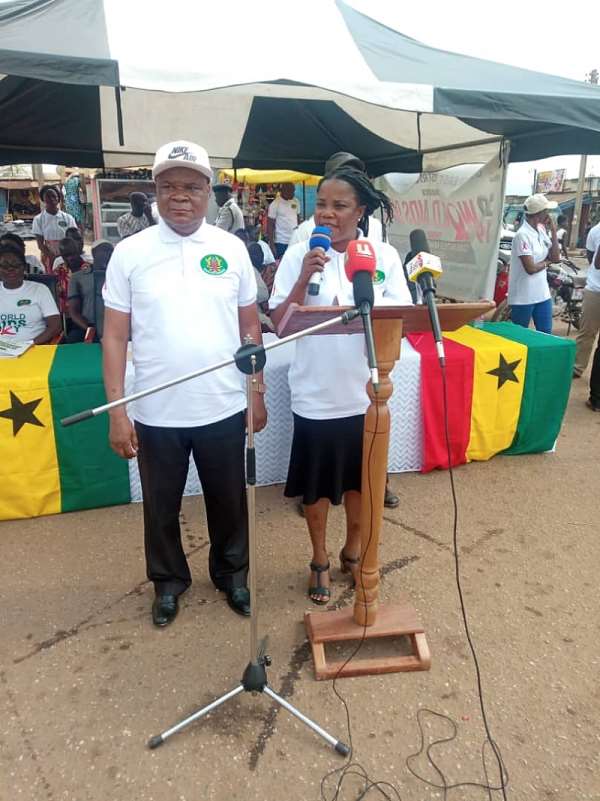 Obuasi East Dce
The District Chief Executive for Obuasi East, Honorable Faustina Amissah has charged women living in the District to spearhead the fight against HIV/AIDS in the District. She made this call at an event organized by the budding district to mark World AIDS Day.
Explaining further, the DCE said judging from the critical role women play in the socio-economic development of the Country, it is imperative for them to assume a lead role in the fight against the pandemic. " Regarding HIV/AIDS, if you are not infected, you are affected so it needs all hands on deck to fight it".
She commended ADDAPATH WELLNESS and Obuasi Rotary club for making donations to support children living with HIV/AIDS in Obuasi.
Ms. Olivia Graham, the Ashanti Regional Technical Coordinator of the Ghana AIDS Commission also gave the HIV/AIDS prevalent rate in the Ashanti Region. She said the Region is only second to the Greater Accra region in terms of regions with the highest prevalent rate.
Again, she revealed that about 37,411 youth between the ages of 15 to 24 are living with the disease in the country; a situation she described as worrying and called on stakeholders to join forces to fight the disease.
Touching on the theme for this year's AIDS Day, 'Community makes the difference', the District Director of Health, Mrs. Christiana Kontor advised the general public to eschew the practice of stigmatizing people living with HIV /AIDS. She said, HIV/AIDS victims just like people living with any other diseases should be accepted into the society.
On the issue of the prevalent rate of the Obuasi East District, Mrs Kontor said, in 2017,a total of 1156 people were tested with 164 people testing positive. Again, in 2018, 1062 people were screened with 209 of them testing positive whiles in 2019, 690 were tested with 411 testing positive to HIV.
Mr. O. J. K Addae, the Executive Director of ADDAPATH WELLNESS, an NGO in Obuasi who led the donation of Food items to Children living with HIV/AIDS also emphasized the importance of nutrition in HIV management. He again advised people with the disease to take their drugs regularly. With balanced diet, he said, they would be able to boost their immune system to enable them live a healthy life.
He praised the Obuasi branch of Rotary Club for their contributions towards the activities of ADDAPATH WELLNESS.
Nananom, Heads of Department, School Children, NGOs, Health Workers and the Media were present