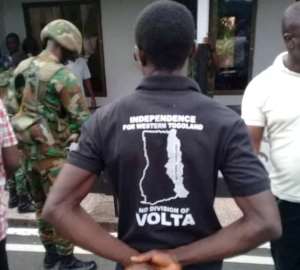 The Police in the Volta Region has arrested some 21 persons who are believed to be members of the Homeland Study Group Foundation for unlawfully gathering at the premises of Global FM in Ho.
The suspects, according to the police, are from various parts of the country including Anlo Afiadenyigba, Volo, Volo, Dambai, Obuasi, Battor, Weta, Atiavi, Fodoku.
The police, in a statement on Wednesday, said the arrest was based on intelligence that the suspects were planning to demonstrate against the judicial process involving the trial of seven of their members standing trial for treason felony.
"The Volta Regional Police Command today 04 December 2019 arrested 21 members of the Homeland Study Group Foundation at the premises of Global FM in the Ho Municipality for Unlawful Assembly.
The 21, including one woman, currently in custody assisting investigation aged between 26 years and 70 years had come from various locations within the region and beyond for their intended demonstration; Anlo Afiadenyigba, Volo, Dambai, MAfi Adidome, Abotoase, Adaklu, Ehi, Botoku, Accra, Liati, Aborlorve, Saviepe, Dededo, Atiavi, Weta, Adutor, Fodoku, Battor, Hohoe, Obuasi and Atiavi," the statement said.
The Homeland Study Group Foundation, led by 80-year-old Charles Kormi Kudzodzi – popularly known as Papa Hogbedetor have been in the news in recent times over their campaign for the cessation of some part of the Volta Region from Ghana to be known as "Western Togoland."
Recently in a viral video, some members of the group were seen in a supposed independence declaration event.
Ten members of the group were earlier this week arrested by Police in Tumu for allegedly trying to convince some chiefs to support their cause.
They were subsequently put before court and remanded.
Seven others, who are said to be leaders of the group are also in police custody, charged with treason felony.
---citinewsroom