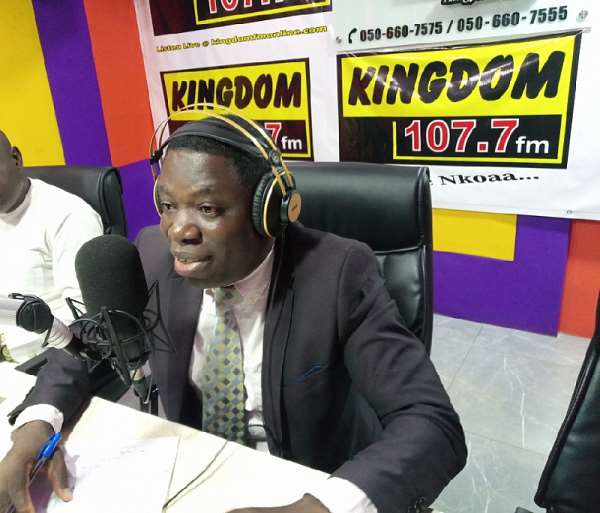 Hon. Daniel Kwesi Ashiamah
Hon. Daniel Kwesi Ashiamah, Member of Parliament for Buem constituency has chided the Akufo-Addo led administration for halting the December 17 referendum.
" I don't understand why the President Akufo-Addo halted the referendum process, the government has cost financially lost to the state and they should be help accountable," Daniel Kwesi Ashiamah told Lawyer Ohene Gyan on Pae Mu Ka on Accra-based Kingdom FM 107.7
According to the controversial MP, though, the cost of the botched referendum is yet to be known by him, he is of a strong opinion that Ghana will lose millions of cedis as a result of the decision to halt the process.
This, according to him, shows that the NDC and all "No Vote" advocates have won and it is a "collective nationalistic decision to put Ghana first".
He questioned the rationale behind the President's decision to cancel the entire exercise since his conviction was that "YES" votes would have secured a 75% of the valid votes cast.
The outspoken legislator demanded the government adds the steps it is taking "to prevent any more financial loss to the state, especially as we are aware printing of ballot papers and other ancillary expenditures had long commenced."
Background
A raging debate has ensued following the cancellation of the December 17 referendum by President Nana Addo Dankwa Akufo-Addo on Sunday night.
The President said that, through the Minister of Local Government and Rural Development, he was recalling from Parliament the bill that was seeking to amend articles 55(3) and 243 (1), because there was lack of broad national consensus among key stakeholders and some sections of the public on how to go about the issue.
The President had said he had a firm understanding from all the political actors including former presidents that certain clauses in the 1992 Constitution needed to be amended to pave way for political parties to participate in local level elections but the National Democratic Congress (NDC) stabbed the whole country in the back when it made a U-turn to campaign for a 'No' vote.
This Bill was to allow political parties to fund candidates for election to district assemblies and lower local government units.