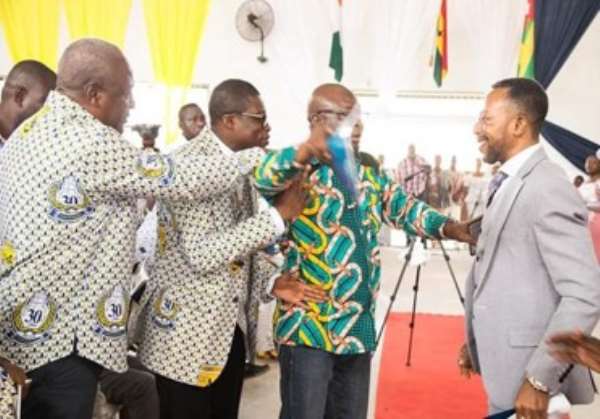 Founder and leader of Glorious Word and Power Ministry, Rev. Owusu Bempah has angrily cursed Sammy Gyamfi, the National Communications Officer of the National Democratic Congress (NDC) and the party.
The renowned pastor said the National Democratic Congress (NDC) will lose the upcoming general elections in December 2020 because of arrogant people like Sammy Gyamfi.
Rev. Isaac Owusu Bempah made those vituperations during an interview with Agya Owusu Ansah, the host of Otec Fm's morning show, 'Nyansapo', on Tuesday, December 3, 20219, in reaction to the feud that erupted between him and the bodyguards of John Mahama last Sunday.
Sammy Gyemfi applauds
Sammy Gyamfi, who applauded the aides of the presidential candidate of the National Democratic Congress (NDC), John Dramani Mahama is offering to buy them a huge cow for preventing Rev. Owusu Bempah from shaking hands with the former president during a meeting at the Assemblies of God Church earlier this week.
Sammy Gyamfi explained that the conduct of the bodyguard was justified due to the unprovoked vitriolic attacks launched by Owusu Bempah on Mr Mahama.
In support, Mr Gyamfi on Asempa FM's Ekosii Sen programme, Monday said the bodyguards were right to prevent Rev. Owusu-Bempah from getting close to Mr Mahama.
He explained that it was not easy to shake hands with someone who had accused you of murdering a sitting president without evidence.
Mr Gyamfi commended Mr Mahama for meeting the man who had accused him of committing crimes over the years.
Owusu Bempah's anger
Rev. Owusu Bempah who seems peeved at the words of Sammy Gyamfi has thrown curses at him saying that the National Democratic Congress (NDC) will lose the December 2020 elections because of his disrespectful and arrogant character.
"NDC and John Mahama will never come to power because of disrespectful and foolish Sammy Gyamfi's actions", he told the programme's host Agya Owusu Ansah.
"God has spoken, his words are true and unchallenged. As long as no prophesy has come from God to over that prophesy, John Mahama is a loser in the 2020 elections and if this irritate his supporters it's their own business," he boastfully said.
"They can beat or kill me and that will not change the fortunes of the former president been a loser. Nana Addo remains the president of the country till 2024, according to prophesy and Mahama can never be the president of Ghana again," he added.